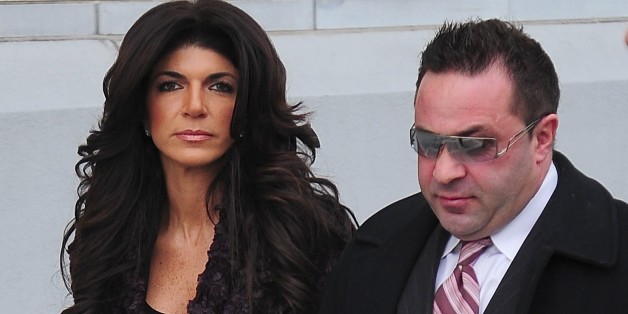 Teresa and Joe Giudice might still owe money to the federal government, but government officials did not raid their New Jersey home to collect.
AllAboutTheTea.com, a blog dedicated to covering stories about reality television, claimed Wednesday that probation officers, interns and county sheriff's deputies raided the Giudice's Towaco, New Jersey, mansion on Monday morning, allegedly taking cash and jewelry because the couple failed to set up a plan for restitution payments. RadarOnline.com also reported on the supposed raid, claiming officials seized "plasma televisions, expensive jewelry, cash, and even the kids' Christmas presents."
Both websites cited anonymous sources.
However, Matt Reilly, spokesman for the U.S. Attorney's Office in the District of New Jersey, told NJ.com no such seizure was ordered, and that the office is working with the couple to schedule repayment.
"We didn't undertake any action like that," Reilly told The Huffington Post. "There seems to be a lot of specific detail in [the articles]. If there was going to be something like that, our office would be involved. It just didn't happen."
Additionally, a Morris County Sheriff's Office spokeswoman told NJ.com no deputies were involved in a raid at the Giudice's home.
A representative for Teresa Giudice denied the claims as well, telling the Daily Mail: "There is no truth to this rumor. It is 100 percent fabricated."
Teresa and Joe Giudice were sentenced in October for bank and bankruptcy fraud. Teresa was sentenced to 15 months in prison, beginning Jan. 5, while Joe was sentenced to 41 months, which he will serve after Teresa is out. They were also ordered to pay $414,588 in restitution.
The couple must pay the restitution separately. In October, Teresa paid $200,000 to the federal government, ABC News reported. Joe had not paid his portion at that time.
BEFORE YOU GO
PHOTO GALLERY
Celebrity Mugshots