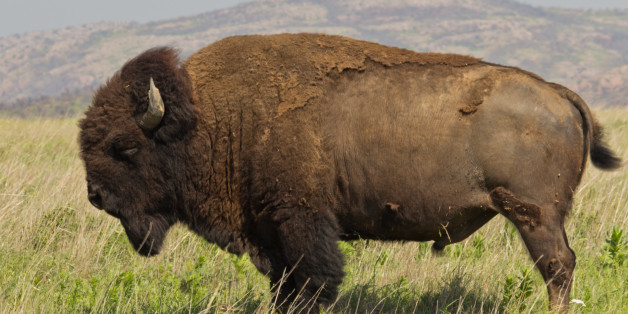 Bison has always been somewhat of a vague, mythical beast for me. We'd briefly pass over the animal and its "almost extinction" in history class and sometimes I'd hear of people ordering this "lean meat!" at Ted Montana's. I didn't even know the difference between bison and buffalo -- apparently, you can tell by the horns and buffalo don't live in North America -- let alone experiment with it in the kitchen.
That's why when Omaha Steaks offered to send four bison sirloins to cook, I guffawed at my desk.
A) Why go bison when steak is an option?
B) I am not a chef and live in a tiny New York City apartment, did I really need to make more of a caricature of myself?
But curiosity got the best of me and a brief recipe search was all it took to convince me.
A little more protein in my diet wouldn't kill me and bison was the perfect, healthy solution as it has less fat than beef. I picked out my recipe from the four provided (I went with the "Skillet Roasted Bison Top Sirloins with Wild Mushrooms, Roasted Shallots and Fresh Thyme" only because it looked easiest) and hit the grocery store. After a four-hour long line at Trader Joe's in which I tag-teamed the ingredients, this is what I'd gathered:
Ingredients:
4 Omaha Steaks Bison Top Sirloins (yes, Omaha Steaks provided these samples)
2 Tbsp. Omaha Steaks Private Reserve Seasoning (any seasoning will do)
3 Tbsp. Canola Oil
1 Tbsp. Chopped Roasted Garlic
1/4 cup Chopped Roasted Shallots
8 oz. Wild Mushrooms Sliced (Shiitake, Cremini Mushrooms, Hedgehog Mushrooms)
1 tsp Fresh Thyme Minced
1/2 tsp Sea Salt
1/8th tsp Ground Black Pepper
1/4 cup Red Wine
4 Large Thyme Sprigs
YOU CAN CUT OUT: Thyme, I later found out it was used for decoration (I'm literally cooking a meal for myself, presentation is only key for other people in my world). But add more wine.
The instructions were easy enough, but what I didn't read first was that I needed to have already roasted the garlic and shallots by step 5 as well as finished sautéing the mushrooms. So, yeah -- do that.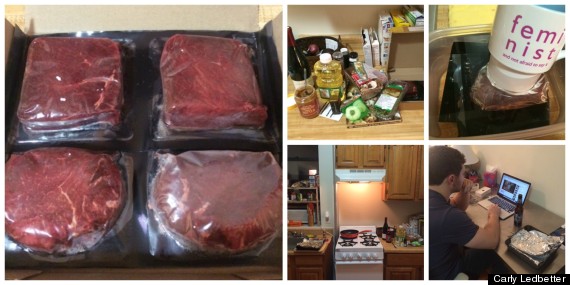 Instructions: (Prep time estimated at 45 mins -- it took me 2 hours, FYI)
1. Defrost for a few hours ( I used a coffee cup to soak mine underwater, don't do that)
2. Preheat oven to 300 degrees.
3. Heat a iron skillet with canola oil over high heat.
4. **START ROASTING GARLIC AND SHALLOTS**
5. Generously season the sirloins with Omaha Steaks Private Reserve Seasoning.
6. Brown steaks for 2-3 minutes on first side or until well browned.
7. Flip over steaks and add the roasted garlic, roasted shallots, and wild mushrooms.
8. Place pan with steak in heated oven and roast until steaks are medium rare, (about 10 minutes for a 1-1/4″ thick steak.)
9. Remove pan from oven, add fresh chopped thyme and sprinkle the mushrooms with sea salt and black pepper.
10. Deglaze the pan with red wine and serve steaks with mushrooms over the top.
11. Garnish with a fresh thyme sprig (FORGET THIS STEP UNLESS SERVING PRESIDENT OF UNITED STATES)
All in all, this process took me two hours (lots of distractions, double checking and forgetting steps). As Bridget Jones would spell it out, cooking bison entailed:
2 phone calls to mum
2 YouTube videos (how does one roast garlic and shallots)
3 glasses of wine
0 kitchen fires
And here's what the bison is supposed to look like, as compared to mine: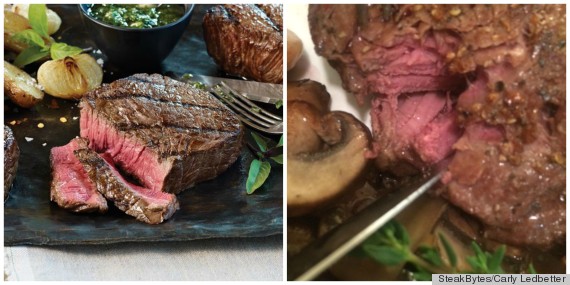 Overall, the process was actually pretty enjoyable and inspired me to cook more. With 100 percent honesty, I actually LOVED the Omaha Steaks Bison Sirloins, but only because it really tasted like steak.
If someone had given me the same bison sirloin without knowing what it was, I would've said it was "different tasting steak." I would recommend ordering from Omaha, but it's a bit expensive around $49. The price for bison will always be on the higher side, but if you want to cut down on shipping just venture to your local butcher.
Want to read more from HuffPost Taste? Follow us on Twitter, Facebook, Pinterest and Tumblr.
BEFORE YOU GO
PHOTO GALLERY
U.S. Meat Products That Are Banned Abroad