This story is part of "Eat The Enemy," a HuffPost series on edible invasive species, non-native plants and animals you can help contain from the comfort of your dinner table. Not all invasive species are edible, and some included in this series can be dangerous, including lionfish and wild boar. Please take caution when foraging or hunting for your own food.
More than 100 million pigs are killed every year in the U.S. and the pork industry produced over 23 billion pounds of meat in 2012. The massive industrial operations needed to supply America's pork hunger also have a significant environmental impact. Agriculture, including animal feeding operations, is the most common pollutant of U.S. rivers and streams, according to the Environmental Protection Agency. The enormous, toxic waste lagoons attached to some animal feedlots can even be seen from satellites.
A less destructive, but still frustrating, problem also exists in the U.S.: feral hogs. Over the past several decades, the offspring of escaped domestic pigs, invasive Eurasian wild boars, and hybrids of the two have proliferated across parts of the U.S. In Texas, which may be the epicenter of the problem, an estimated 2.6 million hogs roam free, according to the Houston Chronicle.
These aggressive hogs run wild across natural areas, damaging wetlands and other habitats and out-competing native species for limited food supplies. They are omnivorous and will eat everything from grasses, acorns or mushrooms, to insects, amphibians, birds and even dead animals. They will also eat or trample crop fields, and cause an estimated $52 million in damage to Texas agriculture every year.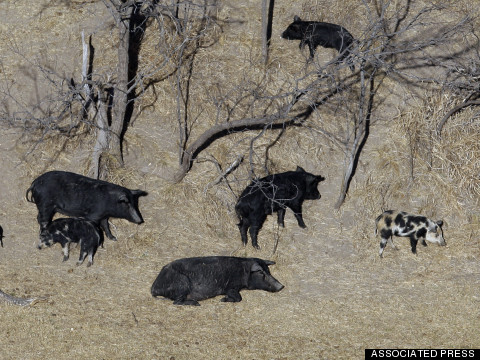 Hunters kill hundreds of thousands of the feral hogs and wild boar-hybrids every year, yet their populations continue to increase. If cooked properly, their meat can create a tasty source of protein that is leaner than traditional pork and didn't take a massive operation to produce.
In the video above, New York chef Simpson Wong tells The Huffington Post about growing up in Malaysia eating Eurasian wild boar. (These boars were first introduced to North America in the late nineteenth century.)
"They are big. They are crazy. And they are fierce," he says. "But they're also delicious."
Wild Boar Ribs with Ginger and Lemongrass

Ingredients:
3 lbs. of wild boar spare ribs
2 tablespoon of curry powder
3 tablespoon of minced lemongrass
3 tablespoon of minced fresh turmeric
2 tablespoon of minced garlic
2 tablespoon of minced ginger
2 tablespoon of minced shallot
2 tablespoon of minced galangal
A handful of curry leaves)
2 tablespoon of chili paste
10 lime Leaves (chifonnade)
½ cup Canola oil
2 tablespoon of sugar
3 tablespoon of salt and pepper
2 cups of water
1 cup of coconut milk
3 tablespoon of tamarind juice (extract of 4 tablespoon of water and 1 tablespoon of tamarind pulp)

Directions:

Using a paper towel, pat dry all ribs. In a small bowl, combine the curry powder and 1 tablespoon of salt; rub it on the ribs and place in the refrigerator for 2 hours.

In a Dutch oven, heat the oil to a medium high heat, sear ribs in batches in the oil and cook until the outer layers are brown and set aside.

Add lemongrass, turmeric, garlic, ginger, shallot, galangal curry leaves and chili paste, stir and cook the spices until fragrant, add water and mix well.

Put the ribs back into the Dutch oven, stir and coat the ribs with the spice and water mixture, bring it to a boil, place a parchment paper to cover the mixture and transfer to a 350 preheated oven.

Cook until the meat is tender, about an hour, fold in the coconut milk, bring it to a boil, season with salt and sugar and garnish with lime leaves, serve with sticky rice or toasted baquette.

Serve 4.
BEFORE YOU GO
PHOTO GALLERY
Invasive Species You Can Eat