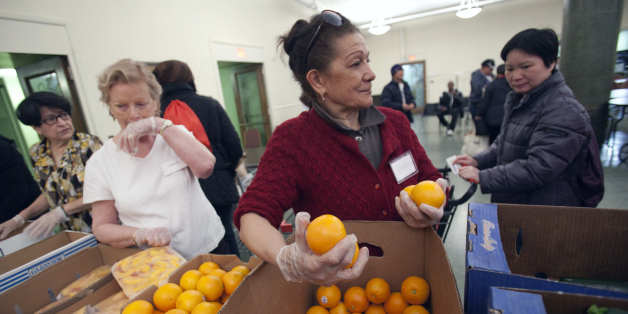 Hunger is on the rise in the U.S. and relief organizations don't have the resources to meet the growing demand, a recent report concluded.
According to a U.S. Conference of Mayors report released earlier this month, 71 percent of surveyed cities saw a rise in requests for emergency food assistance over the past year. But these groups can't keep up with the increased need.
The survey found that 82 percent of cities had to cut portion sizes at emergency kitchens and food pantries in order to feed every client.
The study collected responses from 25 cities across the country, including such major metropolises as Los Angeles, Chicago and Washington, D.C.
But feeling strapped isn't anything new for food pantries.
After a $5 billion cut to food stamps went into effect last year, an alarming number of aid groups in New York City didn't have enough supplies for their clients.
Last November, nearly half of all food pantries and soup kitchens there either ran out of food or particular types of food to make adequate meals or pantry bags, the Food Bank for New York City reported.
Richard Currie, a coordinator at the Rostraver Food Pantry in western Pennsylvania, has seen the influx of clients pouring in firsthand.
"When I began, the number of clients was maybe 170," Currie, who's been working at the pantry for eight years, told TribLive. "And now, we're at more than 230 [clients]. The need has grown because people don't have jobs."
Despite the fact that most economic indicators reflect a healthier national economy, the scope and scale of need is overwhelming nonprofits that help people struggling to make ends meet, the report noted.
"It's been more than three decades, and every report on these problems that we have published has reiterated a need for more services and more capacity to help growing numbers of families and individuals in need," conference CEO Tom Cochran said in a statement.
These findings fall in line with similar reports tracking hunger across the country.
Feeding America, for example, concluded in a recent study that rates of food insecurity spiked 31 percent in 2008 -- coinciding with the Great Recession -- and have held steady since.
CORRECTION: An earlier version of this story didn't mention that soup kitchens in New York City also ran out of food in November last year. The error has been corrected.
BEFORE YOU GO
PHOTO GALLERY
The Hungriest States In America