An Illinois woman has filed an application to trademark the now-famous rallying cry associated with the death of Eric Garner.
Catherine Crump of Waukegan, Illinois, filed the application to trademark the phrase "I can't breathe" last week with the U.S. Patent and Trademark Office, The Smoking Gun reported Thursday.
The three words were the last spoken by Garner, a Staten Island man who died during an altercation with New York City police officers in July. Since then "I can't breathe" has become a rallying cry of nationwide protests against police brutality. Earlier this month, a grand jury decided not to indict the officer involved in Garner's death.
According to the application, Crump intends to trademark the phrase for use on "clothing, namely hoodies, t-shirts for men, women, boys, girls and infants." Here's a screen-grab of her trademark application: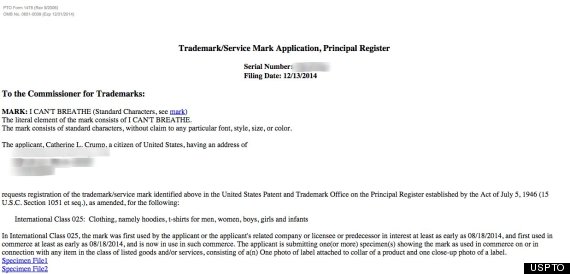 The application indicates that Crump has been using the phrase commercially since "at least" August, as indicated by a photo (below) included with her trademark application. Crump told The Smoking Gun that she has "nothing to do with the Garner family," and that she was not seeking the trademark for money. She did not offer another reason.
A voicemail left by The Huffington Post at the phone number provided on Crump's trademark application was not immediately returned.
Protest slogans seem to be in high demand. "Hands Up, Don't Shoot," a phrase associated with the shooting of Michael Brown in Ferguson, Missouri, has also been the subject of trademark applications.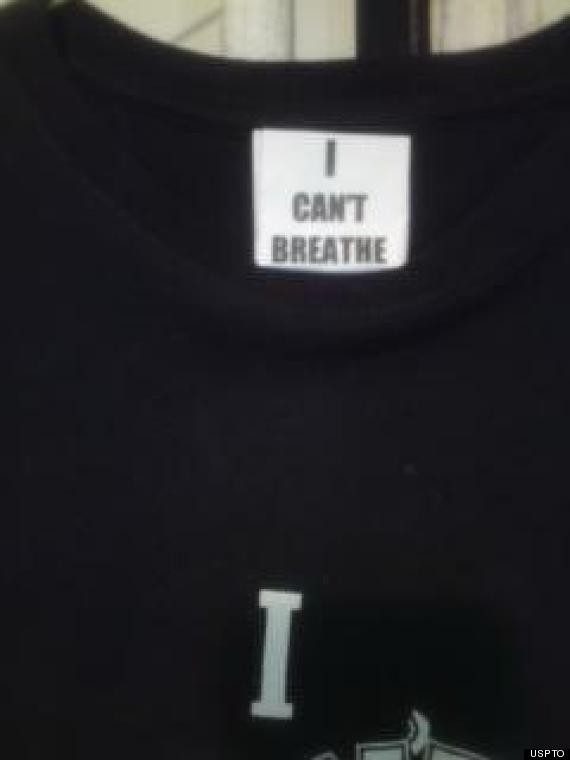 This photo was included in Trump's trademark application.
Hat tip: Gawker