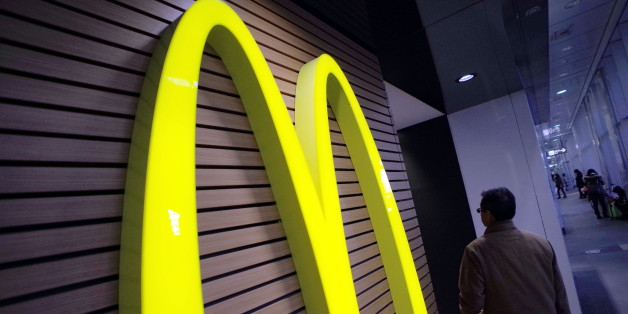 In a major blow to big franchisers, the National Labor Relations Board issued several complaints against McDonald's on Friday, naming the fast food giant a "joint employer" alongside its franchisees accused of violating labor law.
The fast food industry has been fearing just such a move by the board, since it shows federal regulators are willing to hold large corporations responsible for the labor violations inside franchised stores. Until now, it's generally been the franchisees operating the restaurants who've been held responsible.
"The complaints allege that McDonald's USA, LLC and certain franchisees violated the rights of employees working at McDonald's restaurants at various locations around the country," the board said in a statement.
The alleged violations by McDonald's and its franchisees included "making statements and taking actions against [workers] for engaging in activities aimed at improving their wages and working conditions."
The franchise industry has been blasting the board for months for considering issuing such complaints. In a statement issued Friday, McDonald's said the board's actions "improperly and dramatically strike at the heart of the franchise system."
The complaints issued Friday grew out of the Fight for $15 movement that's sprouted in the past two years, with fast food workers staging periodic strikes in cities throughout the country to fight for higher wages. The board's move marks a major victory for the union-backed campaign, as workers have tried to hold major franchisers like McDonald's responsible for the actions of their franchisees.
McDonald's took a shot at the campaign on Friday, saying unions were carrying out an attack.
"These allegations are driven in large part by a two-year, union-financed campaign that has targeted the McDonald's brand and impacted McDonald's restaurants," the company said. "McDonald's has taken the appropriate measures, working properly with its independent franchisees, to defend itself against that attack on its business."
Of 291 charges filed against McDonald's by workers since 2012, the board said it found merit in 86 of them. As is custom, the board's general counsel tried to hash out a settlement between McDonald's and the complainants over the last few months, but only achieved that in a small number of the cases. The remaining charges have been grouped into 13 different complaints that will now be heard before the labor board's regional offices.
Michael Wasser, policy analyst at the worker group Jobs with Justice, said in an email that the complaints provide McDonald's workers with an opportunity to hold their "real boss" accountable.
"We know that McDonald's sets rigorous operating standards for its franchisees, from menus, to uniforms to employment practices," Wasser said. "And we know that they monitor and enforce those standards at the corporate level. So when these practices appear to break the law, accountability should start at the top."