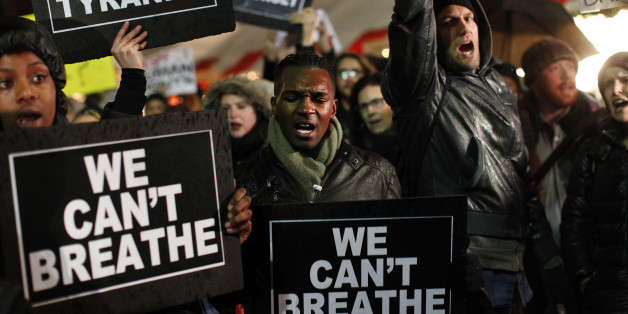 A majority of New York State thinks the police officer should have been charged in the Eric Garner case. Most Americans support ACA's employer mandate. And Americans are still mostly gloomy about the economy, but pessimism about government dysfunction has narrowed slightly. This is HuffPollster for Friday, December 19, 2014.
NEW YORKERS SAY GARNER GRAND JURY WAS WRONG - Siena College: "By an almost two-to-one [50 to 30 percent] margin, New Yorkers believe that the Staten Island grand jury was wrong to not have brought charges against the police officer in the death of Eric Garner, with significant partisan, geographic and racial differences. With similar partisan, regional and racial differences, voters say 50-36 percent that the Federal government should bring civil rights charges against the officer and that New York's criminal justice system does not treat people of color fairly (52-35 percent). There is strong support, 58-33 percent, for giving the State Attorney General the power to investigate and prosecute cases where unarmed civilians are killed by police officers, rather than remaining within the current jurisdiction of local district attorneys, according to a new Siena College poll of New York State registered voters released today...While Democrats, voters from New York City, blacks and voters under 35 overwhelmingly say charges should have been brought, Republicans say two-to-one the grand jury was correct to not indict. And pluralities or smaller majorities of downstate suburbanites, upstaters, whites and voters over 55 say charges should have been brought." [Siena]
MOST SUPPORT EMPLOYER MANDATE - Kaiser Family Foundation: "Weeks before the Affordable Care Act's employer mandate takes effect in January, a new Kaiser Family Foundation tracking poll finds that six in 10 Americans (60%) say they have a favorable view of the provision, which in 2015 requires employers with 100 or more full time workers to offer health coverage or pay a penalty. In comparison, 38 percent say they have an unfavorable view. But opinions on the employer mandate aren't necessarily fixed. The share with a favorable view rises from 60 to 76 percent after opponents are told that 'most employers with 100 or more workers already offer health insurance and won't have to pay the fine.' In contrast, the share with an unfavorable opinion rises from 38 to 68 percent after supporters are told that 'some employers are moving some workers from full time to part time to avoid paying the fine.'" [Kaiser news, KFF results]
Views are 'malleable' - The latest Kaiser tracking poll found that opinions on both the employer and individual mandates are "malleable." On the individual mandate, when hearing that ""most Americans still get coverage through their employers or a public insurance program and so automatically satisfy the requirement without having to buy any new insurance," support jumps from 35 to 62 percent. Jonathan Bernstein: "What this tells us is that we should approach claims about public opinion and health care reform with caution. Saying 'Obamacare polls badly' or 'the individual provisions of the ACA other than the individual mandate poll well' isn't the same as saying 'Obamacare is unpopular' or 'the Obamacare subsidies and Medicaid expansion are popular.' It's likely, though still not certain, that most people just don't have opinions about either the program or its various parts. That's normal; most of us don't bother to form real opinions about many things, even though we are willing to answer polling questions." [Bloomberg]
MORE THAN HALF STILL GLOOMY ON ECONOMY - GWU: "Americans continue to hold strong negative views about the state of the economy and a grim outlook for the next generation's financial prospects, according to a new George Washington University Battleground Poll. Americans are uncertain about the direction of the economy: 77 percent of poll respondents are at least somewhat worried about current economic conditions. The nationwide poll of registered voters also found that 31 percent of respondents think the economy is getting worse and another 25 percent say that the economy is poor and staying the same. Just 11 percent say the economy is good and staying the same and 30 percent believe the economy is getting better….The poll, conducted in partnership with The Tarrance Group and Lake Research Partners, also found Americans are conflicted about the role of the government in assisting its citizens. A majority is open to expanding the role of government, with 52 percent saying the government should do more to solve problems and help meet the needs of people. However, 48 percent of the public said that the federal government should get out of the way of the free market to help people succeed." [GWU]
Economic talk is gloomy - Kathy Frankovic: "It has been more than six years since the financial crisis of 2008, and although the job market and the economy have both made great strides since then, the American public remains jittery and unsure that things are really back to normal. And the most recent Economist/YouGov polls point out American worry about the future and continued anger at Wall Street. Just over half the public recognizes that the jobless rate is now lower than when President Obama took office in 2009, just a few months after the September 2008 financial crisis. But only 35% can put the current unemployment rate below 6%, where it is today. And only one in four knows that there are more jobs today that immediately before the Great Recession began. So when Americans talk about the economy with their friends and family, they are still more likely to say and hear bad news than good news." [YouGov]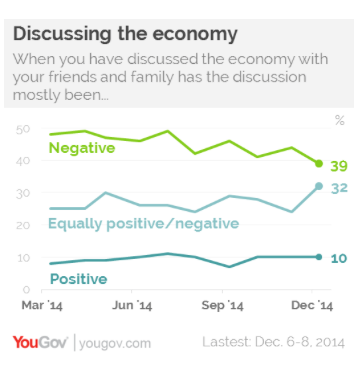 AMERICANS NOW THINK GOVERNMENT IS SLIGHTLY LESS DYSFUNCTIONAL - Dana Blanton: "Uncle Sam's performance doesn't stink as much this year, according to the latest Fox News poll. While most American voters say the federal government is 'broken' -- they're more charitable this year than last. About two-thirds -- 65 percent -- still say it's broken, but that's down from a high of 71 percent in December 2013. Some 58 percent of voters felt that way in December 2010, the first time the question was asked. The new poll, released Thursday, shows 29 percent say the government is working 'just okay.' Only five percent of voters describe it as working 'pretty well.'" [Fox]
HUFFPOLLSTER VIA EMAIL! - You can receive this daily update every weekday morning via email! Just click here, enter your email address, and click "sign up." That's all there is to it (and you can unsubscribe anytime).
FRIDAY'S 'OUTLIERS' - Links to the best of news at the intersection of polling, politics and political data:
-Non-whites have lower ratings of U.S. police honesty. [Gallup]
-In the midst of a production boom, Americans show little change in their views of energy policy. [Pew Research]
-A Reuters/Ipsos poll from October showed support for restoring diplomatic relations with Cuba. [Reuters, Ipsos]
-Lynn Vavreck reports on the academic study that showed how canvassing by gay supporters of same sex marriage changed opinions durably. [NYT]
-Gregory Weeks and John Weeks review the political demography of U.S.-Cuba relations. [WashPost]
-Nathan Yau picks his favorite data visualization projects of 2014. [Flowing Data]
BEFORE YOU GO
PHOTO GALLERY
Eric Garner