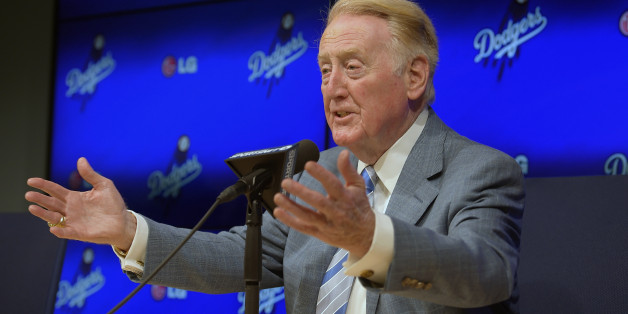 Famed Dodgers announcer Vin Scully lost a World Series ring while shopping with his wife at an Los Angeles-area Costco Thursday -- and the Dodgers broadcasted the news to the world.
While Christmas shopping today, Vin Scully lost his 1988 World Series ring. If you find it, please contact the Dodgers at (323) 224-1500.

— Los Angeles Dodgers (@Dodgers) December 18, 2014
As the Los Angeles Times noted, Scully has won six World Series rings with the team and gave all but the 1988 ring to his children. The latter represents the Dodgers' Series victory over the powerful Oakland A's that began with the Game 1-winning homer by Kirk Gibson. "In a year that has been so improbable, the impossible has happened," Scully said in his memorable play-by-play.
Thankfully for the 87-year-old broadcaster, the ring mystery also had a happy ending. The ring apparently fell off his finger into a bag of Costco ribs. That's where his wife, Sandi, reportedly discovered it when they returned home from shopping. "I'm still laughing about it," he told the Times.
Great news! Vin Scully's 1988 World Series ring has been found. (This was not a drill -- Vin thanks everyone for their concern.)

— Los Angeles Dodgers (@Dodgers) December 18, 2014
H/T For The Win