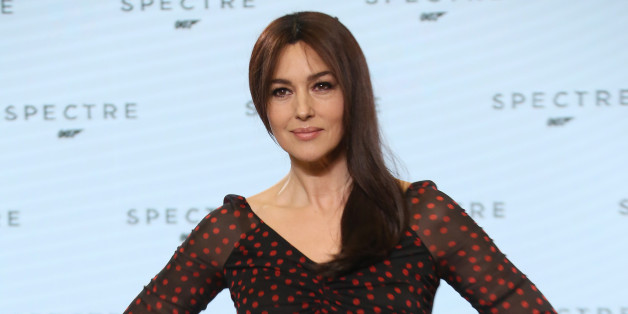 The "year of the boomer" is almost over and we have to say it's been an eventful one. Post 50s have been making headlines in all sorts of amazing ways -- and it's mostly been good. The bad news is that our two favorite Post-50 hunks, George Clooney and Brad Pitt, are officially off the market! We never thought we'd see the day when Clooney would tie the knot again, but 2014 just happened to be the magic number.
Here's the good news:
1. Older women are hot-hot-hot in Hollywood.
If you've been watching TV or movies, you're bound to have noticed that older women are hot in Hollywood. Just this month, 50-year-old bombshell Monica Bellucci was picked to be the oldest Bond girl in the upcoming film, "Spectre." Helen Mirren is one of the newest and oldest faces of cosmetic giant L'Oreal Paris. Soon-to-be-50 actress Viola Davis is the star of a new hit show, "How To Get Away With Murder." Christie Brinkley posed in a bikini on the cover of People Magazine at 60!If that's not enough, beloved fashion icon Barbie herself turned 55 this year and she's still got it!
2. Post 50s are taking social media by storm.
Forget the notion that older folks aren't a part of communities like Twitter, Facebook and Instagram. Everyone from former presidents, diplomats, actors and actresses are acing social media. Here's the proof, in case you missed it. Comedian Conan O'Brien was put in his place after he sarcastically tweeted he was going to be "slutty Madeleine Albright for Christmas." Albright tweeted back, reminding us you should never ever mess with a former Secretary of State. "I'm considering going as hunky Conan O'Brien -- but that might be too far fetched."
Former Presidents Bush (Jr.) and Clinton also enjoyed some lighthearted fun, taking jabs at each other on both Twitter and Instagram. Basically, what we're trying to say is, you should get in on the fun if you aren't already.
3. Turns out, aging is mostly in your head.
Perception really does trump reality, it seems, when it comes to getting older. The proof: recent studies that suggest you may be able to think yourself younger. In October, researchers from Yale and University of California, Berkeley released a study which highlighted the power of stereotypes when it comes to aging. After just four weekly sessions of brain training, in which participants were shown positive words associated with youth and those representing aging, participants saw improvements in physical ability. Some of these words included, "wise," "spry" and "senior."
Another British study found that older adults who felt fulfilled in life were 30 percent more likely to live longer than their unfulfilled counterparts. Just a reminder that the mind really is stronger than the body.
4. Hugs could help turn back the clock.
Warm, comforting embraces may be good for more than just the positive vibes. Researchers from the University of California, Berkeley believe that oxytocin, the "love" hormone, released from bonding with loved ones, could help repair damaged muscles, making you (almost) as good as young, once again. Older mice injected with the hormone were able to repair deterioration making them 80 percent as strong as younger mice, when it came to muscle repair abilities.
So go ahead, hug it out in 2015.
5. Life expectancy is greater than ever.
While Dr. Ezekiel Emanuel may have sparked a national debate about aging, when he wrote a controversial blog, "Why I Hope To Die At 75," a new report from the Centers For Disease Control says Americans are likely going to live a little longer. The report says Americans have a life expectancy of 78.8 years as of 2012, "a record high." As we all know, women's life expectancy is on average, slightly longer than for men, at 81.2 years, compared with 76.4 years for men. The CDC attributes the rise to falling cancer and heart disease rates, the two leading causes of death, which have been on a decline since 1999.
BEFORE YOU GO
PHOTO GALLERY
Boomer Marketing: Which Businesses Make The Grade?