New Yorkers mourned the shooting of police officers Wenjian Liu and Rafael Ramos with interfaith prayer vigils on Sunday and Monday, following weeks of protest against police brutality.
Leaders from Union, Auburn and New York Theological Seminaries, The Riverside Church, The Collegiate Churches of New York, Judson Memorial Church and other local organizations came together for a "pray-in" on Monday, calling for an end to violence as they marched to the New York Police Department's 26th Precinct.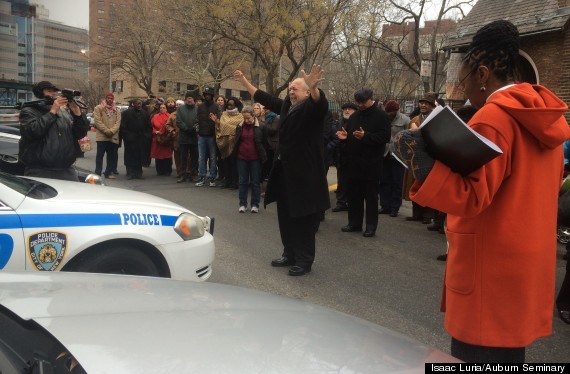 Clergy offer prayer for slain Officers Liu and Ramos on Monday Dec. 22, 2014.
Members of the clergy gathered at Union Seminary before bringing their prayers into the streets as they marched down Broadway. Rev. James Forbes, Jr., Senior Minister Emeritus of The Riverside Church, spoke with HuffPost by phone from the demonstration, saying clergy must "stand up and cry out" against violence as Jesus did in the New Testament.
"Jesus says 'No more of this!' This violence must stop," Forbes said.
The reverend participated in another action hosted by Union last week, when members of the clergy staged a "die in" against police brutality, but said he hoped Monday's event would offer a message of solidarity against violence of all types.
"Our hearts go out to Officer Liu and Officer Ramos," Forbes said. "We want to stand there in front of the police station to let the police inside know that we care for them. Their lives are as important as the lives of any other citizen in our culture."
Several police officers walked with the clergy members, Rev. Kim Jordan told HuffPost by phone during the pray-in, and more gathered outside the 26th Precinct when the marchers arrived.
"We came from the place of having a pastoral heart to weep with those who weep, but a prophetic heart, too, that we're seeking justice," Jordan said. "We've been imploring God to work on behalf of the families that have lost."
Monday's event took on a very different tenor from previous protests, Rev. Peter Heltzel said after the pray-in. Where the "Black Lives Matter" protests have been energetic, Heltzel, who directs the Micah Institute at New York Theological Seminary, said the pray-in was somber and meditative.
"There's been this shift from confrontation to comfort," Heltzel said. "We've had to take a moment to quiet our hearts and souls and consider new creative ways to collaborate with all the leaders in New York."
Heltzel added that a group of New York City clergy met with Monsignor Kevin Sullivan to collaborate on a "multifaith service of healing" planned for January 15 at St. Patrick's Cathedral in honor of Martin Luther King Jr. Day.
"While some in this city are using divisive rhetoric, I see a whole new model of deep solidarity and intentional collaboration developing among the faith community, labor, elected and law enforcement officials that is a very promising paradigm for 2015."
On Sunday night family, friends and colleagues of the slain officers gathered in Brooklyn's Bedford-Stuyvesant neighborhood to hold a vigil, placing candles and flowers on a makeshift memorial.
Interfaith Prayer Vigil #RafaelRAmos at Myrtle and Tompkins in Brooklyn tonight @ICNY pic.twitter.com/Qq587vOzEo

— Chloe Breyer (@cbreyer) December 22, 2014
Lucy Ramos, aunt of one of the victims, spoke to press outside her house Sunday evening, saying:
"I would like to thank all those who have shared their sympathy and support for our beloved family member, Rafael Ramos, who will always be loved and missed by many. I hope and pray that we can reflect on this tragic loss of lives that have occurred, so that we can move forward and find an amicable path to a peaceful coexistence. We would like to extend our condolences to the Liu family, also. Thank you."
Juan Rodriguez, president of the 75th precinct community council and a friend of Ramos, remembered the victim as a father, active community member and "religious man." Rodriguez told New York Post that Ramos had considered becoming a police pastor before becoming a cop.
"I know when he was out there he was doing his job as a police officer and also as a religious man," Rodriguez said.
Liu and Ramos were sitting in their patrol car in Brooklyn just before 3 p.m. Saturday when they were shot dead "execution style" by a gunman identified by police as Ismaaiyl Brinsley. The shooter had posted a photograph of his weapon on Instagram, saying that he planned to kill two police officers in retaliation for the deaths of Eric Garner and Michael Brown.
Brooklyn Borough President Eric Adams called on protesters to suspend demonstrations until the officers were laid to rest:
"We want to send a very clear and loud message that what happened yesterday was a strike at public safety and that which we hold dear," he said. "We are asking all New Yorkers to turn this page into purpose... All lives matter."
BEFORE YOU GO
PHOTO GALLERY
Interfaith Vigils Mourn Slain Officers