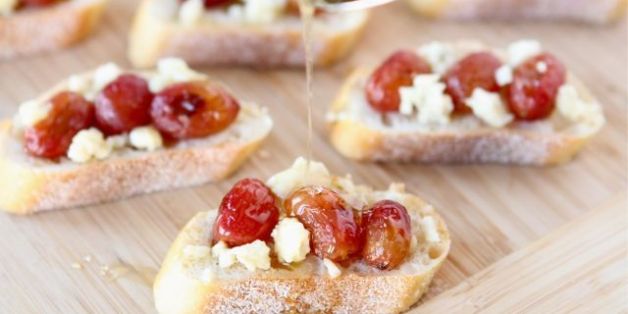 You've been so patient with our desire to eat gigantic, heavy meals lately. Be it Christmas dinner, Christmas brunch or all the cookies and cocktails in between, you've stuck by us. And now, for something completely different.
New Year's Eve is the kind of holiday we like to spend at home. Don't get us wrong -- we want to party. We just want our friends to come over and eat all the snacks we can't keep ourselves from making. Since it's the last meal of the year, we like to eat a few bites of every single thing we can think of. We want to finish the year with a bang. The bang of Champagne corks, of satisfied fists smashing down on the counter to say, "these hors d'oeuvres are SO GOOD." We don't suggest that you make all of these New Year's Eve recipes -- that kind of effort would be Herculean -- but these are a few of the things we'll be cooking up for friends and family to enjoy what we're putting behind us, and get psyched for what we're heading toward. Here are 53 ideas so good you'll never forget the last night you spent in 2014 -- no matter how much Champagne you drink.
Happy new year, everyone!
PHOTO GALLERY
53 New Years Eve Recipes
Want to read more from HuffPost Taste? Follow us on Twitter, Facebook, Pinterest and Tumblr.
BEFORE YOU GO
PHOTO GALLERY
12 Champagne Recipes