Americans approve of the possibility for warming relations with Cuba. Back home, few expect the new Congress to change anything. And most Americans think Sony overreacted by canceling The Interview. This is HuffPollster for Tuesday, December 23, 2014.
CBS: SUPPORT FOR NORMALIZING CUBA RELATIONS - Sarah Dutton, Jennifer De Pinto, Anthony Salvanto and Fred Backus: "In the wake of President Obama's surprise announcement of an agreement to normalize diplomatic relations between the U.S. and Cuba, 54 percent of Americans approve of reestablishing both diplomatic and trade relations between the two countries, while just 28 percent disapprove. Democrats and independents support reestablishing relations with Cuba, while Republicans are divided. The President's announcement does not seem to have altered America's views on this matter: a New York Times poll conducted in October found similar views, and opinions today differ little from January 1977, when CBS first began asking the question. Evaluations of President Obama's handling of relations with Cuba are mixed: 44 percent of Americans approve and 36 percent disapprove. Even though the question of renewed relations with Cuba divides Republicans, they overwhelmingly disapprove (67 percent) of the President's handling of the matter. Most Democrats approve (72 percent), while independents are divided." [CBS]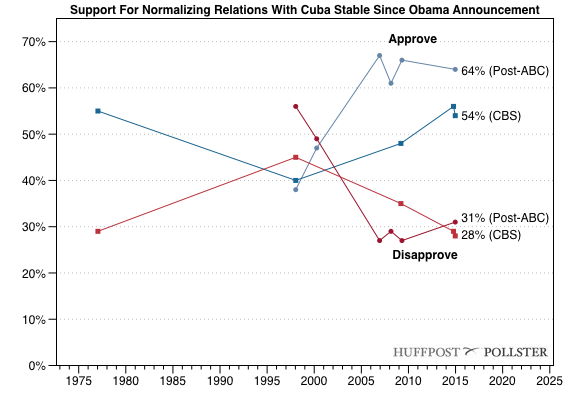 ABC/Post finds similar results - Greg Holyk: Broad majorities of Americans in a new ABC News/Washington Post poll support establishing diplomatic relations with Cuba, as well as ending the United States' longstanding trade embargo and restrictions on travel to and from the Caribbean nation. Sixty-four percent favor Cuban-American diplomatic relations, similar to its level in polls the last eight years. Two-thirds and three-quarters, respectively, favor ending the trade embargo and travel restrictions, both up considerably from an ABC/Post poll in 2009. No more than three in 10 are opposed in each case. And strong supporters outnumber strong opponents on all three measures – by particularly large margins, about 2-1, when it comes to trade and travel." [ABC]
FEW HAVE FAITH IN NEW CONGRESS - Monmouth University: "Less than half of Americans are hopeful that the new Republican-controlled Congress and Democratic President Barack Obama will be able to work together – with just 17% being very hopeful and 28% somewhat hopeful. Another 19% are not too hopeful and one-third (33%) are not at all hopeful that the legislative and executive branches of government can work together next year. There is practically no partisan difference in this opinion….The poll looked ahead to 2016 and the hypothetical possibility that both the next president and Congressional leadership may come from the same party. About half (49%) of the public believes that this outcome would help get things done in Washington, 35% say it would make no difference, and another 10% feel that one-party control of the executive and legislative branches would actually make gridlock worse." [Monmouth]]
DE BLASIO'S 'TIGHT SPOT' - Harry Enten: "New York Mayor Bill de Blasio is in a tight spot politically after the fatal shooting of two New York Police Department officers, Wenjian Liu and Rafael Ramos, on Saturday. In an effort to close the divide between himself and the city's police, de Blasio on Monday called on those protesting a grand jury's decision not to indict an NYPD officer in the choking death of Eric Garner to suspend their demonstrations. De Blasio's problem is that many of these marchers are part of his political base, while the NYPD's base of support is quite different. That is, if a voter approves of the job the police are doing, then he or she is very likely to disapprove of the job the mayor is doing. This can be seen in a recent Quinnipiac University poll in which support for both the police and de Blasio were split nearly down the middle. Fifty-one percent of voters approved of the job the police were doing, while 41 percent disapproved. A similar 47 approved of the job the mayor was doing, while 38 percent disapproved. Among the 17 subgroups (age, borough, political identification, race, sex, etc.) released by Quinnipiac, support for one is the inverse of support for the other." [538]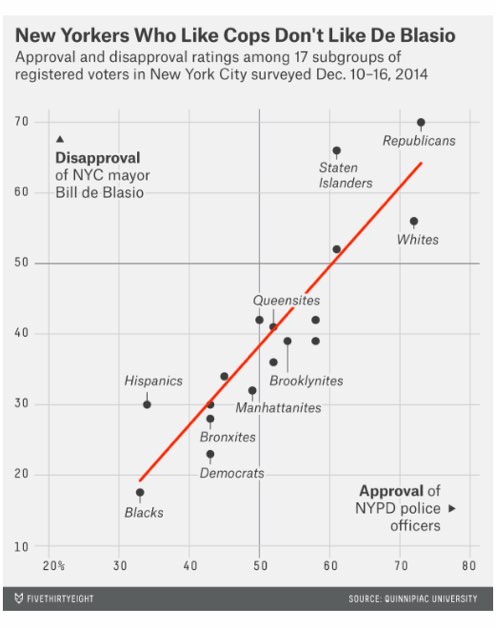 FEW SUPPORT DECISION TO CANCEL RELEASE OF 'THE INTERVIEW' - Keating Holland: "More than 6-in-10 Americans believe that Sony Pictures' decision to cancel the release of "The Interview" was an overreaction, according to a CNN/ORC poll released on Tuesday. But the U.S. public does think that the incidents which led to that decision were acts of terrorism on the part of North Korea and nearly three-quarters of all Americans say that North Korea is a serious threat to the U.S….only 36% of those polled say that pulling the film from theaters was the right decision; 62% believe that Sony overreacted. Men are less likely to endorse that decision, but women approached that issue more cautiously and were closely divided." [CNN]
HUFFPOLLSTER VIA EMAIL! - You can receive this daily update every weekday morning via email! Just click here, enter your email address, and click "sign up." That's all there is to it (and you can unsubscribe anytime).
TUESDAY'S 'OUTLIERS' - Links to the best of news at the intersection of polling, politics and political data:
-Whites and non-whites are divided in their views of the justice system. [CNN]
-Hillary Clinton maintains a double-digit lead over Chris Christie in New Jersey. [Rutgers-Eagleton]
-New York State voters approve of Governor Cuomo's fracking ban. [Quinnipiac]
-Local police rated more positively than police in general. [YouGov]
-Sheri and Allan Rivlin (D) review the election post-mortems of various prominent Democrats and aim to define areas of agreement. [Democratic Strategist]
BEFORE YOU GO
PHOTO GALLERY
Cuba's Economy Through The Years