In a Christian refugee camp in northern Iraq, a special tent stands out as a reminder of those keeping the faith alive in the midst of persecution.
Refugees erected a tent for Jesus in preparation for the Christmas holiday, the celebration of which will likely be tinged with sadness as the Islamic State continues its attack on Christians, Yazidis and others in its path in Iraq and Syria who disagree with its ideology.
Even so, Canon Andrew White, who leads St. George's Anglican Church in Baghdad, said in a recent HuffPost blog that there is still room for hope for Iraqi Christians celebrating the holiday. Despite the sadness and trauma imprinted on the hearts of many, Christmas offers a message about God's love that not even the Islamic State can wipe out.
"I will never forget the day in Baghdad when we had some visitors," White wrote.
They had come to see what it was really like for Christians in Iraq. They were so surprised by how happy the thousands of people were in our congregation. 'How can you be so happy when you are surrounded [by] suicide bombs, mortar's rockets and such violence?' One of our young people answered the statement. 'You see when you have lost everything, Jesus is all you have got left.'
White also serves as president of the Foundation for Relief and Reconciliation in the Middle East, which operates a medical clinic, food relief program and interfaith council of religious leaders, in addition to St. George's church.
The escalation of violence in the country has forced White to relocate in recent weeks, he said, and much of his time has been spent in Bethlehem, the birthplace of Jesus.
"Two thousand years after he first came, he is still everything to the people," White wrote in his blog post. "He is still everything to our Christians in Iraq and he can still be everything to us."
Pope Francis echoed these sentiments in a Dec. 21 Christmas letter to Christians in the Middle East, saying: "Our consolation and our hope is Christ himself."
The pontiff sent blessings to Christians in the regions as they met the Christmas holiday with hymns as well as "tears and sighs" and praised them for their enduring strength despite diminishing numbers:
Dear brothers and sisters, even though you may not be numerous, you play a significant role in the Church and in the countries where you live. The entire Church is close to you and supports you, with immense respect and affection for your communities and your mission. We will continue to assist you with our prayers and with every other means at our disposal.
But in Iraq, Christian faith comes with its own risks, said Jeremy Courtney, the executive director of Preemptive Love Coalition, a Baghdad-based health organization that provides training for Iraqi heart surgeons and nurses.
"As Iraqi Christians celebrate this Christmas in Baghdad, they gather so much like many of their early Christian forebears did: in between fear and isolation and hopeful gratitude, all keenly aware that identifying with Jesus 'the Christ' and his way of life could very well cost them everything," Courtney told HuffPost by email.
Not all Christians in Iraq identify with one another, PLC's communication director Matthew Willingham noted. Some refer to themselves as Christians in a political or ethnic sense, Willingham said, while others may identify as Assyrian or Chaldean, or as only Christian by birth.
Nonetheless, Christmas this year comes at a time when many faith groups in Baghdad, where Willingham lives and works, are united in solidarity against the Islamic State.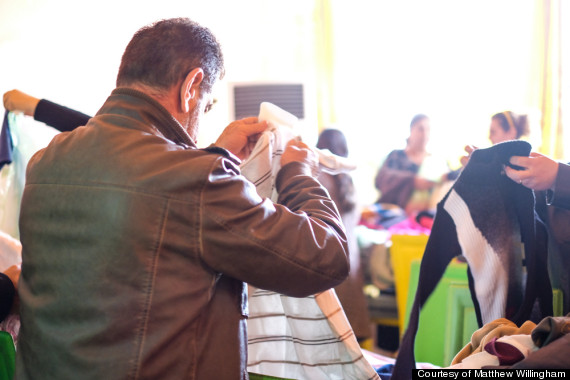 Shias, Sunnis, and Christians donated the clothing given out today.
"Those originally from Baghdad (along with many Muslims) have also found a lot of joy in welcoming and serving those displaced by ISIS," Willingham told HuffPost by email. "I was just at a school this morning full of displaced Muslims (Shia Turkmen and Arabs) who received heaters from local Christians, and the day before that I was at a church where Muslims were providing for Christians. There's quite a bit of cooperation that's happening between the sects."
Patriarch Raphael Louis Sako, head of the Chaldean Catholic Church to which many Iraqi Christians belong, has urged people to pray and fast from Dec. 22 through Christmas Eve in solidarity with "displaced brothers and sisters, who are going through indescribable suffering." He also suggested avoiding "worldly celebration" on Christmas and New Year's days, according to Catholic World News.
"We fast for the liberation of Mosul and the villages of the Nineveh plains, so that peace and security will return to these areas, and everyone will be able to return to his or her home, job and school," Sako said.
Christmas celebrations are going ahead in Baghdad and in refugee camps in northern Iraq, however. Willingham said many Christians in Baghdad will spend the day in one of several churches' dance halls, which will be open for the occasion with extra guards and checkpoints set up in the vicinity.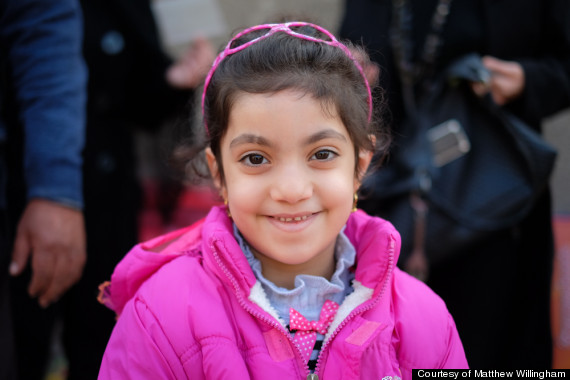 A child smiles after receiving Christmas gifts.
In the refugee camp in Erbil, an Iraqi city and the capital of the Kurdistan region in which many northern Iraqis sought refuge from the Islamic State, displaced Christians have set up makeshift holiday markets, in addition to the tent for Jesus mentioned above.
These refugees have some special reinforcements headed their way for Christmas, too, as Operation Christmas Child, a program run by American evangelist Franklin Graham and his Samaritan's Purse organization, recently airlifted 60,000 gift-filled shoeboxes to refugees in northern Iraq to lend a festive spirit to their holiday celebrations.
"These children will be reminded that there is a God who loves them. That is the point and the purpose of Operation Christmas Child, is to share the love of Jesus Christ," director Randy Riddle told The Christian Post. "We see it as opportunities to share the gospel and we want these children to know that they are loved by not only from people [all over the world] but there is a God who loves them, and that will be the message that these children will hear."
BEFORE YOU GO
PHOTO GALLERY
Displaced Christians In Iraq Prepare For Christmas