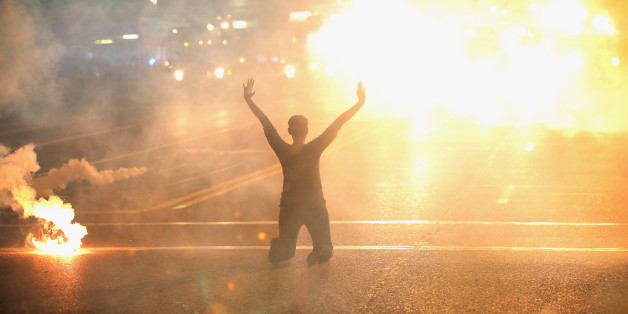 From Africa to Europe to the Americas, 2014 has been a year of extraordinary protests. Some of these protests succeeded in overthrowing political leaders, others retreated but fundamentally changed the political landscape and still others are still ongoing as we enter 2015.
Many powerful symbols arose from this year's protests. These images and slogans serve as a reminder of the courageous demands for justice and dignity shared by demonstrators around the world.
Here are some of the symbols by which the protests of 2014 will be remembered.
Ukraine
"Euromaidan"
Early on in Ukraine's revolution, protesters started using the hashtag #Euromaidan on social media. The new term soon came to describe the burgeoning protest movement that would eventually topple Ukraine's Moscow-backed President Viktor Yanukovych in February 2014.
In the most basic sense, "Euromaidan" describes the pro-European sentiment of the demonstrations, which were sparked in November 2013 by Yanukovych's decision to suspend talks with the European Union in favor of closer ties with Russia. "Maidan" refers to Maidan Nezalezhnosti, or Independence Square, the central plaza in the Ukrainian capital of Kiev where protesters first converged. The square was later the site of an elaborate protest camp and bloody battles with riot police.
But the term also has a deeper significance, The Associated Press explains. For many Ukrainians, Europe has become a symbol of genuine democracy and respect for human rights, in stark contrast to the corrupt system presided over by Yanukovych and the deadly brutality of the riot police. The Maidan carries a broader historic symbolism as well -- in 2004, it was the focal point of Ukraine's Orange Revolution, and has thus come to signify the power of mass nonviolent protest.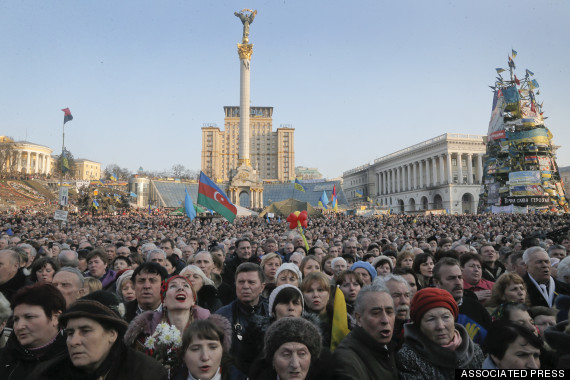 Ukrainians sing the national anthem during a rally in Independence Square in Kiev, March 9, 2014. (AP Photo/Efrem Lukatsky)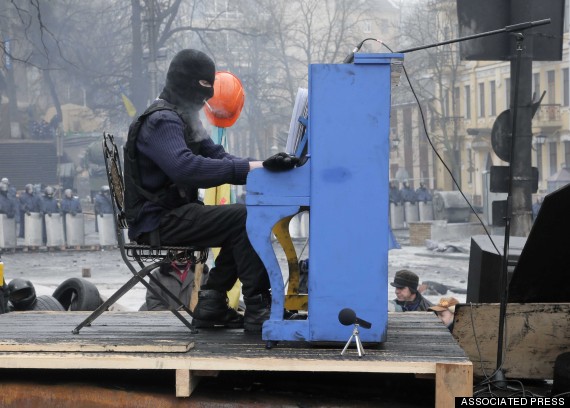 An opposition supporter plays the piano on barricades in front of riot police in central Kiev, Feb. 10, 2014. (AP Photo/Efrem Lukatsky)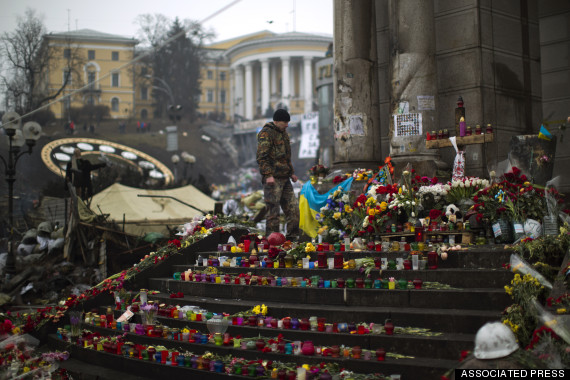 An anti-Yanukovych protester stands at a memorial for the people killed in clashes with the police at Kiev's Independence Square, March 1, 2014. (AP Photo/Emilio Morenatti)
Venezuela
#SOSVenezuela
Fed up with soaring inflation rates and high levels of crime, Venezuelans took to the streets in early 2014 to express their frustration with the government of President Nicolás Maduro.
The slogan "SOSVenezuela" became an enduring image of the mass rallies. The campaign was started by the Caracas-based activist group Un Mundo Sin Mordaza (A World Without Censorship), which organized protesters around the world to spell out "SOS" in support of the Venezuelan activists. "The media are muzzled by the national government," protest organizer Anabel Navarro said. "We need to have a voice in a country where freedom of expression hangs in the balance."
As the protests expanded, the government cracked down. Pro-government gangs clashed violently with activists, state security forces tore down protest barricades and thousands were detained. At least 43 demonstrators, both supporters and opponents of the government, were killed in the ensuing violence. In May, Un Mundo Sin Mordaza's founder Rodrigo Diamanti was arrested and charged in connection with "obstruction of public highways and possession of explosive devices."
The protests waned over the summer, but Venezuela has seen continued unrest over crime rates and shortages of basic goods, and Maduro's popularity has plummeted.
Nos llegan más imágenes del #SOSVenezuela en #Mérida realizado el #19M pic.twitter.com/MBKkwOlVeW

— Un Mundo Sin Mordaza (@sin_mordaza) March 23, 2014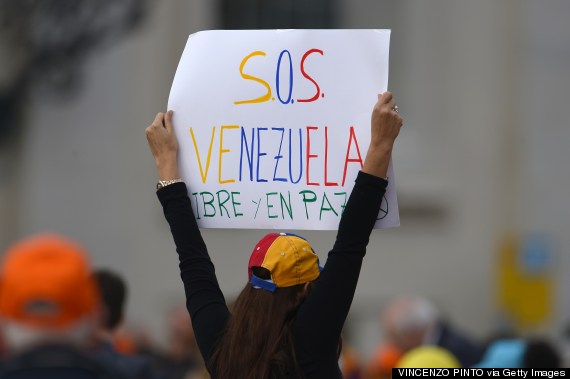 A woman holds a placard reading "SOS Venezuela" before Pope Francis' general audience at St Peter's Square in the Vatican on March 19, 2014. (VINCENZO PINTO/AFP/Getty Images)
Taiwan
Sunflowers
Over 100,000 protesters, many holding up sunflowers, converged on the Taiwanese capital of Taipei in March, accusing their government of secretly pushing through a controversial trade deal with China. Student protesters occupied the parliament building for three weeks before Taiwan's government agreed to greater scrutiny of its dealings with China. Many Taiwanese are deeply suspicious of Chinese influence on the island, which China still considers part of its territory.
The students dubbed the protests the "Sunflower Movement." According to The New York Times, the sunflowers symbolize the light that the protesters wanted to shine on Taiwan's relationship with China, as well as the broader demand for greater government transparency.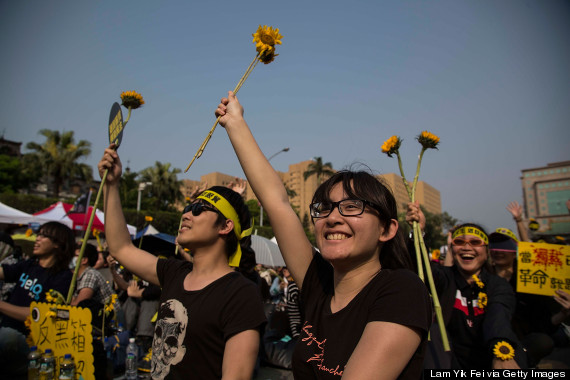 Protesters hold flowers and shout slogans at a rally in Taipei, Taiwan, on March 30, 2014. (Lam Yik Fei/Getty Images)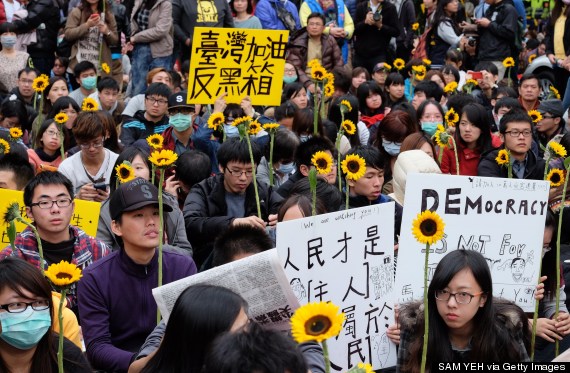 Students display flowers and placards during protests outside the parliament in Taipei on March 22, 2014. (SAM YEH/AFP/Getty Images)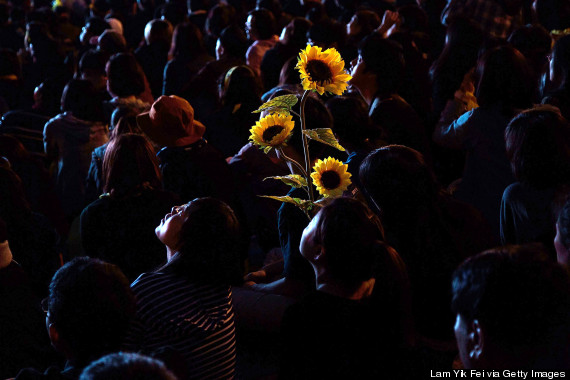 A protester holds sunflowers at a rally in Taipei, Taiwan on March 30, 2014. (Lam Yik Fei/Getty Images)
Nigeria
#BringBackOurGirls
On the night of April 14, 2014, more than 270 schoolgirls at the Chibok boarding school in northeastern Nigeria were kidnapped by the Islamist militant group Boko Haram.
The girls' abduction sparked global outrage and a major campaign calling for their rescue, propelled in part by the hashtag #BringBackOurGirls. Started by a group of campaigners in Nigeria, the #BringBackOurGirls Twitter campaign went viral across the world, prompting messages from public figures including Michelle Obama and Malala Yousafzai.
The girls remain in captivity, and the attention of the world has largely moved on. Yet in Nigeria, relatives and supporters of the kidnapped girls still rally every week in the capital city of Abuja with the same demand: Bring back our girls.
Our prayers are with the missing Nigerian girls and their families. It's time to #BringBackOurGirls. -mo pic.twitter.com/glDKDotJRt

— The First Lady (@FLOTUS) May 7, 2014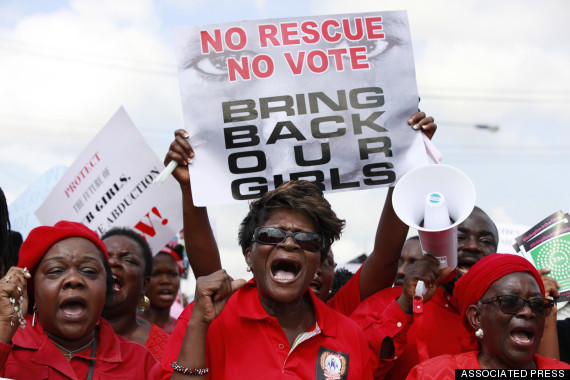 Women attend a demonstration calling on the government to rescue the kidnapped Chibok school girls in Lagos, Nigeria, May 5, 2014. (AP Photo/ Sunday Alamba, File)
Thailand
"Hunger Games" salute
Following months of protests in Thailand by rival political movements, the country's military seized power in a bloodless coup this May. Thailand's ruling junta has banned protests and other expressions of opposition -- including a three-fingered salute borrowed from the "The Hunger Games" books and movies.
In the young adult series, which is set in a dystopian autocracy, the salute is a sign of silent protest against authorities. Together, the three fingers stand for "thank you," "admiration," and "goodbye to someone you love." Protesters in Thailand have come up with several alternate meanings for the salute, such as "1. No Coup, 2. Liberty, 3. Democracy," according to The Associated Press.
Authorities warned in June that anyone who raised the salute in public could be arrested. In November, ahead of the release of the latest "Hunger Games" movie, five Thai students were detained for flashing the sign at a speech by coup leader and Prime Minister Prayuth Chan-ocha. A Thai theater chain canceled showings of the movie after activists bought hundreds of tickets and more students were arrested at screenings. "Raising three fingers has become a symbol in calling for fundamental political rights," Thai activist Sombat Boonngam-anong explained on his Facebook page.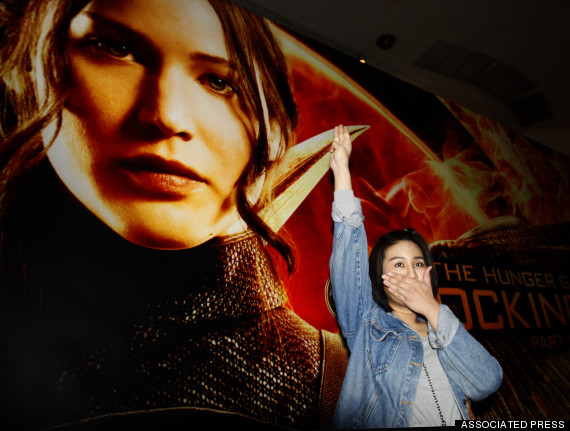 Nachacha Kongudom, 21, raises a three-finger salute outside a cinema where "The Hunger Games: Mockingjay - Part 1" is showing, in Bangkok, Thailand, Nov. 20, 2014. (AP Photo/Sakchai Lalit)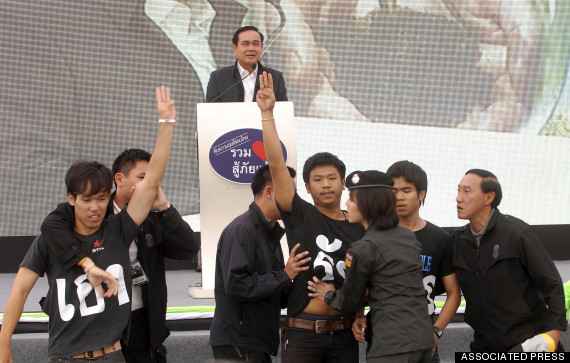 Thai student activists raise the three-fingered salute in front of Thai Prime Minister Prayuth Chan-ocha as he speaks in Khon Kaen province, Thailand, Nov. 19, 2014. (AP Photo/Bangkok Post)
U.S.
Hands Up
The fatal shooting of unarmed black teenager Michael Brown by a white police officer in August sparked weeks of unrest in Ferguson, Missouri. An eyewitness described Brown raising his hands in the air before he was killed. The gesture of surrender, with the accompanying slogan "Hands Up, Don't Shoot," together became a symbol of the nation's outrage at brutal police tactics and racial inequality.
Further protests spread across the U.S. as well as abroad after a grand jury declined in November to indict Ferguson Police Officer Darren Wilson for Brown's killing. Days later, another grand jury in New York decided not to indict another white police officer for the death of Eric Garner, who died shortly after being held in a police chokehold. Garner's last words, "I Can't Breathe," which he repeated 11 times, became another slogan of the protests, along with "Black Lives Matter."
While grand jury documents provide differing accounts of Brown's final posture, the raised hands have become an important symbol of a wider issue: black men dying at the hands of America's police force. Congressmen, football players and protesters around the world have all expressed solidarity by using the "Hands Up" gesture.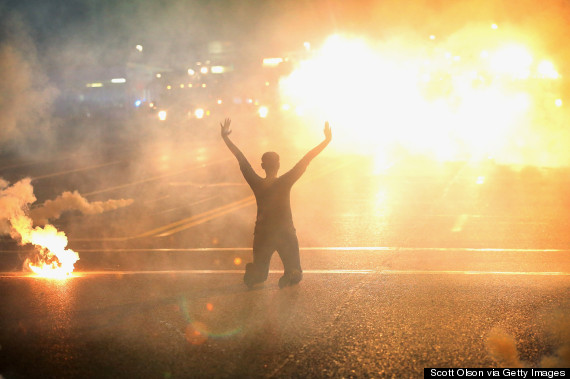 Tear gas rains down on a woman kneeling in the street with her hands in the air after a demonstration over the killing of Michael Brown in Ferguson, Missouri, on Aug. 17, 2014. (Scott Olson/Getty Images)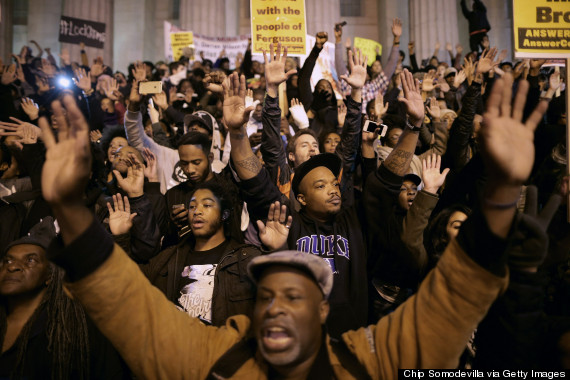 People chant "Hands up, don't shoot!" on the steps of the National Portrait Gallery in Washington, D.C., on Nov. 25, 2014, to protest a grand jury decision not to indict Darren Wilson for killing Michael Brown. (Chip Somodevilla/Getty Images)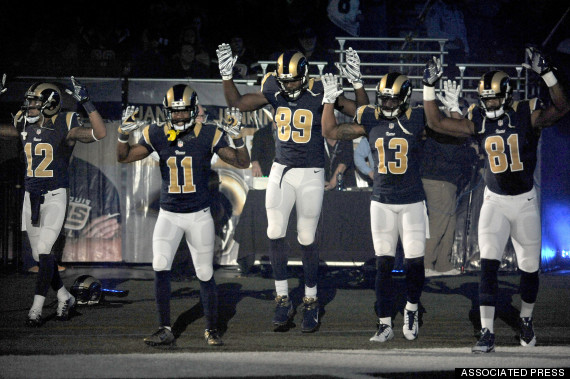 St. Louis Rams players raise their arms in reference to events in Ferguson, Missouri, as they walk onto the field before an NFL football game against the Oakland Raiders in St. Louis, Nov. 30, 2014. (AP Photo/L.G. Patterson, File)
Hong Kong
Umbrellas
In September, students and opposition protesters in Hong Kong began staging sit-ins to demand that China retract its plan to vet candidates for the territory's first leadership election. When Hong Kong's police tried to beat them back with tear gas and pepper spray, the protesters shielded themselves with umbrellas, creating a lasting symbol of peaceful defiance. The Hong Kong streets, as well as social media, were soon filled with images of umbrellas.
The "Umbrella Movement," as it became known, was Hong Kong's biggest challenge to China's authority since Great Britain handed over the territory in 1997, on the condition that it would retain some autonomy over its affairs. After nearly three months of demonstrations, Hong Kong's street camps were shut down, but the protesters insisted they were playing a long game. WorldPost China correspondent Matt Sheehan explains: "Hong Kong youth have not achieved their political goals, but they have laid down the gauntlet. They've declared themselves to be far more pugnacious and less pliant than both their parents' generation and their mainland peers."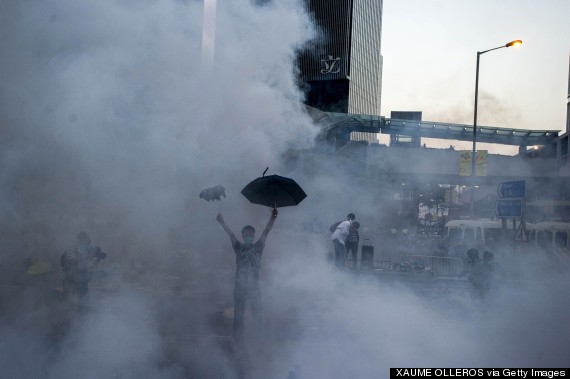 A pro-democracy demonstrator gestures after police fired tear gas towards protesters near the Hong Kong government headquarters on Sept. 28, 2014. (XAUME OLLEROS/AFP/Getty Images)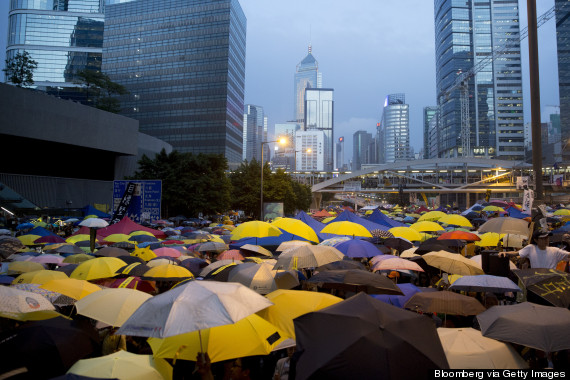 Demonstrators hold umbrellas outside the Central Government Offices in the Admiralty district of Hong Kong, China, on Oct. 28, 2014. (Brent Lewin/Bloomberg via Getty Images)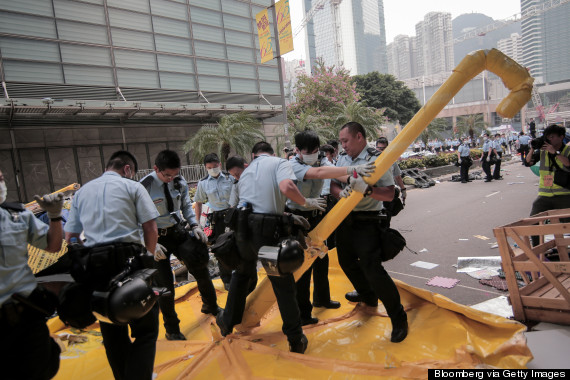 Police officers tear down a yellow umbrella sculpture near the Central Government Offices in the Admiralty district of Hong Kong, China, Dec. 11, 2014. (Billy H.C. Kwok/Bloomberg via Getty Images)
Mexico
"43"
In September, 43 students from a rural teachers' college went missing in Iguala, Mexico. The students were ambushed by police on their way to a protest and never seen again. The Mexican government said in November that members of a local drug cartel had confessed to killing the students, in collusion with the town's mayor and local police force, and that at least one student's remains had been identified. But some reporters and relatives of the students allege that the Mexican government played a greater role in the disappearances than it has acknowledged.
The students' abduction and presumed killing have sparked protests across Mexico and around the world, creating a political crisis for President Enrique Peña Nieto. Protesters have painted "43," the number of students who went missing, on walls, on their faces and on protest banners. "We are not everyone, because we are missing 43," one sign reads.
"The missing students immediately became a symbol of the country's security crisis, which has already produced countless massacres and over 20,000 disappearances, and which protesters blame on a combination of warring criminal groups and widespread corruption and negligence that gives them free rein," The Guardian explains.
Another protest slogan emerged when Mexico's attorney general said "Ya me cansé," or "I've had enough" in a press conference about the students' deaths. His words were sarcastically appropriated by protesters outraged at Mexico's security situation, including the hashtag #YaMeCanséDelMiedo ("I've had enough fear.")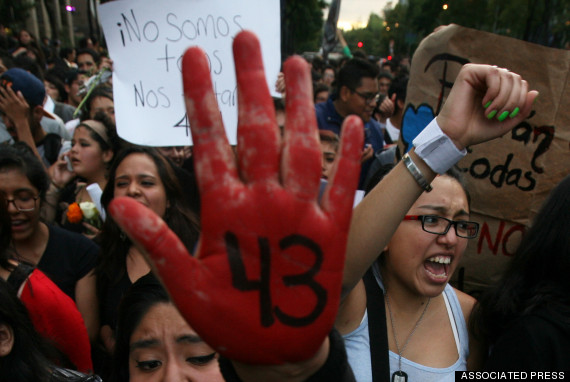 Demonstrators protest the disappearance of 43 students, in Mexico City, Oct. 22, 2014. (AP Photo/Marco Ugarte)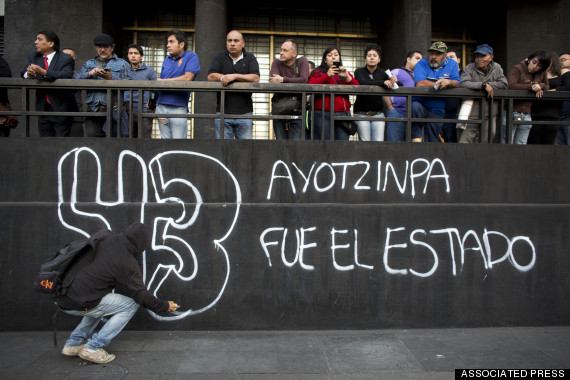 A protestor paints graffiti reading "43, Ayotzinapa was the State," accusing the government of being behind the disappearance of 43 teachers college students, during a demonstration in Mexico City, Dec. 1, 2014. (AP Photo/Rebecca Blackwell)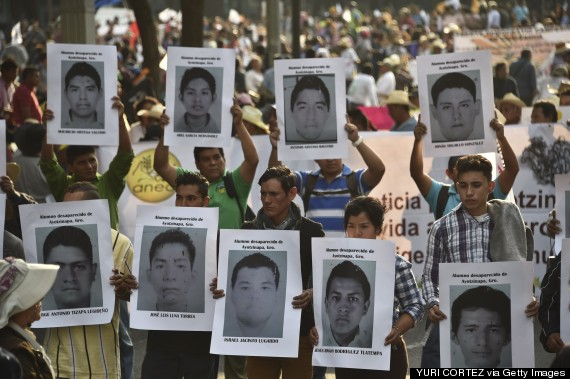 Relatives of 43 missing students hold portraits during a protest demanding justice and clarification of the disappearance of their loved ones from Ayotzinapa, on Dec. 6, 2014 in Mexico City. (YURI CORTEZ/AFP/Getty Images)
BEFORE YOU GO
PHOTO GALLERY
Ferguson Protests Around the Country