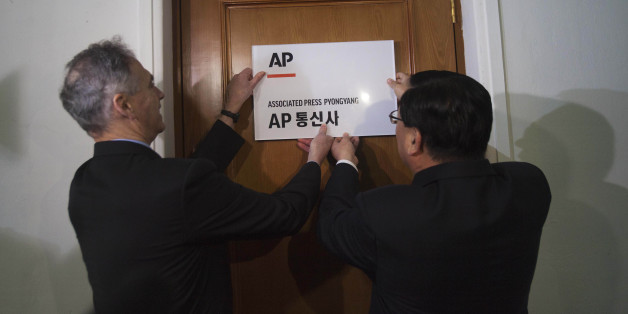 The Associated Press has publicly denied a report that accused the news agency of allowing its Pyongyang bureau to be censored by the North Korean government.
On Wednesday, NKNews.org published an article by a former AP stringer named Nate Thayer reporting that top executives had agreed to "distribute state-produced North Korean propaganda through the AP name," citing a confidential draft agreement with the Korean Central News Agency, as well interviews with current and former AP staffers.
That same day, Paul Colford, AP's director of media relations, issued a statement flatly denying the accusations, saying that Thayer had become "disgruntled" in the late 1990s following a conflict with the news agency over a video distribution agreement.
"No serious news organization would hand over the kind of business agreements, salary information and other payment documentation that Mr. Thayer sought," the statement read. "His latest articles from Dec. 24 are full of errors, inaccuracies and baseless innuendo. The 'draft agreement' between AP and North Korea's KCNA news agency that he cites is remote from the final document."
Colford also called the the idea of the Pyongyang bureau surrendering to North Korean censorship "laughable," and included the original statement he sent NKNews editor Chad O'Carroll in November regarding AP's "robust" coverage of the region.
"AP work is not submitted for any kind of review by North Korean authorities," the statement read. "AP does not submit to censorship. We do not run stories by KCNA or any government official before we publish them. At the same time, officials are free to grant or deny access or interviews."
AP launched its North Korea bureau in January of 2012 as the first all-format news office in Pyongyang with the goal of giving its audience a glimpse into the notoriously sealed off country. "We wouldn't have set up a bureau if we hadn't been able to operate the way we'd like to operate," Colford told The Huffington Post -- which is a client of AP's -- at the time.
However, in 2013, reports surfaced that staffers were still struggling with "severe restrictions in a press-averse dictatorship where man-on-the-street reporting remains a foreign concept." And now, according to a statement obtained by Politico, O'Carroll is saying AP is choosing to ignore Thayer's story.
"It is unfortunate that the AP are ignoring to address the content of Mr. Thayer's story and instead focusing on separate issues. If, as Mr. Colford suggests, there are differences between the draft agreement and what was actually signed, AP should clarify those differences publicly," the statement read. "NK News has requested clarity on details of operations from AP several times, but received no substantive responses."