An investigator testified that two brothers arrested on child pornography charges had discussed fantasies of sexually assaulting and killing a baby.
Crest Hill residents Andrew Castro, 26, and Levi Castro, 29, were taken into custody Dec. 19 after officers executed a search warrant on their home, the Chicago Tribune reported.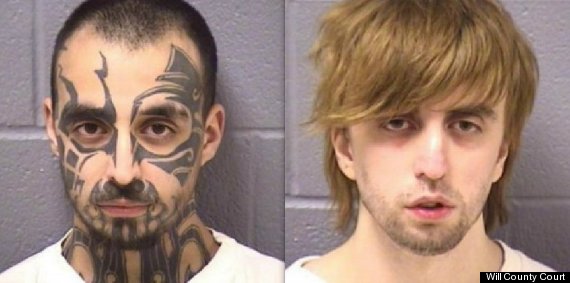 Andrew Castro (L), Levi Castro (R)
Andrew Castro was charged with three counts of possession of child pornography and one count of distributing child porn, according to online court records. If convicted, the tattooed-suspect faces 30 years in prison.
Levi Casto was charged with one count of possession of child pornography. If convicted, he faces three to seven years, the Tribune reported.
At a bond hearing on Dec. 20, an investigator with the Will County State's Attorney High Technology Crimes Unit testified that the brothers had planned to find, rape, and murder a baby, Deputy Chief Ed Clark told the HuffPost.
The investigator told how the Castro brothers "discussed possibly kidnapping a child, a baby, sexually assaulting the baby and then killing, or disposing of the baby, and if the mother of the child got in the way, killing the mother," the official said.
Both men are being held on a $2 million bond. Their next court date is January 12th.
Like Us On Facebook |

Follow Us On Twitter |

Contact The Author