An AirAsia flight disappeared on Sunday with 162 people on board.
Most of the passengers and crew, and one of the two pilots, are Indonesian. There are also three South Koreans, one Singaporean, one Malaysian, one French, and one British citizen. The other pilot is French. According to the airline, there are 16 children and one infant on board.
The Civil Aviation Authority of Singapore revealed that the Singaporean on board is two-years-old. She was traveling with her father, who is British. The government reached out to their family members.
The captain and co-captain were identified as Iriyanto, who like many Indonesians uses only one name, and Remi Emmanuel Plesel. According to AirAsia, they were both experienced pilots.
None of the other people on the flight have been identified yet. Airline chief Tony Fernandes said the airline is working on notifying their next of kins first.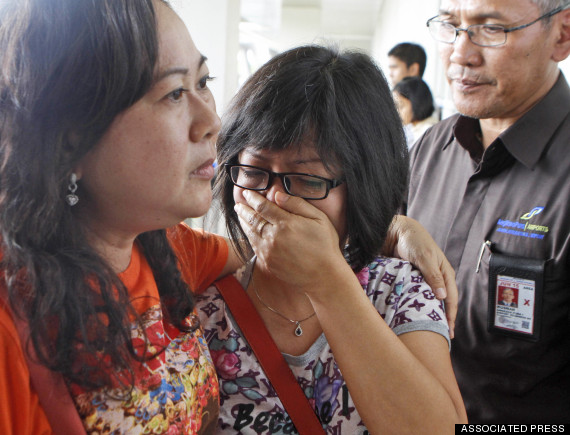 A relative of AirAsia flight QZ8501 passengers weeps as she waits for the latest news on the missing jetliner at Juanda International Airport in Surabaya, East Java, Indonesia on December 28, 2014. (Credit: AP
Over 100 relatives of the missing passengers gathered at the Juanda International Airport, where the flight took off, >Reuters said. Even AirAsia Malaysia chief Tony Fernandes joined the group. The airline offered free hotel rooms and food to those waiting to hear from loved ones.
AirAsia also set up a hotline for people to call. Anyone looking for information on a loved one can call +622129850801.
Family members also amassed at Changi Airport in Singapore, where the flight had been scheduled to land around 8:30 a.m. local time. According to The Sydney Morning Herald, one woman waiting at the airport's crisis center said that she had seven family members on the flight, including her mother and brother.
One woman told CNN that her fiancée and his family were on the flight.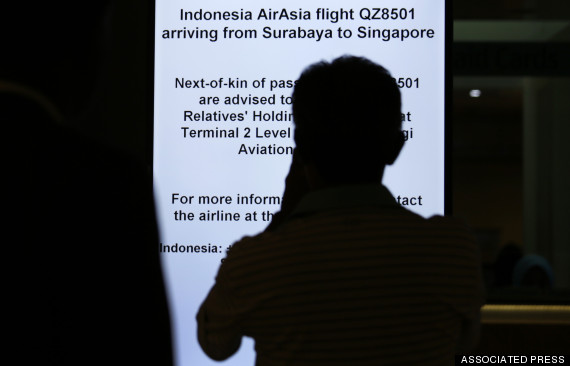 A man is silhouetted against an electronic sign board instructing relatives and next-of-kin to gather at a holding area at the Changi International Airport where AirAsia Flight 8501 from Surabaya, Indonesia was scheduled to land, Sunday, Dec. 28, 2014 in Singapore.
Air search operations were halted late Sunday for Flight 8501 after no wreckage had been found, but several boats continued the hunt. Rescue efforts were expected to resume around 6 a.m Monday. The flight lost contact with air traffic control at 7:24 Singapore time, about 42 minutes after takeoff.
Read more about the missing plane on HuffPost.
BEFORE YOU GO
PHOTO GALLERY
Missing AirAsia Flight QZ8501