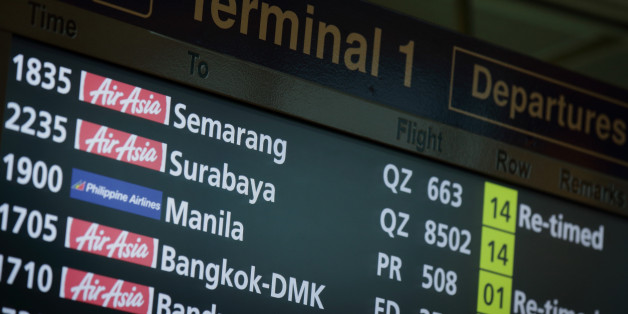 As reports emerged Sunday that AirAsia Flight QZ8501 was missing, a few passengers who hadn't boarded began to realize just how close they had come to being on the ill-fated aircraft. Now some of the reported 26 who had been scheduled to travel to Singapore from Surabaya, Indonesia, are sharing their stories.
A mother of three told Bloomberg that her family was among the no-shows after a last-minute decision the night before not to travel. They were headed on vacation to a Singapore water park, but nixed the trip after a grandparent fell ill.
Chandra Susanto, the father of the family, told the Daily Mail that he only found out about the missing plane after his sister called in a panic after the news broke. While thankful for missing the flight, Susanto expressed deep condolences for those on board.
Another report via the Jakarta Post told of an even closer call, as a family of 10 narrowly missed the flight due to a unseen email. The flight, they say, had been originally scheduled for later in the morning but was rescheduled to depart earlier.
When the family arrived at the airport, they found they'd missed takeoff by about 10 minutes. Only an hour later they learned that the plane they would have boarded had disappeared.
The names of both families correspond with those on a reported passenger manifest, which lists 23 no-shows, along with three children in arms, who did not board Flight QZ8501.
The plane, which lost contact at 7:24 a.m. Singapore time, had 155 passengers and seven crew members aboard when it departed. The passengers, from five different nationalities, include 16 children and one infant.
BEFORE YOU GO
PHOTO GALLERY
Missing AirAsia Flight QZ8501