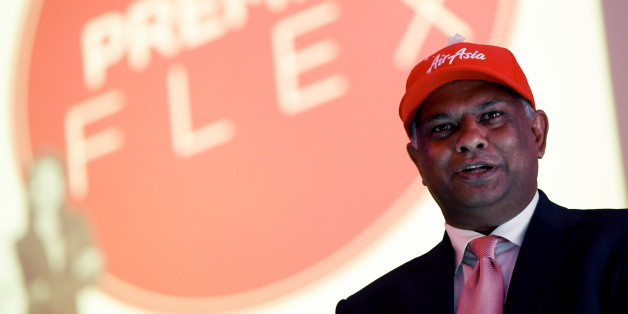 AirAsia's CEO Tony Fernandes on Sunday called the disappearance of AirAsia Flight QZ 8501 his "worst nightmare."
Fernandes has been communicating with the public via Twitter since the plane's disappearance Saturday night -- 7:24 a.m. Sunday, Singapore time -- on its way from Surabaya, Indonesia, to Singapore. There are 162 people on board the flight. "I am touched by the massive show of support especially from my fellow airlines," Fernandes tweeted early Sunday morning. "This is my worse nightmare. But there is no stopping."
The Malaysian businessman tweeted that he was on his way to Surabaya early Sunday morning, since so many of the passengers were based there.
Fernandes has been CEO of AirAsia since he bought the airline in 2001, after years as an executive at Time Warner Music. Often compared to eccentric Virgin Group chairman Sir Richard Branson, Fernandes, 50, is known for his casual style, often seen wearing jeans and a baseball cap. Fernandes is the 28th richest person in Malaysia, with a net worth of $650 million, according to Forbes. He has also owned a majority stake in the London-based Queens Park Rangers soccer team since 2011.
With AirAsia, Fernandes realized his dream of "doing a long-haul low-cost airline," he told BCC in 2010. AirAsia has been expanding in the past few years, particularly in the Japanese and Indian markets.
The disappearance is AirAsia's first major incident, but the third for a Malaysia-linked flight this year.