Jason Schwartzman's memories of childhood trips to classical concerts are filled with trepidation. "When are you supposed to laugh and applaud -- when are you not?" he wondered. "When do you stand?"
These tend to be a common complaints. Recently in David Byrne's book, How Music Works, the Talking Heads frontman expressed frustration that the classical world attempted to keep "riff-raff" out of its performances through elaborate, unspoken rules (usually pertaining to not speaking). But another book turned that notion on its head: Blair Tindall's Mozart in the Jungle, which Schwartzman and filmmaker Roman Coppola, along with Academy Award-nominated writer Paul Weitz, have turned into a new series for Amazon, also called "Mozart in the Jungle." Set in New York, the show stars Gael García Bernal as Rodrigo De Souza, a young conductor brought in to shake up the New York Philharmonic, and Lola Kirke as Hailey, an aspiring oboist and ingénue who becomes Rodrigo's assistant.
In the initial stages, Schwartzman had talked and talked about Tindall's book to friends and family (which potentially even influenced the name of his cousin-in-law Thomas Mars' album, "Wolfgang Amadeus Phoenix"). But it was HBO that originally show interested in the pitch, owing to the fact Schwartzman had worked with the network on Jonathan Ames' cult series "Bored to Death." At that time, however, "Mozart in the Jungle" was pitted against another New York-based show featuring a Kirke sister -- in that case Jemima Kirke -- in a starring role. HBO went with "Girls."
It wasn't until one of Schwartzman's friends, producer Sarah Babineau, was hired in an executive capacity at Amazon that "Mozart in the Jungle" swung back into favor. When she brought up Schwartzman's then off-the-cuff ideas about a show based off Mozart in the Jungle, Amazon was intrigued and brought on writer Alex Timbers to give more insight on the New York social strata. (Weitz became their "captain.")
Just a pilot was initially shot due to Amazon's process of letting subscribers preview potential series before giving a green-light to a full season. That first episode, completed in the fall of 2013, offers a much different version of "Mozart in the Jungle" than what would come after. Rodrigo is overly portrayed as brilliant and "cool" for not being "traditional." At one point -- after barely paying attention to people he is auditioning -- Rodrigo makes out with a younger assistant who agrees with his every word. Another character, Lizzie, who is roommates with Kirke's Hailey, is "so Brooklyn" and throws a party in their huge apartment where a bunch of other "typical Brooklynites" end up competing over who can play the best woodwind solo. (Hailey loses to a bespectacled rando when a crush walks in, causing a very wrong note.) All of this is to say, if you just checked out the pilot and were lukewarm or had given up on the series, you should think of this as a completely different thing. Starting with episode two, "Mozart in the Jungle" is actually a pretty amazing show which will likely open the doors to the classical music world for many more.
The Huffington Post talked to Coppola and Schwartzman about the new project to see how everything came together. Schwartzman was exactly as you'd expect -- extremely nice while making jokes about "sparkling cheese," conversing about small music venues and talking at length about how the term "avant-garde" is synonymous for "bullshit" (the upcoming film the two are working on with Wes Anderson was described as avant-garde by Coppola in a previous interview).
"If you forgive me, I like talk out loud while I'm thinking. I'll do it out loud," Schwartzman offered. "I won't give you the exact information properly immediately, it will slowly roll out of my mouth." Both men were very excited about the project, but Schwartzman was particularly earnest: "Not to sound like a deer in the headlights, but it's so insane that this is all happening, so the fact that you're talking to me about this right now is pretty crazy."
Talking with Schwartzman and Coppola, they both expressed how this show didn't really come together until after the pilot. Coppola mentioned how when Amazon said they wanted to do a series, the show was still "abstract" and that the two of them "hadn't really thought about it." But after seeing what worked for them from the pilot, such as Bernal having more comedic abilities than expected, tweaks were made and "Mozart in the Jungle" became a deserving last-minute entry for best new shows of 2014. The world of classical music might have been initially intimidating to the two of them -- and the early dipping of the toes into the water may have been a bit shaky (that world can seem cold from the outside!) -- but taking the complete plunge eventually showed splashing around with Mozart is obviously a lot of fun.
Below are a few quotes from The Huffington Post's conversations with Schwartzman and Coppola, which happened separately.
Both Schwartzman and Coppola were fascinated, but intimidated by this music world until a book about "sex, drugs and classical music" came along.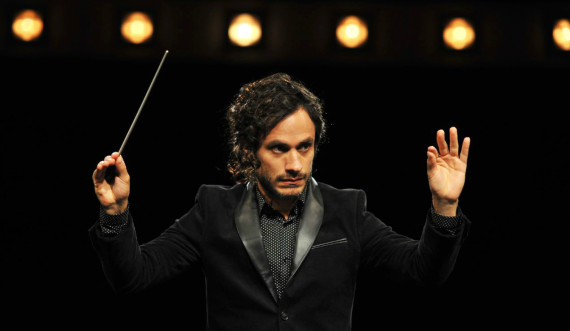 Tindall's book provided a more approachable version of the classical music world. As Coppola mentioned, there is still a familial dynamic within the orchestra that provides a relatable entrance point.
Schwartzman: So, before the book came out, I was just reading a newspaper and I saw the book review and I read it and I was taken by the title, Mozart in the Jungle. I guess it plays into some ... I don't know. My mom is really knowledgeable about classical music and her father was a great conductor and composer and in many ways it comes from an insecurity of not feeling like, "Ahh, I don't know anything, I don't know much, I don't know enough about that form of music." It comes from a very insecure place. But when I read that article and it was describing the book, it provided me something that I could, not that I could relate to, but it kind of brought it down to a level where it wasn't so shiny and extensive-seeming. Like pristine or fancy, I don't know the right word, but I always felt a little puzzled to find a way into classical music.
Coppola: Just the idea of a show around classical music seemed fascinating and interesting and relevant. So that was the motivation. We had to adapt the book and we didn't really know so much about the world. Like many people, I like classical music and I'm drawn to it, but it's rather intimidating. It's like these other worlds, like the world of wine or the world of fine arts, where when you're not in the know, you don't want to make a faux pas or do the wrong thing.
S: I always loved it when I would go. My mom would sometimes take us to see classical music and I loved it, but with anything it's not just the music, it's the whole scene. There seemed to be a lot of formalities that for an infrequent audience member were hard to learn. So then I read the book when it came out and I think it just turned on the lights a little bit. I always found the world of classical music aesthetically pleasing -- you know the dark brown of the wood, the shiny brass -- there's no question it's all so beautiful. The conductor. It has a real power and beauty to me, so it's instantly visually appealing.
C: When you kind of scratch away at it, it's not so different ... [even if] the players are certainly at the highest level of physical endurance, kind of like athletes injecting steroids. But you see these parallels to the world around you. It becomes familiar.
Image: "Mozart in the Jungle"
Schwartzman talked obsessively about the book until he and Coppola decided this was a story worth pursuing together.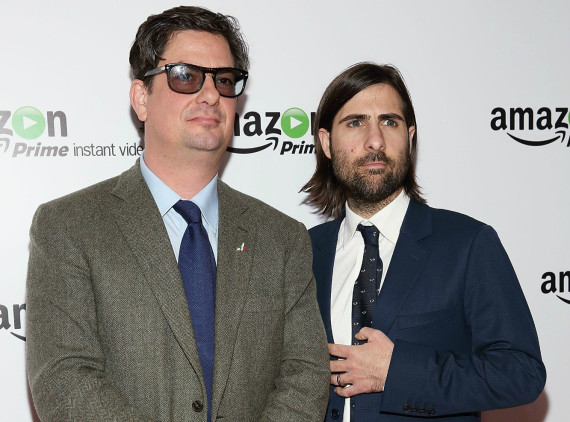 Schwartzman: I didn't read the book and say to myself, "I'm going to find a way to turn this into a television show." Really I just started to tell people about the book, as something they might like to read. It was a good read, it was fun and it was interesting and also inspiring. And the more I would talk about it, I started to kind of riff on it and it'd be funny if there was this or if this could happen. And then I started to say to people, "I think it would be a cool show if someone made a television show about classical music and all the different areas of it and what goes into it." I always sort of talked about it as if it was something someone would do, for a very long time, I mean years. And I never really thought about pursuing it for myself.
Coppola: The early conversations were really simple. And I remember [Schwartzman] saying, "I found this book." It was a unified look about the inner workings of the orchestra. And he said, "Do you think this would make a great TV show?" and I was like, "Yeah, that would make a great TV show." So he bought the rights and we said let's do it together. So it was not really a conversation it was more like, this just feels right.
Image: Getty
This is Schwartzman's first time executive producing, so he actively tried to make sure more experienced pros were also calling shots.
Although he tried things out with "The Darjeeling Limited," Schwartzman still needed to learn the producing basics such as scouting locations and determining the "pros and cons" of this space or that.
Schwartzman: The one thing that was really exciting for me -- usually as an actor you show up at the set and you've never been there before. So now as one of the executive producers, it was really something. I got to go on all of the scouts and go look at a lot of the locations. Not only creatively trying to pick the best one, but technically what was the best space for a group of people to be working in. Because this is my first experience with anything of that nature ... the last thing I wanted to be was voicing my opinion more loudly than people's opinions who do this as careers. So we had a great team of people whose job it is to help build things.
The Amazon pilot process seems fairly similar to Netflix in giving unheard of amounts of control to the creators.
Coppola: They instantly read the pilot and said let's do it. And It was like a very immediate thing. We didn't even talk about it or what do you want to do, duh-duh-duh, they just said let's make the show ... They just said do it and we made it and Paul [Weitz] really led the way. Then, in terms of working with them, they were very gracious and they just said make this show. They gave us really incredible free reign to figure it out. I think their policy is to go with talent they believe in and let them do their thing. That's strictly what we felt. So we'd stay up all night and have deep involvement because we were given that so incredible opportunity and we didn't want to mess it up.
S: It was so fast. They read the scripts and then they wanted to talk about it. And it's just funny because -- I was just joking with Roman -- it went from years of just talking about it slowly and had I known someone would really want to make it, I would have been taking notes and developing it in my brain. But it went from kind of an idea that I was looking at from different angles, to something we were kind of doing.
C: There was not a lot of check-in where they need to approve this or that. It was just make nine shows, just go do it and it was really on our shoulders to make it. Certainly they saw scripts and dailies and chimed in, but in any instance where there was ever a note, it said, "Look, these are our notes, use these to the degree they serve you, and if ever you disagree, just let us know and we'll accept that." So I think it's an interesting strategy because there was never any tussling, it was just left in our hands. There's not some babysitting aspect.
Image: Getty
Much of the series developed around the actors' own suggestions and comedic abilities.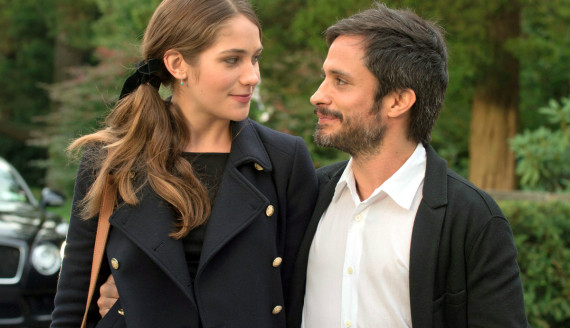 Schwartzman: I think shooting the pilot was really so illuminating, because if you can imagine, we'd been talking about this project for a long time and the script and all of a sudden there's actors saying the lines and really seeing them all together. [You realize] Gael as an actor is great at doing these things, let's give him a lot of these things. A lot of the details and a lot of the strange twists came once we got the actors all together and saw how they were working with each other and also their ideas.
Image: "Mozart in the Jungle"
Schwartzman shared that he has never really been to parties and related more to the characters' creative pursuits.
Asking about whether any personal experiences inspired the various New York party scenes in the series, Schwartzman explained how he's actually not a partier.
Schwartzman: I will say that it really depends. Even when I was, what -- I didn't go to a lot of parties. I don't know, it would have been nice, I just didn't go to a lot of them. I guess, I sat alone or ate soup. I'd watch television or something. So anyway, I'm not the expert on making a party on film. We don't have a lot of that kind of stuff in the show because so many other shows do it so well. The thing I can relate to is a bunch of people getting together having fun, like in the pilot. They're playing a game, but it's creative ... That would be a game that I would love to watch. Yeah, like I just didn't go to too many parties I guess. I'm like the worst person to talk to.
****
"Mozart in the Jungle" is now available to stream on Amazon Prime. Perhaps coming in the future: Coppola is working with Wes Anderson and Schwartzman on a new film (they all last worked together on "Moonrise Kingdom"). Schwartzman also said it is still a dream to make a "Bored to Death" follow up.
Image Top: "Mozart in the Jungle" book by Blair Tindall
BEFORE YOU GO
PHOTO GALLERY
Moonrise Kingdom