Another Latin American periodical is marking the historic shift in U.S.-Cuba relations by caricaturing President Barack Obama as one of the region's best-known leftist guerrillas.
A cover for Chilean magazine The Clinic featured used Obama's face in place of the iconic image of Argentine-born Marxist Ernesto "Che" Guevara, with a beret emblazoned with a McDonald's logo. The headline reads "Ches We Can," a play on the Spanish-accented pronunciation of the "Yes We Can" slogan Obama used for his 2008 presidential campaign.
The cover, published Dec. 24, marks Obama's decision to begin restoring diplomatic relations with Cuba for the first time since 1961.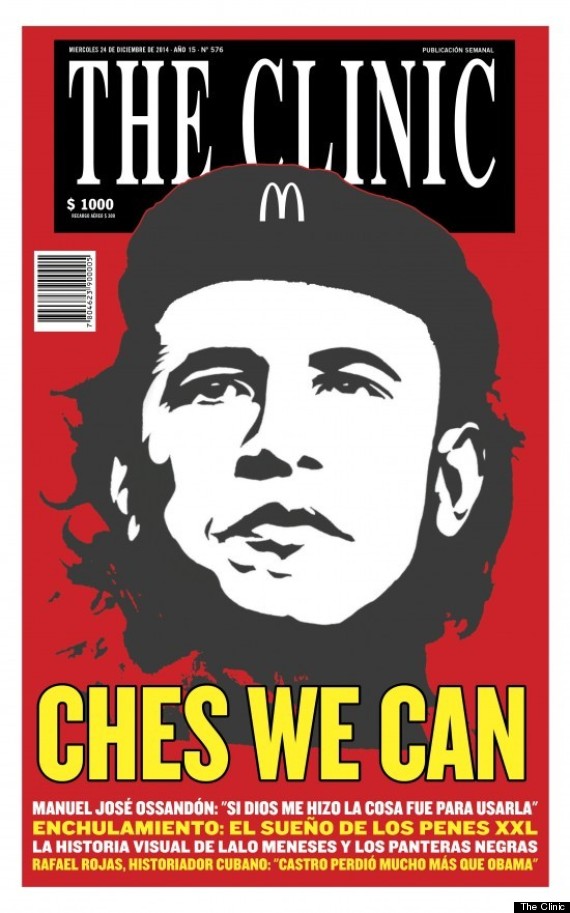 Founded in 1998, The Clinic is a leftwing weekly newspaper that mixes satire with hard news reporting. It takes its name from the London clinic where former dictator Augusto Pinochet was arrested in 1998 over allegations of committing human rights violations against Spanish citizens.
Earlier this month, Brazil's conservative magazine Veja ran a similar caricature of Obama on its cover in response to the U.S. president's move to restore diplomatic relations with the island's Communist government.
Guevara, who played a prominent role in the Cuban revolution, remains a potent symbolic figure among many leftists across Latin America.
BEFORE YOU GO
PHOTO GALLERY
Why Latin Americans Really Come To The U.S.