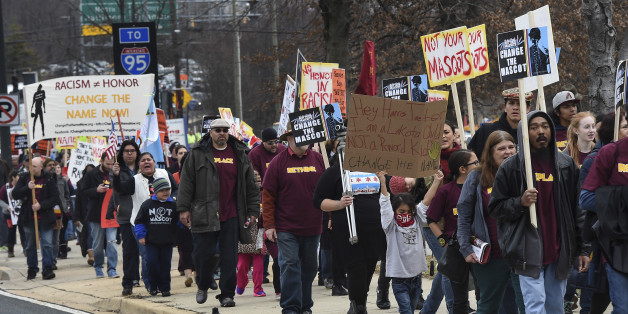 More than 100 demonstrators gathered Sunday outside FedEx Field in Landover, Maryland, home of Washington's NFL team, to protest its name and mascot on the final game of the season. While organizers had hoped for a bigger turnout, according to the Washington Post, the protest marked the largest of its kind at a home game.
The crowd reportedly formed at a church a short distance from the stadium before marching up a road heavily trafficked by Washington fans going toward the stadium from parking lots. Protesters of all ages, both Native Americans and activists of other ethnicities, held signs and chanted as people walked past.
#changethemascot rally halting #Cowboys #Redskins gameday
traffic outside FedEx pic.twitter.com/WKjk3LXg5l

— John Woodrow Cox (@JohnWoodrowCox) December 28, 2014
We're human beings, #NotYourMascot. Our culture is beautiful, not a costume. pic.twitter.com/bggeOiR7su

— tara zhaabowekwe (@zhaabowekwe) December 28, 2014
This is a huge banner. And the largest ever protest by Native Americans at a Washington home game. pic.twitter.com/CHVFiMPa9p

— Mike Wise (@MikeWiseguy) December 28, 2014
The event was organized by a coalition of groups that have spoken out against the use of Native American imagery in sports. Organizations like the National Congress of American Indians, The National Coalition Against Racism in Sports and Media, and Change the Mascot have argued that such mascots dehumanize Native Americans, reducing them to racist stereotypes rather than real people facing real challenges. They say such imagery makes it harder for indigenous people to advocate for themselves, and also has direct effects on the psychological health of Native youth.
While most fans walked past the protest in silence, other supporters of the Washington team name were more confrontational. The Washington Post reports on one fan:
"I'm so sorry that your feelings are hurt," the woman shouted, smiling. "We all have things to boohoo about."
Such sentiment was not an isolated incident.
A "loyal fan" greets a 6-year-old Navajo child named Justice, his mother and aunt at today's #ChangeTheName protest
pic.twitter.com/dfCrj8IRPi

— Mike Wise (@MikeWiseguy) December 28, 2014
Activists have been pushing back against the Washington team name for years now, and some progress seems to have been made in the 2014 season. The largest protest in more than two decades was held in Minnesota in November, before Washington fell to the Minnesota Vikings in one of its 12 losses this year.
Public support for the use of the name has also been diminishing among a number of large news outlets, including The Huffington Post, as well as among several TV commentators. In June, the U.S. Patent and Trademark Office canceled the team's trademarks, claiming the name is "disparaging to Native Americans." An appeal is still pending.
Team owner Daniel Snyder has remained insistent that the name isn't going anywhere. Earlier this year, he created a foundation intended to help indigenous communities, claiming that his team's mascot wasn't one of the "genuine" issues facing American Indians. As part of this broader argument, supporters of the team often point to Native Americans who say they aren't bothered by the name as proof that the controversy is overblown. On Sunday for example, the Washington Post spoke to one person who identified as both a "quarter Native American and a member of the Cherokee Wolf Clan" and a lifelong fan of the team and its name.
But opponents of the team name argue that a lack of consensus among the nation's 566 federally recognized tribes and millions of Native Americans does nothing to invalidate the objection. For many, the primary problem with organizations like Snyder's is that they are built on Native stereotypes and mischaracterizations that contribute to a broader environment of disrespect for indigenous people. It's this damaging attitude that allows many on the other side of the debate to deny Native Americans the simple request to be seen as equals in the eyes of their non-Native peers.
Opponents of the name have been working to take their fight deep into the postseason, even if the team itself has long been out of playoff contention. As Think Progress points out, the National Congress of American Indians and the Change The Mascot campaign have launched a fundraiser to create a new ad against the name. So far, they've raised more than $20,000, which will help pay for a digital campaign.
In anticipation of the Super Bowl earlier this year, the NCAI released a powerful video that spoke to the legacy of Native Americans and their communities today. The groups plan to have a new video ready for the upcoming Super Bowl in 2015.