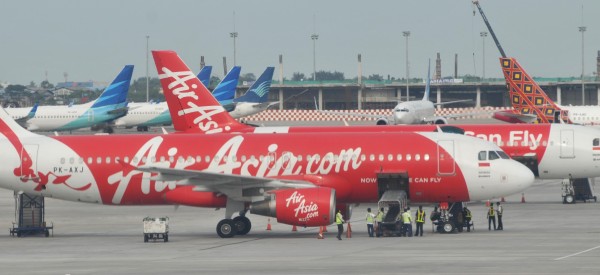 TOP STORIES
OFFICIALS BELIEVE AIRASIA FLIGHT 'AT THE BOTTOM OF THE SEA' "An Indonesian helicopter searching for the missing AirAsia jetliner saw two oily spots in the water Monday, and an Australian search plane spotted objects elsewhere in the Java Sea, but it was too early to know whether either was connected to the aircraft and its 162 passengers and crew. In any case, officials saw little reason to believe AirAsia Flight 8501 met anything but a grim fate after it disappeared from radar Sunday morning over the Java Sea." Here's what we know about the missing passengers and crew, and The New York Times has mapped the route of the missing plane. Should the plane be found "at the bottom of the sea" as the head of Indonesia's National Search and Rescue Agency stated, 2014 would be one of the worst years in Malaysian aviation history. [AP]

FIRE ON GREEK FERRY KILLS FIVE, LEAVES HUNDREDS STRANDED Hundreds of passengers aboard the doomed Adriatic ferry bound for Italy awaited rescue as they faced hypothermia and smoke inhalation. [CNN]
FOLLOWING INVESTIGATIVE REPORT, POLICE TO HUNT FUGITIVES WHO HAVE CROSSED STATE LINES "[USA Today] found this year that more than 330,000 accused felons — including some wanted in rapes and murders — can escape the charges against them merely by crossing a state border because police and prosecutors secretly decided in advance not to go that far to retrieve them. In the months that followed, officials from Florida to Pennsylvania reversed those decisions by the thousands, informing the FBI that they intend to retrieve fugitives from anyplace in the USA." [USA Today]
U.S. FORMALLY ENDS WAR IN AFGHANISTAN After 13 years. [AP]
GREECE PARLIAMENT FAILS TO ELECT PRESIDENT "Greece's parliament failed to elect a president in the third and final vote, meaning the country will be forced into snap elections early next year. The prospect of new elections has renewed fears over the country's financial problems and its relationship with its international creditors." [WSJ]
ISLAMIC STATE HAS EXECUTED NEARLY 2,000 IN SIX MONTHS Including 120 of their own. And in the fight against the militant group, a battle has begun to combat its radical psychology. [Reuters]
POPE TO JUMP INTO CLIMATE CHANGE DEBATE He is expected to release a "rare encyclical on climate change and human ecology" next year in order to influence the U.N. climate change talks in Paris. [The Guardian]
THE SECRET SERVICE'S DECLINE "The Secret Service began struggling to carry out its most basic duties after Congress and the George W. Bush administration expanded the elite law enforcement agency's mission in the wake of the Sept. 11, 2001, terrorist attacks. According to government documents and interviews with dozens of current and former officials, the recent string of security lapses at the White House resulted from a combination of tight budgets, bureaucratic battles and rapidly growing demands on the agency that have persisted through the Bush and Obama administrations in the 13 years since the attacks." [WaPo]
WHAT'S BREWING
'THE INTERVIEW' BECOMES SONY'S HIGHEST GROSSING MOVIE ONLINE The embattled movie has made $15 million in online rentals and purchases since its online release Christmas Eve. Limited theatrical runs have brought in almost $3 million. [Reuters]
GMAIL BLOCKED IN CHINA Goodbye Gchat. [NYT]
THE SECRET HISTORY OF NATIVE AMERICAN RESERVATIONS' CHILD SEXUAL ABUSE "The sexual abuse of children has long been regarded as a rampant if largely unspoken problem on Native American reservations, in part a legacy of a boarding school system that was designed to assimilate students and subjected them to widespread sexual, emotional and physical abuse, according to Native leaders and prosecutors." [WaPo]
'THE WIRE' THEN AND NOW Pretty much all of the Baltimore shooting locations for the show look the same. [Vanity Fair]
JENNIFER LAWRENCE TOPPED FORBES HIGHEST-GROSSING ACTORS LIST And cheered on the Louisville Cardinals -- what a weekend. [HuffPost]
WANT TO LOSE THE HOLIDAY POUNDS? Start upping that snooze count. [HuffPost]
WHAT TO BINGE-WATCH ON NEW YEAR'S DAY Obviously "Gilmore Girls" and "Friends" make the cut. [Vanity Fair]
THE LIFE OF A HOMELESS COLLEGE STUDENT "[Sean] McLean is one of more than 58,000 homeless college students in America today, according to Free Application for Federal Student Aid data from the 2012-2013 academic year. The figure -- which does not account for students who either do not realize they qualify as homeless (i.e., couch-surfers) or those who choose not to report their cases out of fear or shame -- marks a more than 75 percent increase over the previous three years. Administrators and poverty advocates nationwide attribute the recent spike in homelessness among college students to several leading factors: a parent losing a job, a lack of affordable housing and rising tuition costs." [HuffPost]
ON THE BLOG
MAKING YOUR NYE TOAST COUNT "When friends and family come together to celebrate the New Year, the festivities usually include raising glasses for an uplifting toast. If delivering the toast falls to you, some advance preparation will help you create a memorable start to the celebration. Follow these toasting etiquette tips to mark the occasion with plenty of New Year's goodwill." [HuffPost]
BEFORE YOU GO
~ A hacker community is claiming it can reproduce fingerprints.
~ We have a cast for the BBC adaptation of "War and Peace."
~ China is seeing a jump in births as couples try to avoid the Year of the Sheep.
~ This dad gave his daughter the literal interpretation of a "Frozen" doll.
~ Alicia Keys welcomed a baby boy, Genesis.
~ Chris Rock and his wife Malaak Compton-Rock are calling it quits after 19 years.
~ If you're thinking about going paleo after all of those holiday cookies...
~ Inside Tim Burton and Helena Bonham Carter's secret split.
~ And in case you missed it, change your Amazon password after the latest mass hack.
Send tips/quips/quotes/stories/photos/events/scoops to Lauren Weber at lauren.weber@huffingtonpost.com. Follow us on Twitter @LaurenWeberHP. And like what you're reading? Sign up here to get The Morning Email delivered to you.