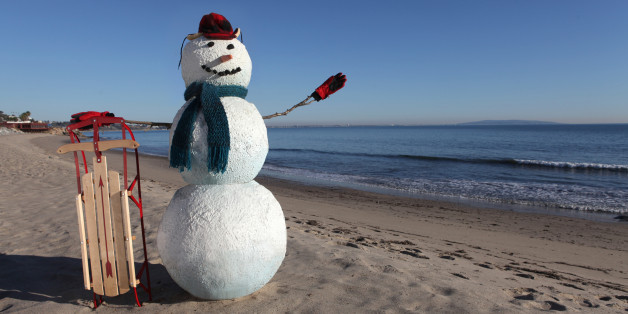 (Reuters) - An Arctic air mass over the Great Plains gripped much of the country in below-normal temperatures on Tuesday and ushered in winter storm warnings from the Rockies to the Southwest, with snow forecast even in Las Vegas, before the New Year's holiday.
The chill extended to Southern California and was expected to persist through New Year's Day, as the National Weather Service predicted that crowds camped out before dawn on Thursday in Pasadena for the annual Tournament of Roses Parade would likely brave a record freeze.
Denver was on track to set a record on Tuesday for its lowest daytime temperature for the date, just 8 degrees F set in 1915, with overnight lows expected to plunge to minus 16 degrees, NWS meteorologist Eric Thaler said.
Wind-chill warnings posted for Colorado's eastern Plains said temperatures would feel like they had fallen to 30 degrees below zero on Tuesday night.
Proving, perhaps, that even the cold is a relative phenomenon, public health officials in Los Angeles, where the mercury reached the mid-50s on Tuesday morning, warned residents to bundle up against wind chills expected to dip below 32 degrees.
"Children, the elderly and people with disabilities or special medical needs are especially vulnerable during such cold snaps," it said.
Forecasters said snow was possible over much of the West, including parts of the central and southern Plains, Rockies and Great Basin. Lake-effect snow was predicted across the Great Lakes. Winter storm warnings were posted across large swaths of Utah, Arizona, New Mexico and west Texas.
Light rain fell over Southern California on Tuesday, and snow was forecast for the region's high desert and mountains.
Up to 3 inches of snow was expected in Las Vegas by Tuesday night, with sub-freezing overnight temperatures lingering through Thursday.
"Many tourists who come to Las Vegas may be unprepared for the true winter-like conditions this storm could bring with it," the NWS said. "Travel conditions could be difficult, if not impossible."
The city of Las Vegas, where some 340,000 visitors were expected for New Year's celebrations, lacks snowplows, but the Nevada Transportation Department said it had six plows if needed.
In Pasadena, the mercury was expected to fall to 32 before sunrise on Thursday, tying a record low set in 1952 and making conditions frosty for the thousands who camp out along the Rose Parade route overnight in order to see the procession. (Reporting by Steve Gorman in Los Angeles and Mark Guarino in Chicago; Writing by Steve Gorman; Additional reporting by Jon Herskovitz in Austin, Texas; Editing by Bill Trott and Peter Cooney)