The eyes may be the window to the soul, but a mug shot can be a doorway to someplace darker.
A mug shot captures a person at perhaps their most vulnerable: When they are being booked and charged with a crime.
At that point, suspects may first realize the gravity of the charges against them.
Or not.
All that is certain is that the following 2014 mug shots were each worth more than 1,000 words.
In November, Gabriel Harris, 33, was arrested after allegedly getting into a fight with police at a Taco Bell in New Smyrna Beach, Florida.
Harris (shown below) and a female friend pedaled up to the fast food restaurant and attempted to order a meal at the drive-through window as it was closing. When they were denied service because they were on bikes, Harris and his companion refused to leave.
Police were called and Harris allegedly got into a tussle in the parking lot over his Swiss Army knife on his belt loop.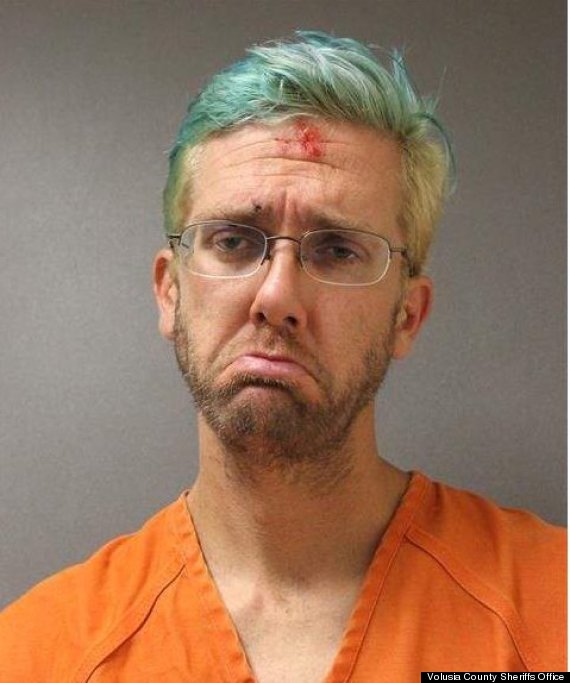 Victor Thompson, 46, was busted Sept. 10 for possession of Spice, the synthetic marijuana, and charged with felony drug possession and trespassing.
However, his mug shot became a viral sensation because of the elaborate tattoo he got in January, 2008, after the New England Patriots finished the regular season undefeated.
It was so special jailers took the extra step of taking four separate booking photos of Thompson so that his tattoos could be memorialized for possible future identification purposes.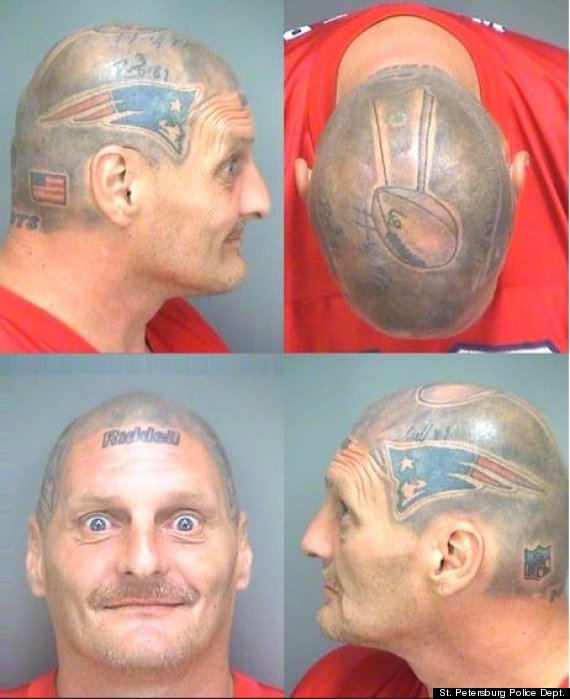 In March, Police in Tampa, Fla., arrested Bernard Marsonek, 57, after neighbors reported him allegedly having sex with a pit bull in his yard.
Officials from Hillsborough County Animal Services took custody of eight pit bulls that were found in his home.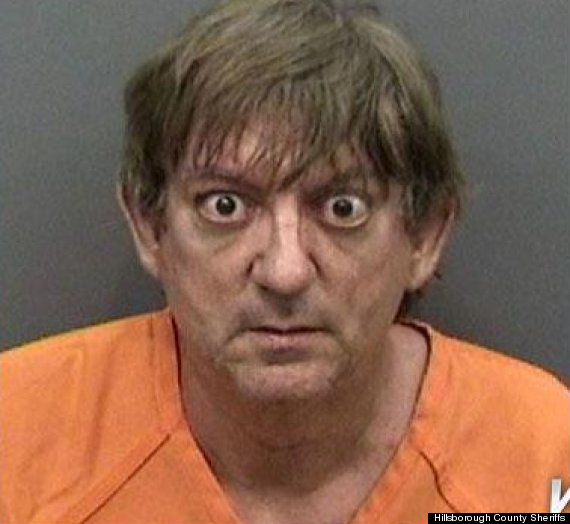 Matthew Johnson, 23, was arrested in November after allegedly assaulting his girlfriend in a hospital in Corpus Christi, Texas. She was recovering after giving birth.
Johnson was also accused of biting a security guard who tried to remove him from Christus Spohn Hospital South.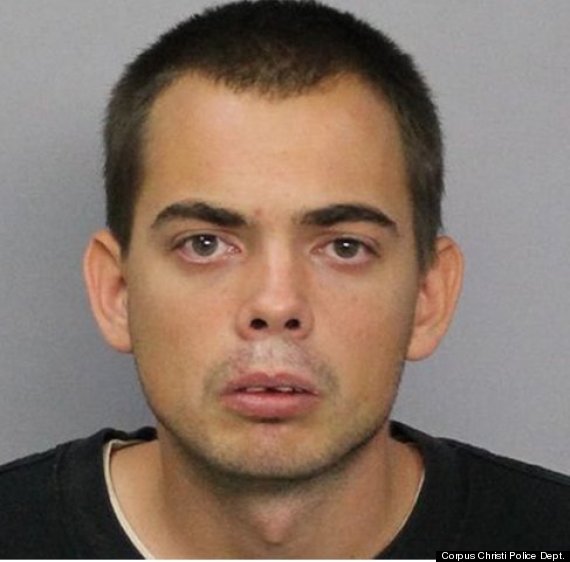 Megan Davis Hoelting, 31, was arrested in October after allegedly breaking into her husband's friend's house and attempting to "perform fellatio upon him," according to police.
The victim told deputies that he awoke to find the woman straddling his legs and dressed only in her underwear, then "felt the offender place his penis in her mouth."
She was charged with felony burglary with the intent of committing a sexual assault, according to the Williamson County Sheriff's Office.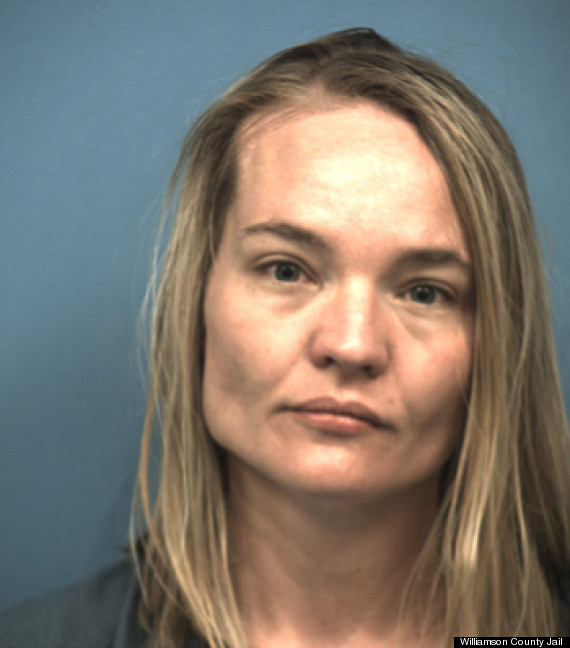 Catherine Butler's cautionary tale began in October when police in Gates, New York, arrested the 26-year-old woman twice in three hours for DWI.
She took two mug shots, one of them dressed as a zombie.

Howard Hendrix was arrested in October on a domestic disturbance charge, but Florida deputies had problems getting the wheels of justice moving.
At 500 pounds, the 6-foot-tall Hendrix was too big to fit into a Volusia County patrol car.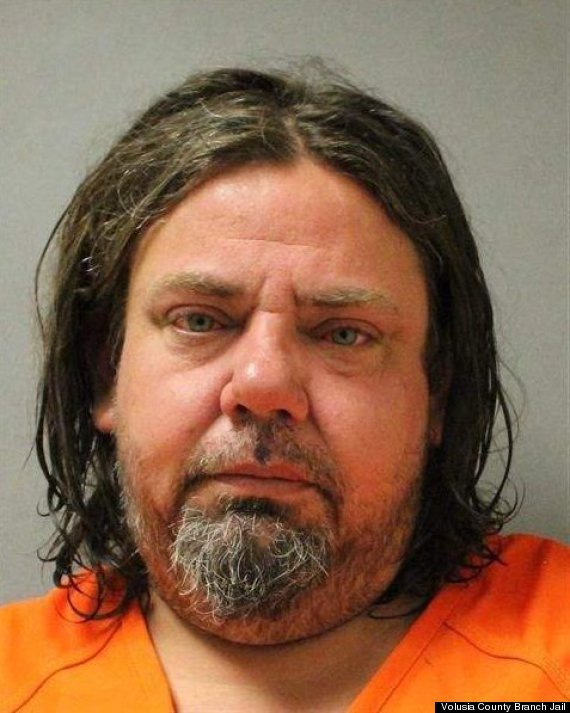 Some people aren't happy when they get arrested, but 45-year-old Michael Whitington seem pleased as punch when he was collared for a bank robber in Denver in September.
The reason for his glee is unknown.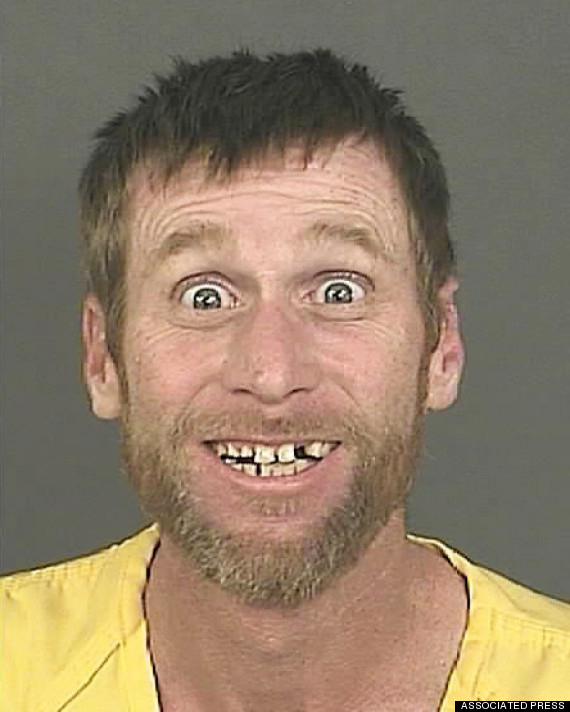 When John Fecteau, 22, a homeless man in Seattle, was accused of stabbing two people and holding another up at knifepoint, he told his arresting officer something shocking.
Fecteau allegedly said: "I'm going to stab one person every day. It is better than doing meth."
Incidentally, the victims said they could easily identify him because of his unique facial tattoos.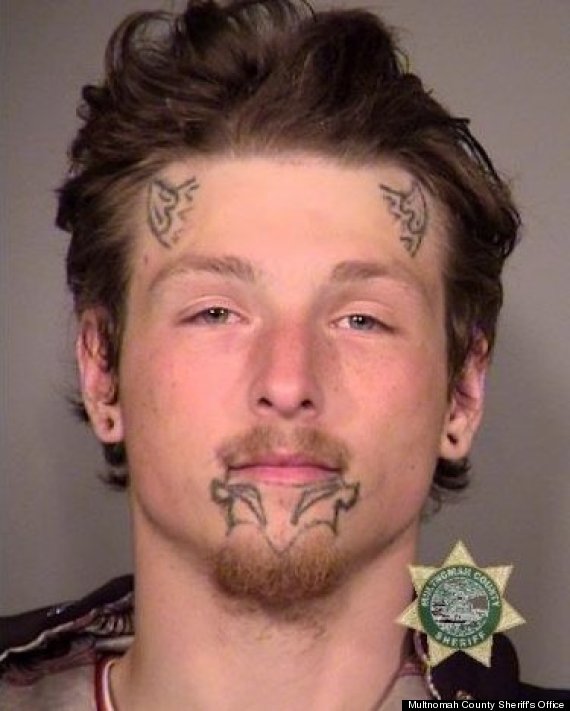 Easily distinguishing marks are why Shawn Lee Canfield's mug stood out with police in Merced, California.
Canfield was arrested for bank robbery in September. When he arrived at the police station to be booked, $2,758 fell out of his pants.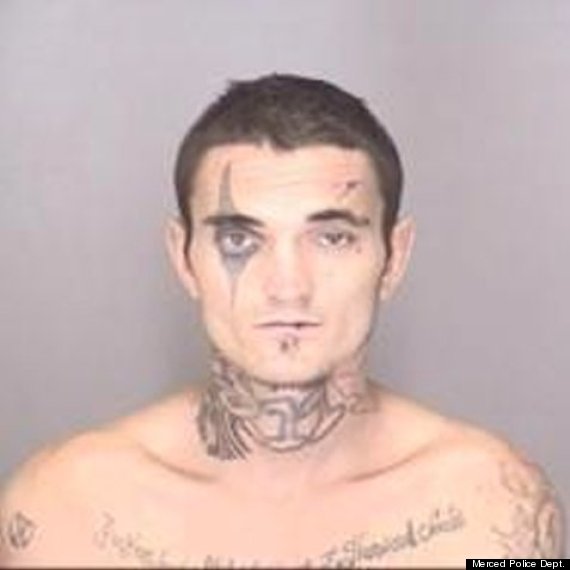 Brandy Allen, 31, was accused of stealing $144 of eye shadow in September.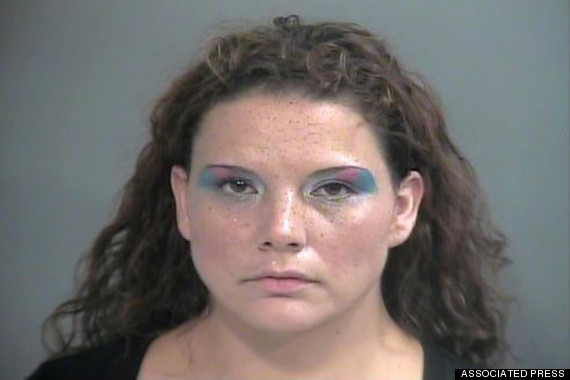 Some people are fans of their own mug shots, like Robert Burt of Pittsfield, Maine, who was arrested for drunk driving in June.
When he showed up to the Somerset County Jail in August to serve a two-day sentence, he was photographed wearing a T-shirt that featured an image of the mugshot taken at his June arrest.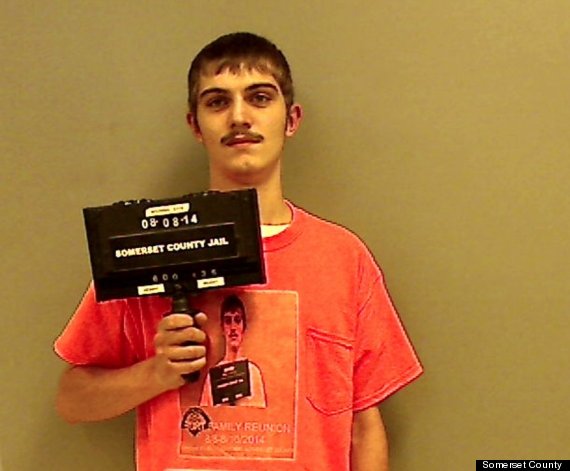 Angela Green, 34, was arrested in July on a charge of obstructing official business after after allegedly refusing to leave her hotel room in Cleveland.
Police eventually showed up to take her to jail where she posed for this mug shot for the ages.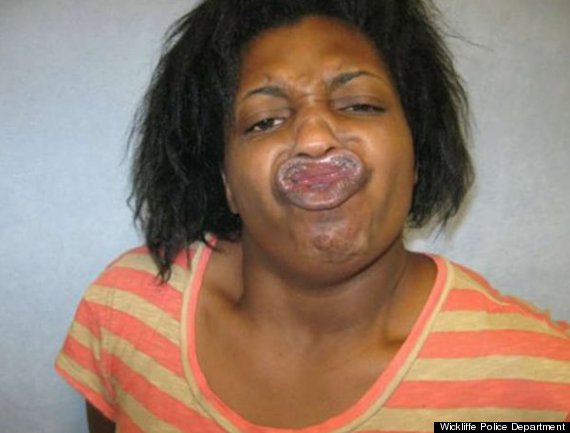 Jeremy Meeks and Sean Kory both had very arresting mug shots, based on their appeal on social media.
Meeks' mugshot went viral in June when it was posted on the Stockton, California Police Department's Facebook page, leading to rumors that he might be offered a modeling contract despite being arrested on five weapons charges and one gang charge. Sean Kory was arrested on Halloween for alleged assault after an encounter with a man dressed up as a Fox News reporter at a Halloween parade -- complete with a fox head.
Like Meeks, Kory's arrest photo attracted lots of "hot con" interest.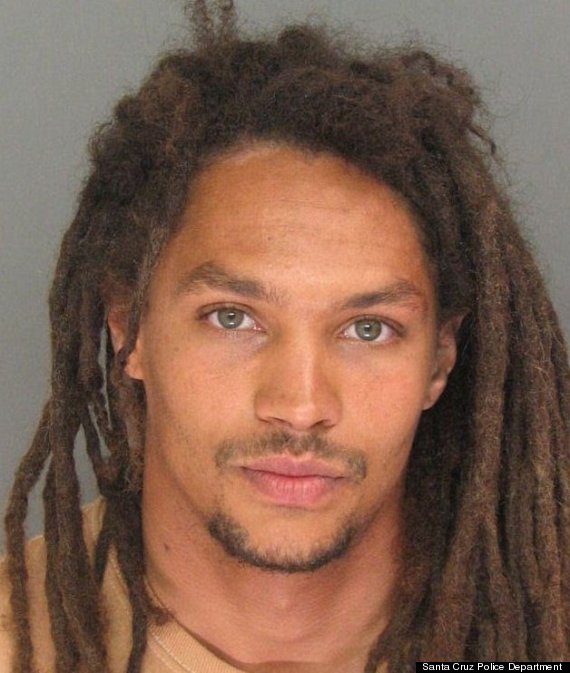 Like Us On Facebook |

Follow Us On Twitter |

Contact The Author