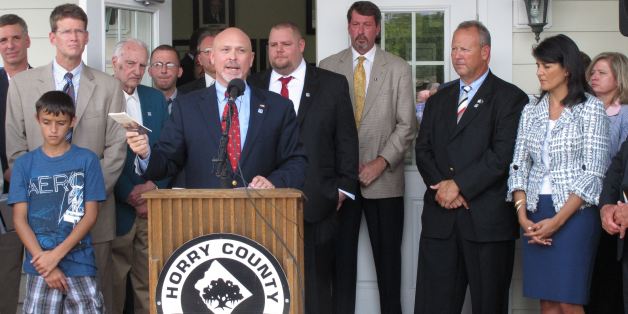 One South Carolina lawmaker believes there is an anti-Second Amendment movement taking place within the state, and that as a result, kids need to receive more education about their right to bear arms.
State representative Alan Clemmons (R) filed a bill in December with co-sponsors Richard Yow (R) and Garry Smith (R) that would create a "Second Amendment Awareness Day" on Dec. 15, the day after the anniversary of the Sandy Hook Elementary School shooting. For this day, schools would be asked to conduct essay and poster contests relating to the theme "The Right To Bear Arms; One American Right Protecting All Others."
Additionally, the bill stipulates that students across the state should learn about the Second Amendment for three weeks, for one class period per day. Schools would teach these lessons using a curriculum developed or recommended by the National Rifle Association.
Finally, the bill notes that teachers should not punish "political, written, or artistic expression that includes references to guns or a militia" because of the First Amendment.
In a Facebook post and an op-ed for local outlet The State, Rep. Clemmons explained his motivation for introducing this bill.
"Zero-tolerance policies are out of control. What started as school board attempts to stop students from bringing guns into school has turned into an anti-Second-Amendment movement, with significant social consequences," Clemmons wrote in his op-ed.
He continued, "I was shocked in August when a Summerville student made national news after he was suspended and arrested for writing a fictional essay about buying a gun to shoot his neighbor's pet dinosaur."
Indeed, kids around the country have been punished for bringing toy guns to school or pointing their fingers in the shape of a gun.
The state legislature will reconvene in early January.
Another bill, this one filed recently in the state by Sen. Lee Bright (R), would make it so schools in the state could offer elective classes on how to operate firearms.
BEFORE YOU GO
PHOTO GALLERY
14 Outrageous Statements About The Common Core Standards