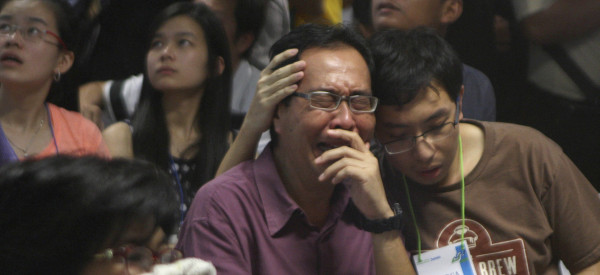 TOP STORIES
BODIES AND DEBRIS CONFIRMED AS REMAINS OF AIRASIA FLIGHT QZ8501 "Wreckage from an AirAsia flight that went missing on its way to Singapore on Sunday was found on Tuesday in the Karimata Strait off the coast of Borneo, Indonesian rescue teams said." Bloated bodies have been spotted without life jackets in an area ranging from 10 to 100 miles from where the plane last made contact. In the wake of such a tragedy, The Washington Post takes a look at 67 years of flights that have gone missing. [HuffPost]

EBOLA PATIENT IN SCOTLAND MOVED TO LONDON The patient, who had returned to Glasgow after working for a children's charity in Sierra Leone, has been moved to London. And here's how Ebola became the global crisis it is today. [NYT]
HOUSE MAJORITY WHIP CONFIRMS HE SPOKE AT WHITE SUPREMACIST CONFERENCE IN 2002 An aide says Rep. Steve Scalise (R-La.) was not aware of the European-American Unity and Rights Organization's neo-Nazi activities or racist views. [HuffPost]
U.S. CARRIES OUT AIRSTRIKE IN SOMALIA "The U.S. carried out an airstrike in Somalia late Monday targeting what it called a 'leader' of the Islamist terrorist group al-Shabaab, the Pentagon said in a statement. It comes four months after another U.S. airstrike killed the al Qaeda affiliate group's boss, Ahmed Abdi Godane, and three days after its intelligence chief Zakariya Ismail Ahmed Hersi, wanted for $3 million by the U.S. State Department, was apprehended by Somali defense forces." [WSJ]
REP. MICHAEL GRIMM TO RESIGN And this is despite running and winning re-election with a felony charge hanging over his head. [HuffPost]
GEORGE H. W. BUSH'S BREATHING BACK TO 'NORMAL' In the next few days, the former president is expected to leave the hospital, where he has been treated for shortness of breath for the past week. [USA Today]
UBER DRIVER CHARGED IN SEXUAL ASSAULT CASE IN CHICAGO "The charges mark the latest sexual abuse allegation to hit the embattled ride-share service, which in the past several weeks was banned in several countries and came under increased scrutiny over how carefully it vets its drivers. What allegedly happened to the 22-year-old Chicago woman echoes sexual abuse allegations from India to Washington, D.C." [WaPo]
WHAT'S BREWING
TAKING STOCK AFTER NFL'S BLACK MONDAY Following the annual NFL bloodbath that takes place the Monday after regular season play concludes, the Jets, 49ers and Falcons are in the market for a new head coach. FiveThirtyEight explains the futility of sacrificing a head coach to the public. [ESPN]
THE HOTTEST COUPLE IN THE WORLD IS ENGAGED Congrats to Sofia Vergara and Joe Manganiello. [HuffPost]
MICROSOFT MAY KILL INTERNET EXPLORER Meet Spartan, its replacement. [Wired]
WHY YOU SEE FACES EVERYWHERE IN INANIMATE OBJECTS No, you're not crazy. [Refinery 29]
BEIJING'S SUBWAY EXPANSION PUTS THE U.S. TO SHAME So many new routes! [HuffPost]
'GAME OF THRONES' TOPS LIST OF MOST PIRATED SHOWS "The Walking Dead" is a close second. [HuffPost]
STAYING IN WITH THE KIDS FOR NYE? Netflix can help you trick them into going to bed before midnight. [CNN]
A WWI SOLDIER'S BEDROOM, 100 YEARS LATER Torn military jacket and all. [WaPo]
ON THE BLOG
BERNIE SANDERS: THE PROGRESSIVE AGENDA "By and large, poll after poll shows that the American people support a progressive agenda that addresses income and wealth inequality, that creates the millions of jobs we desperately need, that raises the minimum wage, that ends pay discrimination against women, and that makes sure all Americans can get the quality education they need. In the year 2015 our job is to gain control over the national debate, stay focused on the issues of real importance to the American people, stand up for our principles, educate and organize. If we do that, I have absolute confidence that we can turn this country around and become the kind of vital, prosperous and fair-minded democracy that so many want." [HuffPost]
BEFORE YOU GO
~ Meet canistaywithyouwhileirentmyplaceonairbnb.com.
~ Your 2015 horoscope -- we're apparently in for some "soul-baring depth and relationships that can stand the test of time." And probably some Netflix.
~ Christina Aguilera hasn't lost her diva touch.
~ The president of Argentina has taken a godson to "stop him from turning into a werewolf."
~ When you give a dad a selfie stick...
~ Say hello to the "butter crayon."
~ How to out-contrarian your friends.
~ Gwyneth Paltrow and Chris Martin stir more recoupling rumors.
~ Taylor Swift is a huge fan of this mash-up cover of "1989."
~ If this is what happens every day when you leave your dog to go to work, you're never going to want to leave him or her again.
~ Imagine if you had to move your wedding location ... for POTUS.
Send tips/quips/quotes/stories/photos/events/scoops to Lauren Weber at lauren.weber@huffingtonpost.com. Follow us on Twitter @LaurenWeberHP. And like what you're reading? Sign up here to get The Morning Email delivered to you.