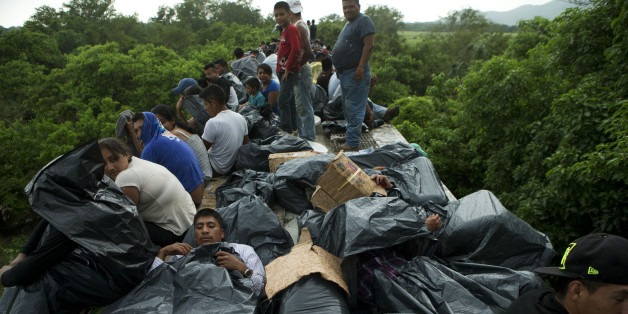 The Mexican government detained more child migrants from January to November than in all the years from 2009 to 2012 combined, according to newly released government figures cited by news site Animal Político.
This year's detention of 21,547 child migrants by Mexican authorities marks a 178 percent increase over the same 11-month period the year before. For children ages 11 years and younger, the rise was even steeper, with a 541 percent rise over last year.
The statistics come months after a child migrant crisis on the U.S.-Mexico border over the summer fueled a renewed debate over immigration policy in the United States. Some 68,500 unaccompanied minors -- the vast majority of them from the violence-plagued countries of El Salvador, Guatemala and Honduras -- crossed illegally into the United States this year. A roughly equal number of children traveling with a parent were apprehended.
Most of the Central American migrants apprehended by U.S. authorities travel through Mexico by land before crossing into the United States.
Detentions of undocumented immigrants in Mexico more generally shot up this year to their highest level since 2007. Virtually all of the 117,491 detained migrants were from El Salvador, Guatemala and Honduras. Nicaraguans accounted for one percent of the detentions.
The rise in detentions was spurred in part by a Mexican government crackdown on illegal immigration from Central America beginning in July.
U.S. lawmakers from both parties have pressed the Mexican government to ramp up security along the border with Guatemala, while some immigrant rights groups have warned that added security will punish migrants without addressing the root causes of migration.
BEFORE YOU GO
PHOTO GALLERY
Why Latin Americans Really Come To The U.S.