 The husband of a missing Maryland nurse says he is dumbfounded by her sudden, unexplained disappearance.
UPDATE: According to Anne Arundel County Police, Kim Marie Kuriawa has been located. Police spokesman Lt. T.J. Smith said there is no indication a crime was committed and Kim Kuriawa is being reunited with her family. Smith said no additional details will be released.
"It's out of character, especially from the standpoint of -- if nothing else -- how much she loves our two boys," John Kuriawa told The Huffington Post. "She would not want them to be worried about where she is."
Kim Marie Kuriawa, 44, of Severna Park, was reported missing Tuesday, after she failed to show up for a planned family vacation at a New York campground.
"My wife was required to work on Christmas day and on Sunday," said John Kuriawa. "After we opened presents ... we kissed her goodbye and headed up to camp in Paul Smiths, New York."
According to Kuriawa, the plan was for his wife to join him and the kids at camp on Monday.
"Since she was supposed to work Sunday night, we had expected she would be departing Maryland early that morning," he said.
Kuriawa said he had little contact with his wife once he left Maryland. He describes them as "virtual luddites," who rarely use technology.
PHOTOS: (Story Continues Below)
PHOTO GALLERY
Kim Marie Kuriawa Missing
"There is very limited cell service [at camp] and we don't use technology that often," he said. "I sent her an email that indicated we had arrived safely and she left me a message on my cell. All seemed to be well."
It was not until dinner time Monday that the family became concerned about Kim Kuriawa's whereabouts.
"We began to be worry [because] we hadn't heard from her," John Kuriawa said. "At that point, I began to ask neighbors to check on her, the house, so on and so forth."
Neighbors were unable to locate the woman and at least one person said they had not seen her car since sometime Monday, according to her husband.
When Kim Kuriawa failed to show up to camp by Tuesday morning, her husband said he called police to report her missing.
"There was a hiccup there," he said. "Maryland local and state police refused to take my report because I was out of state at the time. That was ultimately rectified due to the diligence of my mother-in-law and a friend, who was able to reach the chief of police in our county to ensure a report was filed."
According to Anne Arundel County Police spokesman Lt. T.J. Smith, investigators are still trying to determine Kim Kuriawa's activities in the hours leading up to her disappearance.
"Her last known location was not the hospital, as we were told it was," Smith told HuffPost. "So we aren't 100 percent sure where her last location was. It could be her house, but [we have] no additional information at this point."
Kuriawa said he has since learned his wife did not work at Anne Arundel Medical Center on Sunday, as she had initially planned.
"As it turned out, she was able to find someone to do the first half of her shift," he said. At 5 p.m., the hospital called her at their residence and she was told that she didn't have to work the second half of her shift, either, because she works in the baby ward, and there were few births that day, he said.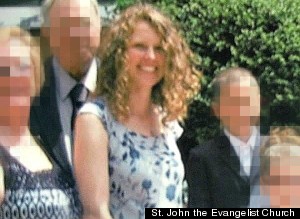 Smith would not confirm or deny Kim Kuriawa received a call from the hospital at her residence on Sunday.
"I'm not going to get into the investigative portion," the Lieutenant said. "If he told you that, then that's what he told you. I can't confirm any of that."
Kim Kuriawa's black 2002 Nissan Xterra -- Maryland license plate 3MD0073 -- is also missing. An electronic toll payment device in the vehicle has not been utilized and authorities have been unable to trace the woman using her cellphone, according to her husband.
"Her cellphone was on the fritz for a few weeks leading up to this," said John Kuriawa. "Sadly and coincidentally, our contract was set to expire. Since neither of us use tech that much, I had said 'Let's resolve this after vacation.'"
According to Smith, authorities are treating the case as a missing person investigation.
"We don't have any indication that points toward foul play at this point in time," Smith said. "But, it is certainly an unusual circumstance."
Kuriawa describes his wife as "devoutly religious -- Catholic." She is 5 feet, 9 inches tall and weighs approximately 135 pounds.
There are four stickers on the back of Kim Kuriawa's missing vehicle: a "lonely angler" sticker on the left corner of the back window; a travel sticker on the right side of the back window that reads "WPC" for White Pines Camp; a community sticker -- a red, white and blue square -- on the bottom right bumper and a sticker on the left corner of the bumper that reads "I'm a canoeist."
Anyone with information in this case is asked to contact the Anne Arundel County Police Department at 410-222-3588 or 410-222-8610.
"Kim, please contact your family," said John Kuriawa. "We're worried sick about you."
Like Us On Facebook |

Follow Us On Twitter |

Contact The Author
BEFORE YOU GO