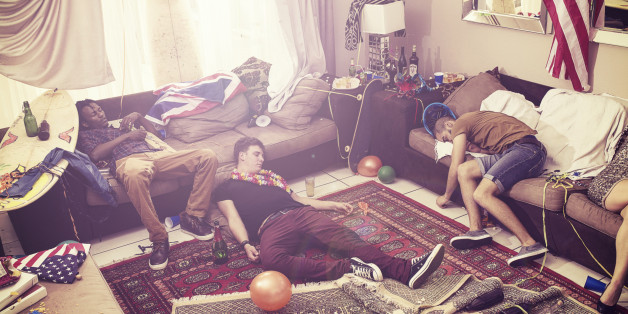 Before we get started, get yourself a tall glass of room temperature water. Drink that. If you're reading this, you might be feeling a bit worse for wear after saying a boozy farewell to 2014 on New Year's Eve. In that case, we've got good news and bad news:
The bad news: The only truly reliable cure for a hangover is time.
The good news: There is a full day of college football bowl games ahead of you to help pass that time, including the semifinals in the inaugural College Football Playoff.
At your own risk, start 2015 with your hangover remedy of choice. Some believe that burnt toast and eggs may actually help ease hangover symptoms. Others stick with coffee and over-the-counter pain relievers after a night of drinking. But don't forget that there is no substitute for time.
Then, be glad that football is here for you.
Here is everything you need to know about the five college football bowl games on the schedule for Jan. 1, including kickoff times, TV information, sober-sounding talking points and more. To help you prioritize football and recovery, each game has been ranked according to watchability, on a scale of 1-5 resolutions.
Outback Bowl
No. 18 Wisconsin (10-3) vs. No. 19 Auburn (8-4)
Raymond James Stadium, Tampa, Fla.
Time: 12:00 p.m. ET
TV: ESPN2
Watchability: 2 resolutions
Talking Point: Remember when Jadeveon Clowney took that dude's head off in the Outback Bowl a few years ago? Remember Jadeveon Clowney? Also, does anyone remember what happened last night?
Player(s) To Watch: Wisconsin running back Melvin Gordon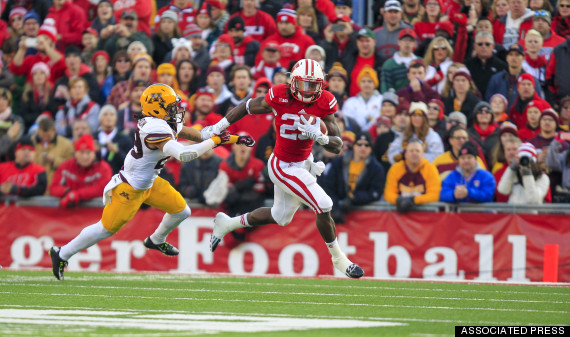 The runner-up in voting for the Heisman Trophy this season, Gordon was winner of the 2014 Doak Walker Award as the nation's best running back. The 6' 1" junior enters the Outback Bowl 292 yards shy of Barry Sanders' all-time NCAA single-season rushing record. Having rushed for 408 yards against Nebraska earlier this season, Gordon is capable of ringing in the New Year with a record-setting performance.
Goodyear Cotton Bowl Classic
No. 5 Baylor (11-1) vs. No. 8 Michigan State (10-2)
AT&T Stadium, Arlington, Texas
Time: 12:30 p.m. ET
TV: ESPN
Watchability: 3 resolutions
Talking Point: Does Baylor belong in the College Football Playoff instead of Ohio State? Did the Big 12 blow it?
Player(s) To Watch: Baylor quarterback Bryce Petty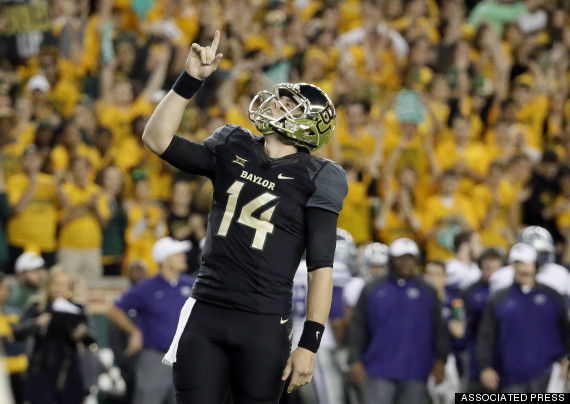 The senior quarterback racked up 3,305 passing yards and 26 passing touchdowns against just six interceptions in 2014. In doing so, he piloted the prolific Bears' offense to 22 touchdown drives that lasted 1 minute or less and 39 drives that took 2 minutes or less, according to ESPN Stats & Information. He arrives at Cotton Bowl with something to prove after he felt his team was unfairly left out of the College Football Playoff.
"It pisses us off," Petty told Fox Sports Southwest.
Buffalo Wild Wings Citrus Bowl
No. 16 Missouri (10-3) vs. No. 25. Minnesota (8-4)
Florida Citrus Bowl, Orlando, Fla.
Time: 1:00 p.m. ET
TV: ABC
Watchability: 1 resolution
Talking Point: Does anyone want to order some chicken wings? Or a grapefruit?
Player(s) To Watch: Missouri defensive end Shane Ray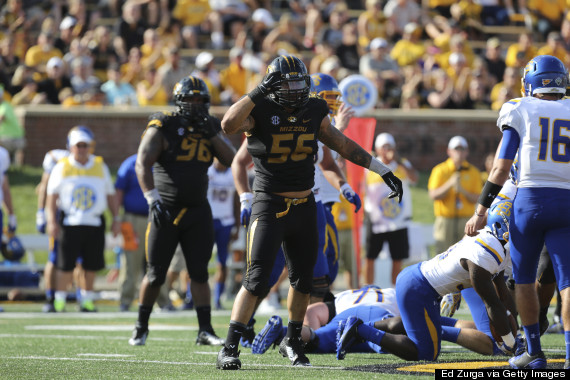 Ray became the second consecutive Missouri player to be named the SEC's defensive player of the year. One year after Michael Sam was the SEC co-defensive player of the year, Ray led the conference with a school-record 14 sacks to take home the honor in 2014.
Rose Bowl Game Pres. By Northwestern Mutual
No. 2 Oregon (12-1) vs. No. 3 Florida State (13-0)
College Football Playoff, Semifinal
Rose Bowl, Pasadena, Calif.
Time: 5:00 p.m. ET
TV: ESPN
Watchability: 5 resolutions
Talking Point: Who should be the No. 1 overall pick in the 2015 NFL Draft?
Player(s) To Watch: Oregon quarterback Marcus Mariota, Florida State quarterback Jameis Winston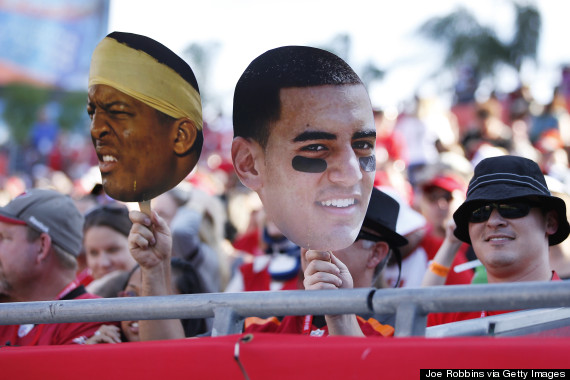 This matchup will feature the past two winners of the Heisman Trophy: Oregon's Mariota and Florida State's Winston. While Mariota and Winston could hardly have more different reputations off the field, both have distinguished themselves on it with superlative quarterback play. In 2014, Mariota tallied a school-record 4,452 total yards with 38 passing touchdowns and 14 rushing scores en route to winning the Heisman Trophy and securing a spot in the College Football Playoff this season. A year earlier, Winston won a national championship and the Heisman Trophy as a redshirt freshman. Dogged by off-field trouble, including an allegation of sexual assault, Winston's time in Tallahassee has been marked by controversy and success. He led Florida State to an undefeated regular season in 2014.
Allstate Sugar Bowl
No. 1 Alabama (12-1) vs. No. 4 Ohio State (12-1)
College Football Playoff, Semifinal
Mercedes-Benz Superdome, New Orleans, La.
Time: 8:30 p.m. ET
TV: ESPN
Watchability: 4 resolutions
Talking Point: Having expressed frustrations with dominance-or-distress expectations around his powerhouse program earlier this season, could Alabama coach Nick Saban be persuaded to take another crack at the NFL? The New York Post has called on the New York Jets to go after him to fill the vacancy created by the firing of Rex Ryan. Saban addressed the speculation, saying he was "not really interested in any situation in the NFL" during a pre-bowl press conference. Do you believe him?
Player(s) To Watch: Alabama wide receiver Amari Cooper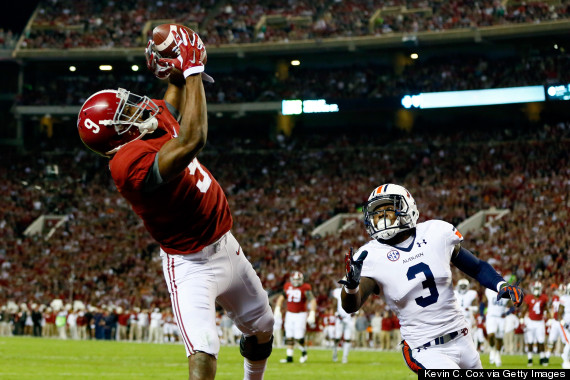 Nick Saban's standout wideout earned a trip to New York as one of three Heisman finalists in December. He'll be back in the Big Apple for the first round of the 2015 NFL Draft should he opt to leave Tuscaloosa. The 6' 1" junior won Biletnikoff Award as the nation's top wide receiver after a record-setting season with the Crimson Tide. He set school records in 2014 with 115 receptions, 1,656 receiving yards and 14 touchdown receptions. Perhaps his finest moment of the season came in the Iron Bowl against Alabama's archrival, Auburn, when he caught 13 passes for 224 yards and three touchdowns.
BEFORE YOU GO
PHOTO GALLERY
PHOTOS: Oregon Football Uniforms