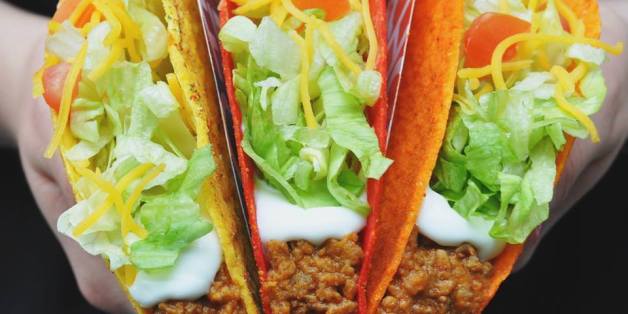 Taco Bell knows just what you need tomorrow, and let's face it, the whole month of January: a free hangover cure.
You've been living it up for the whole holiday season and on New Year's Eve tonight, you'll finish off the year with a bang. Naturally, that bang will make your head hurt and leave you less than motivated to jump on the New Year's resolution train of healthy eating. You're going to want to fuel that hangover from a month of overdoing it with not a day, but a whole month of greasy, fatty food. Taco Bell knows this all a little too well, and starting tomorrow, it's answering your prayers. For the whole month of January 2015, Taco Bell will be giving out free Doritos Locos tacos.
You read that right: Free Doritos Locos tacos for a whole month. 2015, you're looking great already.
The catch is that you have to place an order using the mobile app. According to The Inquisitor, Taco Bell's mobile ordering app reached 1.4 million downloads this month, after launching in October. Starting tomorrow, the chain will give out one million of its Dortios shelled tacos with orders placed with the app. Customers get one free taco for every mobile purchase. The thought of one million Doritos Locos tacos may make even your hungover self a little queasy, but we're betting they'll go pretty fast. Bustle reports that "as of December 11, 2014, the chain had sold a whopping one billion Doritos-dusted tacos," which puts one million in perspective (but maybe doesn't help the quease-factor).
Mobile ordering apps almost made our list of food trends we hope don't make it all the way through 2015. Taco Bell, of course, is not the only chain to push mobile ordering. Starbucks is launching its Mobile Order & Pay App -- which is currently offered for Portland, Oregon-based stores -- nationwide in 2015. Panda Express and White Castle also have mobile ordering apps, and McDonald's is testing out an app too, The Huffington Post's Jillian Berman reports. While we're inclined to see these apps as a needless additional step in the ordering process and one more unwanted tether to our phones, Taco Bell's offer for free Doritos Locos tacos may change our minds.
Want to read more from HuffPost Taste? Follow us on Twitter, Facebook, Pinterest and Tumblr.
BEFORE YOU GO
PHOTO GALLERY
Doritos Locos Experiments