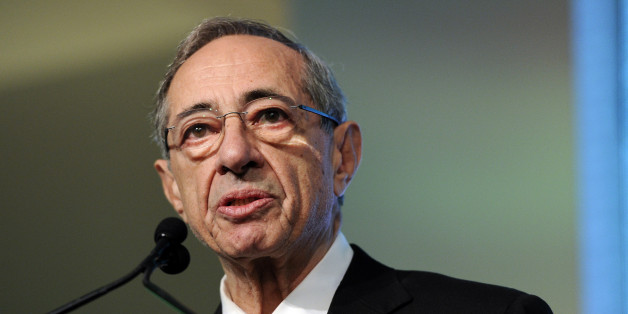 Former New York Gov. Mario Cuomo has died at the age of 82, NY1 and the New York Daily News report.
Cuomo died just six hours after his son Andrew was formally sworn in to a second term as governor of the Empire State. Cuomo's swearing-in was initially set to take place in Albany, but the governor relocated the ceremony at the last minute so he could spend New Year's Eve with his father, according to Newsday.
"He couldn't be here physically today ... but my father is in this room," Andrew Cuomo said in his inaugural address Thursday, according to the New York Daily News.
"He's in the heart and mind of every person who is here. His inspiration and his legacy and his spirit is what has brought this day to this point," Cuomo added.
When Mario Cuomo was hospitalized in late 2014 with a heart condition, a spokesman said he was "in good spirits," and CNN's Chris Cuomo -- the former governor's other son -- tweeted that his father was "doing well enough." (In addition to Andrew and Chris, Mario Cuomo had three daughters -- Maria, Margaret and Madeline.)
First elected to the post in 1982, Cuomo served three terms as governor of the Empire State, making him the longest-serving Democratic governor in state history.
Cuomo was born in 1932 in Queens, New York, the youngest of three children. Both his parents were of Italian descent: His father, Andrea, was born in Brooklyn, but his family returned to Nocera Superiore, Italy, shortly after his birth. Cuomo's mother, Immaculata, grew up in nearby Tramonti, Italy. The couple married in 1925 and moved to the United States soon after. (Andrea made the trip over before his wife joined him.) The Cuomos ran a small grocery store in Jamaica, Queens.
Cuomo described his early life at the store in a 2013 New York Magazine feature:
My parents were allowed to live behind the grocery store -- there was an upstairs, which they weren't allowed to use at first. But the back of the grocery store had a toilet and a big black stone tub that was large enough to clean clothes in, or for my mother to take me by the back of the head, pin me between her two legs, put my head into the tub, and scrub my hair. Later, as my bald spot grew, I said, "Ma, that was you. You did that to me."
Bright and studious, Cuomo attended St. John's Prep for high school and later matriculated at St. John's University, where he studied English, philosophy and law in addition to playing baseball. In 1952, he managed to catch the eye of a Pittsburgh Pirates scout, who signed Cuomo to a contract with the team -- with a $2,000 signing bonus. Cuomo played centerfield that summer for the Pirates' Class D farm team in Brunswick, Georgia, batting .244 in 81 games. His professional ball career was cut short when he was hit in the head by a pitched ball, sending him to the hospital with a blood clot on his brain.
"The residual effects of that hematoma drove me into politics," Cuomo told Jay Leno in 1993.
"If he had stayed with the game, he might have been as successful on the diamond as he is in Albany,'' former Brunswick teammate Fred Green told Sports Illustrated in 1988.
Cuomo returned to college, where he graduated summa cum laude in 1953. Three years later, he graduated at the top of his class from St. John's School of Law.
While attending law school, Cuomo married his girlfriend, Matilda Raffa, whom he met in college. (Cuomo used his Pirates signing bonus to buy the engagement ring.) The couple remained in New York as Cuomo served as a law clerk for Judge Adrian P. Burke of the New York State Court of Appeals. The couple gave birth to their first child, Margaret, in 1956; their eldest son, future governor Andrew, was born in 1957.
In 1958, Cuomo entered private practice as an attorney with the Brooklyn-based firm Weisbrod, Froeb & Charles, where he quickly gained a reputation as a skilled litigator. As The Atlantic detailed in a 1990 profile, it was at this firm that Cuomo first got a taste for politics. In one high-profile fight, Cuomo stopped famed urban planner Robert Moses from redeveloping a Queens junkyard.
"Fighting politicians, he learned that government had a lot of power," Fabian Palomino, Cuomo's friend from their days at the appeals court, told The Atlantic. "It could do a little bit of good."
In 1974, Cuomo took his political ambitions to the next level, running for the Democratic nomination for New York lieutenant governor at the coaxing of party bosses who thought the Italian-American would help shore up the "white ethnic" vote. He fell short of that goal, losing to Polish-American state Sen. Mary Anne Krupsak. However, Cuomo's longtime acquaintance and fellow St. John's alumnus Gov. Hugh Carey had taken notice of his ambition. The next year, Carey appointed Cuomo as New York's secretary of state, thus beginning the lawyer's long career in Albany.
At Carey's encouragement, Cuomo left his post in Albany and ran for mayor of New York City in 1977. The contentious Democratic primary pitted Cuomo against then-Rep. Ed Koch, who went on to win the race. In one of the campaign's ugliest moments, posters appeared around the city urging New Yorkers to "Vote for Cuomo, not the homo" -- alluding to rumors about Koch's sexuality. Cuomo denied all responsibility for the homophobic signs, but in a 2007 interview with The New York Times, Koch said he "always held it against him," even decades later.
"Even though social relationships, where we meet in public are good," Koch said, "underneath, he knows, I know, what I'm really thinking: 'You prick.'"
"We had to pay for something we never did," Cuomo said after the former mayor's death in 2013. "Why? Because Ed did insist on blaming us for years. He knew -- because he was very intelligent -- that I wasn't dumb enough to do something that stupid even if I was mad enough, which I wasn't. I always thought of that as an Ed Koch thing."
Cuomo ran again for lieutenant governor again in 1978 and won. Although he reportedly found the role frustrating and lacking responsibility, it positioned him well to run for governor in 1982 (a race he said would be his last if he lost). In what The New York Times described as a "stunning upset," Cuomo defeated Koch for the Democratic nomination and went on to beat Republican businessman Lewis Lehrman in the general election.

Cuomo took a turn on the national political stage during the 1984 presidential campaign, during which he campaigned for Democratic nominee Walter Mondale. Cuomo was floated as a potential vice presidential pick, but Mondale ultimately settled on Geraldine Ferraro, the first woman to appear on a major party ticket. Cuomo nevertheless got his chance in the spotlight at the 1984 Democratic National Convention in San Francisco, where he delivered a widely praised keynote address that sharply criticized President Ronald Reagan's championship of trickle-down economics and social Darwinism and deflating his portrait of America as a "shining city on a hill."
"There is despair, Mr. President, in the faces that you don't see, in the places that you don't visit in your shining city," he said. "Mr. President, you ought to know that this nation is more a 'Tale of Two Cities' than it is just a 'Shining City on a Hill.'"
Cuomo's keynote address instantly made him a Democratic sensation, stirring speculation that he would run for president himself in 1988. But Cuomo eventually declined to jump in the race, instead running for re-election as governor in 1986 -- a race he won by a landslide. He successfully ran for a third term in 1990, again sitting out of the presidential race in 1992 after flirting with the idea for some time. Cuomo's vacillations on whether to run for president earned him the nickname "Hamlet on the Hudson."
As governor, Cuomo at times tacked to the right fiscally, proposing tax cuts and cutting spending in efforts to balance the state budget. He also fought against many of Reagan's proposed budget cuts, and pushed for funding for housing, schools and environmental protection.
Cuomo rejected political labels, which he saw as useless, and described himself as a "progressive pragmatist."
''The very success of Mario Cuomo is that he is neither 'liberal' nor 'conservative,''' Cuomo adviser Meyer S. Frucher told The New York Times in 1988. ''He does not fit any of the labels. That does not make him disingenuous. That makes him a good governor, the leader of a government that spends on social programs but does not get carried away, that has not just a heart, but a head.''
In 1993, Cuomo was offered a chance at an open Supreme Court seat by President Bill Clinton, but removed himself from consideration. He later said he had no regrets about his decision.
''To be a justice of the Supreme Court, to sit there and listen, to study, to conclude and write and not have to worry about the polls, nothing would have been more perfect,'' he said. ''But on the other side, I think I have probably been in a better position to speak out on the issues.''
One of Cuomo's most liberal positions -- his opposition to the death penalty -- became a central issue in his 1994 re-election campaign. For the first time since 1982, Cuomo found himself facing a formidable opponent in the race for the governorship. Republican state Sen. George Pataki, initially considered an underdog with little statewide name recognition, steadily closed in on Cuomo as the campaign wore on. Pataki focused his campaign on two key issues: tax cuts and restoring the death penalty. The latter may have been critical to Pataki's ultimate, albeit narrow, victory over Cuomo: as The New York Times reported after the election, 60 percent of voters said they supported restoring capital punishment. Those voters went 2-to-1 in favor of Pataki.
After his defeat, Cuomo returned to private practice, this time at Willkie Farr & Gallagher, a New York City-based firm. He continued to give speeches on public affairs. Cuomo returned to the political world when his eldest son, Andrew, ran for governor, and began to fan the flames of his son's presidential aspirations before he even took office.
This story has been updated.
BEFORE YOU GO
PHOTO GALLERY
United States Governors