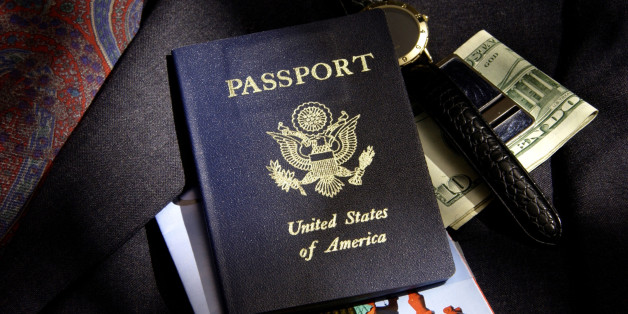 The vacation habits of Americans aren't looking good: According to travel website Skift, almost 42 percent of Americans didn't take any vacation days in 2014.
The survey, which was conducted in the first few days of 2015 through Google Consumer Surveys, asked 1,500 American adults how many vacation days they took last year. Nearly 42 percent of people reported not using a single of their 10 average allotted vacation days.
The survey also found that:
Women took fewer vacation days than men.
Younger workers tended to use fewer vacation days.
People living in the suburbs took more vacation days.
People in the West took more vacation days than those in other regions.
Workers with higher incomes took more vacation.
15 percent of Americans took more than 20 vacation days.
The results may come as no surprise, since Americans are notoriously bad at taking time off. (Let's try a little harder in 2015, everyone!)
Previous surveys have found that Europeans enjoy almost twice as many paid vacation days as Americans. In November, Expedia's annual Vacation Deprivation Study, which randomly surveyed 7,855 employed people across 24 countries in Asia Pacific, Europe, North America and South America, found that Americans took 14 of their 15 average allotted vacation days. Respondents from several European countries reported taking almost all of their 28 average allotted vacation days.
Check out some of the charts from Skift's survey below: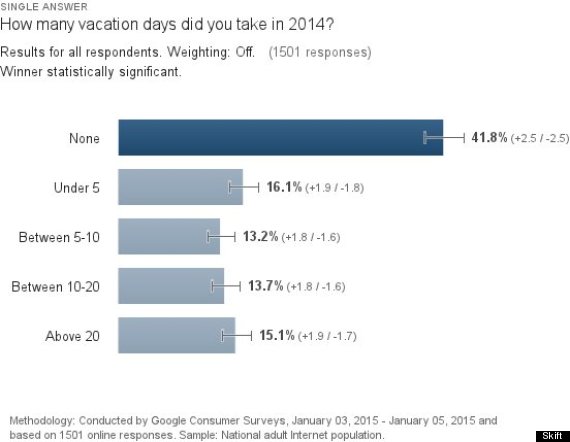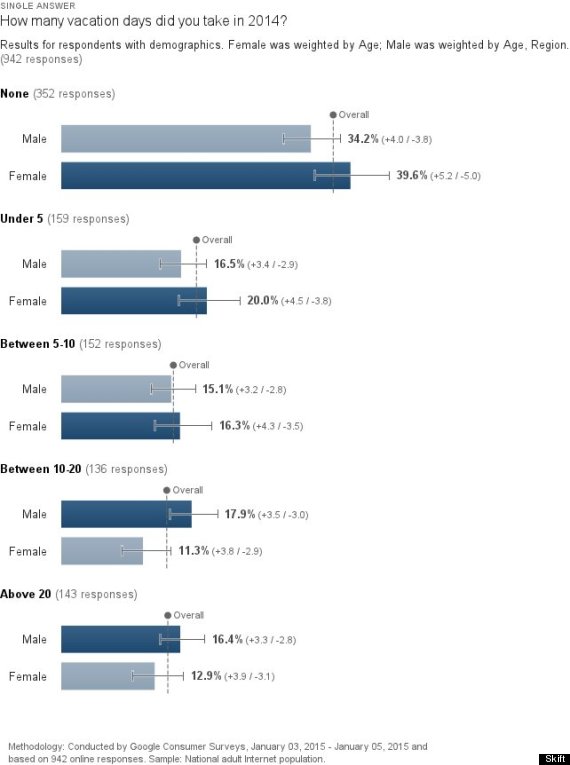 BEFORE YOU GO
PHOTO GALLERY
Best Places to Travel in 2015