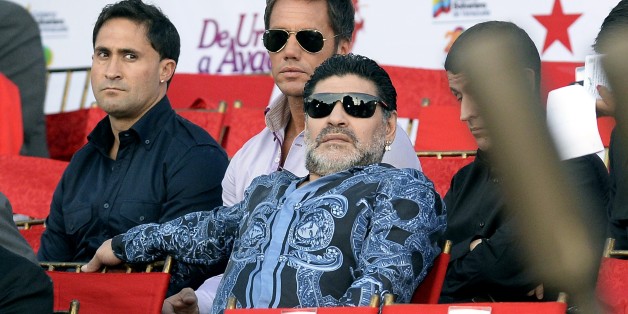 Argentine soccer star Diego Maradona got a tattoo ahead of the new year for his girlfriend that has raised eyebrows.
To show his love for his girlfriend, Maradona tattooed the word "perra" on the upper left side of his chest last week. The word, which literally means "female dog," is used in Argentina to describe woman who is good in bed, but has a vulgar connotation. Maradona says he uses the word as a term of endearment for his girlfriend Rocío Oliva.
While the nickname sparked some critical reactions on social media and in the press from those who viewed the tattoo as sexist, Oliva sat alongside Maradona sipping yerba mate, a local tea-like infusion, as he was tattooed at Scull Tattoo Studios in Buenos Aires.
Maradona se hizo un polémico tatuaje http://t.co/6JGPuMkIiX pic.twitter.com/6SQYhyFwys

— Cooperativa (@Cooperativa) December 30, 2014
Over his bicep,
Maradona also tattooed Oliva's given name
, "Rocío," across his bicep. Oliva joined in, tattooing the word "Diego" on her forearm.
Maradona faced criticism in October after a cell phone video emerged in which he appeared to strike Oliva while she filmed him watching television. Slurring his words, he walked over to her from the sofa telling her to turn off the phone and appeared to hit her twice, as Oliva yelled "stop, Diego, stop!"
The former soccer star later said in a televised interview that he hadn't hit his girlfriend, but did knock away her telephone.
"Yes, I knocked away her phone, but I swear I've never raised my hand against a woman," Maradona said on the show, adding, "The episode starts and ends there. I take responsibility of hitting the telephone, but there's nothing more to it… I swear by my children that I've never hit a woman."
BEFORE YOU GO
PHOTO GALLERY
Leading Latino Politicians