From a tense House leadership election to Vice President Joe Biden's infamous performance at the Senate swearing-in ceremony, the first day of the 114th Congress was rife with activity as members and their families clogged the halls on Capitol Hill.
Here are some of the best photos from Tuesday's events in Washington: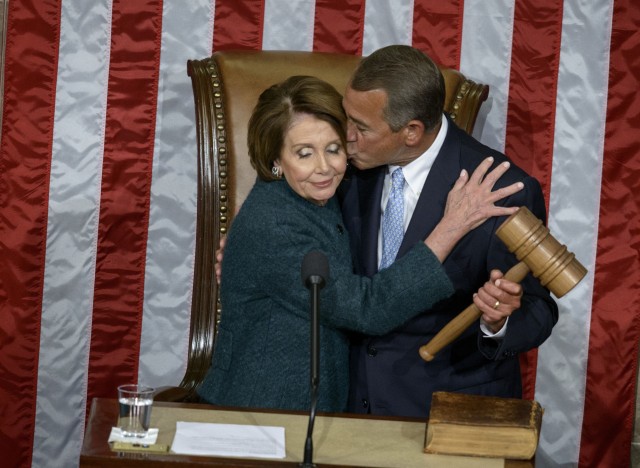 Newly re-elected House Speaker John Boehner (R-Ohio) gives Minority Leader Nancy Pelosi (D) a smooch. (Photo: Getty)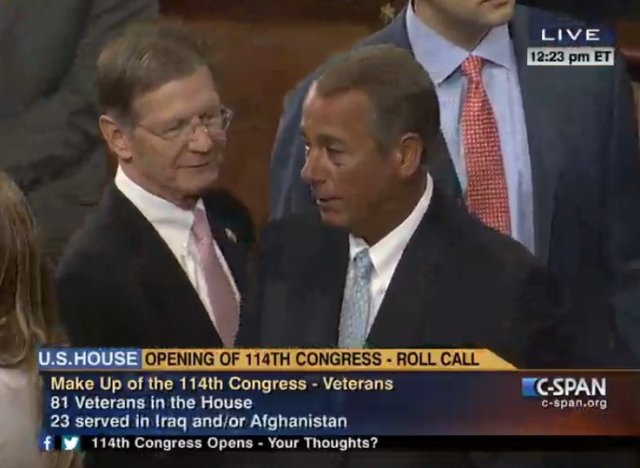 Boehner squeaked by despite a revolt from some of his most conservative members. Here he is on the floor sporting a very, very dark tan.
Another Biden selfie pic.twitter.com/AWfP299qlR

— Zeke Miller (@ZekeJMiller) January 6, 2015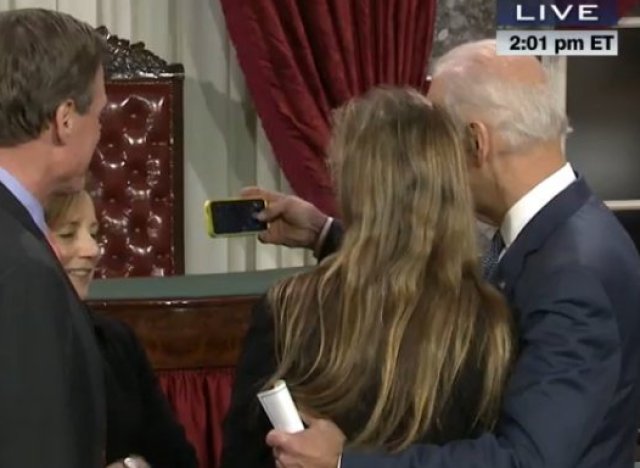 Vice President Joe Biden takes a selfie with Sen. Mark Warner's (D-Va.) daughter.
Rep. Kyrsten Sinema, everyone's favorite congresswoman of the day. pic.twitter.com/AnBzY1kT8U

— Dave Itzkoff (@ditzkoff) January 6, 2015
Rep. Kyrsten Sinema (D-Ariz.) does a victory dance.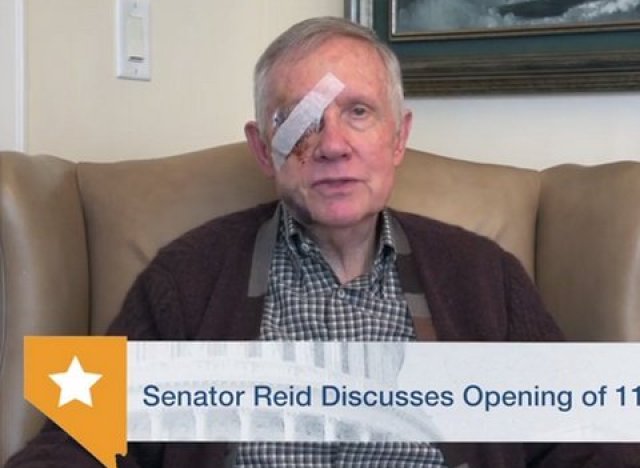 Senate Minority Leader Harry Reid (D-Nev.) discusses the extent of his injuries in a YouTube video, with a bit of an unfortunate caption. Reid stayed home in Washington under doctor's orders.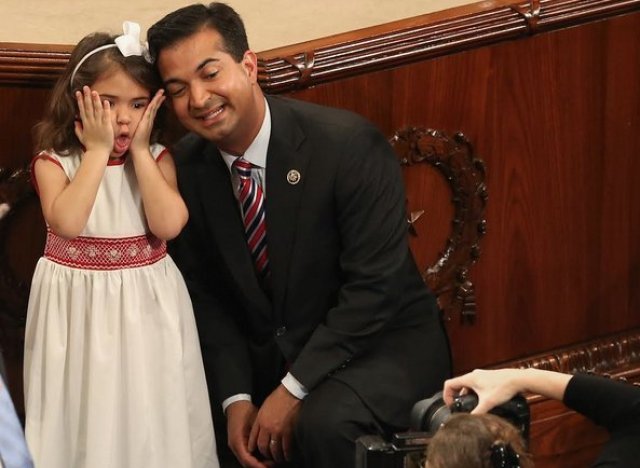 Rep. Carlos Curbelo (R-Fla.) poses with his daughter.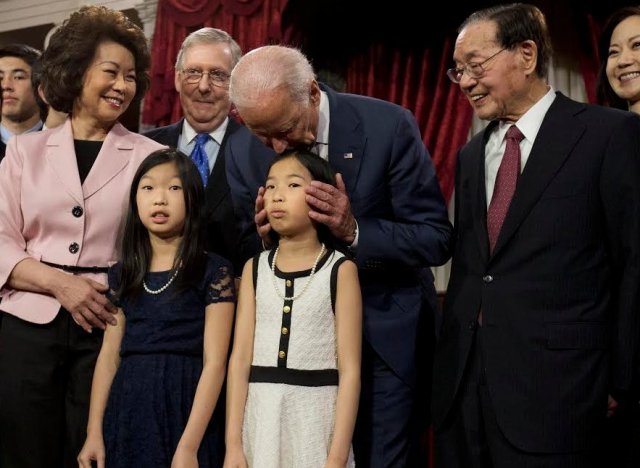 Biden poses with Senate Majority Leader Mitch McConnnell (R-Ky.) and family.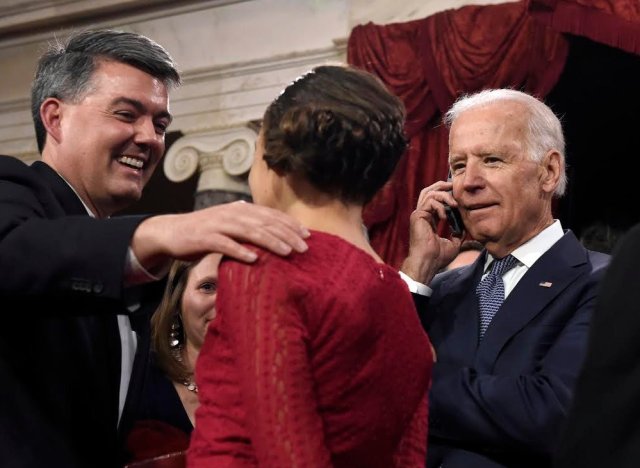 Biden calls Sen. Cory Gardner's (R-Colo.) 91-year-old grandmother, who told him she couldn't talk because she was watching her grandson get sworn in.
Gift for Sen. Ernst from @GrahamBlog - livestock castration device. pic.twitter.com/tCbdInXzHn

— Joseph Morton (@MortonOWH) January 6, 2015
Sen. Lindsey Graham (R-S.C.) presented Sen. Joni Ernst (R-Iowa) this choice gift, harkening back to one of the most memorable ads of the 2014 cycle in which the Iowa senator touted her experience of "castrating hogs."
This is all you need to know about how Joe Biden's swearing in ceremonies are going, in one GIF. pic.twitter.com/GEynE3HF61

— Chris Moody (@moody) January 6, 2015
"I like kids better than people," Biden said at one point in today's ceremony.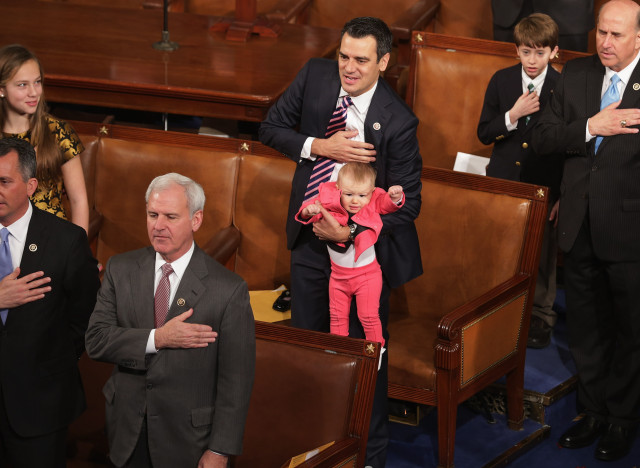 Rep. Kevin Yoder (R-Kan.) attempts the Pledge of Allegiance with baby in hand. (Getty)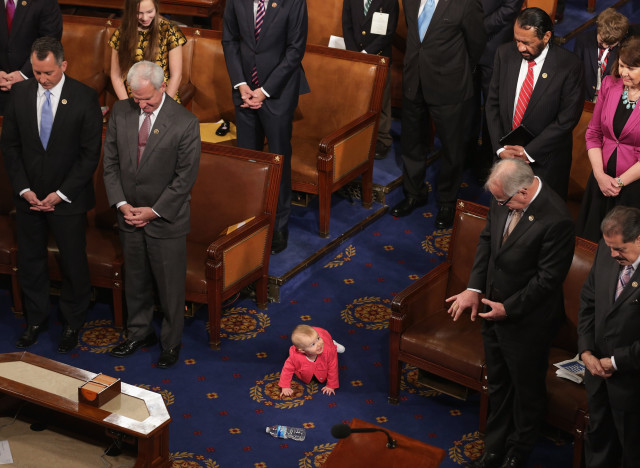 And she's off to vote. (Getty)

Biden. Joe Biden. (via NYMag)
Correction: A previous version of this article incorrectly identified Rep. Carlos Curbelo as Rep. Kevin Yoder (R-Kan.). We regret the error.
BEFORE YOU GO
PHOTO GALLERY
New Congress Members