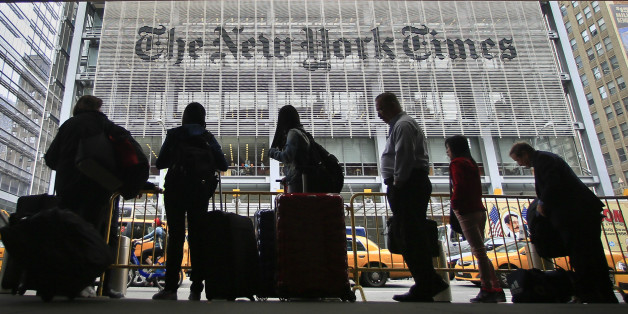 New York Times executive editor Dean Baquet is hoping 2015 will be a better year for the paper.
In a long note to staffers on Tuesday, Baquet addressed the difficult and "dramatic" year that was 2014, characterized by masthead shakeups, changes in leadership and voluntary buyouts that resulted in the departure of more than 100 employees.
In the note (titled "Charting the Future"), Baquet outlined the paper's plan for the years to come, which includes beefing up the media team as well as culture and sports reports.
"Don't allow the turmoil in the news business make you forget just how good we are, and that we are here to break big stories and ask hard questions of the powerful," he wrote. "Our coverage remains fabulous -- and our goals for the coming year are very clear. We will fix the things the buyouts broke. We will look internally to fill important jobs. We will carefully and judiciously make a few outside hires. I know it seems incongruous to hire after reducing the staff. But if we stop bringing in new talent we run the risk of missing a generation of future stars."
"I understand that this is a moment filled with a certain amount of worry," he continued. "But there is also enormous opportunity. Just remember we have nearly two million paying readers, a thriving print newspaper, and a rapidly growing digital business that brings in many times more revenue than most of our flashy new competitors. We remain a highly profitable institution."
Read Baquet's full memo to staffers:
Dear Colleagues,

By any measure, 2014 was a dramatic year — a sudden leadership change ending with the departure of treasured colleagues. But those headlines belie what you all accomplished for readers and the world.

We have enhanced our standing as the greatest investigative news organization, with tough, questioning coverage of Ebola, the shenanigans in Albany and Moscow, a world struggling with continuing turmoil in the Middle East, the kidnappings and murders of fellow journalists, the crisis of a broken jail system and lax auto regulation, a world of college sports gone awry, and a country divided by race and income. We continue to produce extraordinary visual journalism, from the courageous work of photographers around the world to the remarkable combination of text, video and graphics in our end-of-the-year Ebola presentation. The Upshot, in many ways, is one of the great news creations of the year, a digital-first synthesis of virtually every part of The Times that may serve as a model for the future of news departments.

Don't allow the turmoil in the news business make you forget just how good we are, and that we are here to break big stories and ask hard questions of the powerful.

Our coverage remains fabulous -- and our goals for the coming year are very clear. We will fix the things the buyouts broke. We will look internally to fill important jobs. We will carefully and judiciously make a few outside hires. I know it seems incongruous to hire after reducing the staff. But if we stop bringing in new talent we run the risk of missing a generation of future stars.

We will soon begin rebuilding our media team. The culture and sports reports will continue to get new faces and energy. And building a powerhouse political team also is among our main coverage goals for the year. The redesign of the Sunday magazine has already begun. And our next big investigative projects are in the works.

But as good as our journalism is, and will continue to be, we have to face profound questions: What will we do to make sure we remain great for generations to come? And what is the newsroom's role in securing our future?

In the 1970s, The New York Times faced a crisis larger than anything we are grappling with now. New York itself was in fiscal collapse, and the paper was edging into the red. Readers were moving to the suburbs. Television was on the rise. Advertisers were retreating. Newspapers across the country were folding, and The Times's existence seemed in doubt.

Some of the similarities between then and now are stunning. There were tentative meetings between business and news side leaders who barely knew each other. Committees and subcommittees of editors and executives were formed to brainstorm ideas, to find the new thing that would save the paper. There were scary projections about a dramatic decline in the business, and fears that The Times no longer understood its readers. The publisher did the unthinkable, an action that foreshadows our current debates over metrics -- he commissioned a poll of readers to see what they wanted to read that The Times was not offering.

Amid the turmoil, the newsroom made a crucial decision -- it would play a leading role in charting the future. Despite some jeering from those who believed The Times was abandoning its ideals, the newsroom created the feature sections that saved the paper, set it on the road to its most prosperous years ever and made our report richer for readers to this very day.

Once again, the newsroom is being called on to take a leading role in securing our future. In fact, our business side colleagues, as they did a generation ago, are counting on us to help lead. Our future will be built on a foundation of journalism, and on ideas that will emerge from us, and from our wonderful stories and coverage.

This is why we are creating an audience development department. Its purpose is not to chase clicks but to expose as many people as possible to our finest work, and to connect us to readers in new and deeper ways. If we are aggressive in making our journalism widely available, and resolute in doing unmatched coverage, we will have more impact on the world, and draw new subscribers and advertisers. We don't know what audience number The Times should achieve. But if you want a glimpse of the possibilities, consider the fact that in the two months since we began a sustained effort we have seen a consistent 20 percent increase in the number of people who found our journalism -- a far more dramatic increase than anyone imagined this early.

We are moving aggressively to better serve the increasing number of people who read us on their phones. You will notice major changes in our mobile products within a few months, allowing us a greater ability to mold what readers see.

We have made clear that NYT Now was not a financial breakthrough. But it has been a tremendous journalistic success, showing up on almost every ranking of best new apps. We learned many significant lessons from building NYT Now. We realized we could be more visual, and talk to readers in a different, less formal way, and still be The New York Times. We are exploring how we can make NYT Now a financial success. But in the meantime, we are taking the best features of NYT Now and blending them into the core app.

The Cooking app has been a huge success. It has had over eight million users on the web, and the app has been downloaded more than 300,000 times. With such a giant audience drawn to specialized coverage, it may even be a template for the digital future of our features report.

Just as The Times found an entirely new market when it became a truly national publication, we now believe there are compelling possibilities in growing our international audience. We are trying to decide which markets to jump into first, and how to go about doing it.

The quality of our videos has steadily improved, and I'm eager to make them more widely accessible. This will also be appealing to advertisers who want to be on our videos.

We are also committed to enhancing our print paper. Besides redesigning the magazine, we have already begun some initiatives that will unfold in the coming months.

Finally, I'm working with the business side to see if there are steps we can take to attract more ads without compromising the line between news and advertising. For instance, can an advertiser sponsor a regular feature? Yes, so long as it does not make readers question our objectivity. This is tricky territory, but some of the best news organizations in the world have already navigated it.

Do these changes assure that we will not have to go through painful cutting again? That's my goal, but I can't guarantee it. No modern editor can. There is no magic bullet to the issues that confront high-quality news organizations. But this is the reason I am willing to take bold steps to secure our future. And I can say that Arthur and Mark understand more than anyone how important it is to have a large and ambitious news report.

I understand that this is a moment filled with a certain amount of worry. But there is also enormous opportunity. Just remember we have nearly two million paying readers, a thriving print newspaper, and a rapidly growing digital business that brings in many times more revenue than most of our flashy new competitors. We remain a highly profitable institution.

Still, I want to create an environment where ideas for moving our news report forward and assuring its continued vitality and profitability can emerge from all corners of the newsroom.

I'd like to repeat what I said to The Times board several weeks ago when Arthur invited me to speak: The New York Times has been built and strengthened over generations by striving to be the best news operation in the world. That has been the consistent vision of both the newsroom and the business side. There is no future for The Times's journalism or its business model if it becomes merely the second-best news operation in the world.

Just as our predecessors did 40 years ago, we will push on all fronts to build a better, even more ambitious and creative New York Times.

Best,
Dean