"Another year over," John Lennon still coos, posthumously, over the course of several, semi-irritating weeks between Thanksgiving and New Year's. "And a new one just begun." It's probably the most succinct way of melodically paying tribute to the passing of one 365-day period and the dawn of another.
We're reminded of Lennon's lyrics as we scan our list of the new year's most drool-worthy museum shows. His widow, the great musician and artist Yoko Ono, is one among several female artists headlining massive shows in 2015, joining Bjork, Marilyn Minter and the late artists Frida Kahlo and Mary Louise Reynolds, among others.

Yes, artists like Alex Katz, Jean-Michel Basquiat and Barnett Newman have wound their way into our ranks, but we're pleased to see shows like "Islamic Art Now" and "Women to Watch 2015" making waves for underrepresented and emerging figures too. While there's always room to grow (we'd love to see more women of color hosting retrospectives around the U.S., for example), we're glad the year of markedly macho artists like Jeff Koons, Paul McCarthy and James Turrell is over.
The following 21 shows will debut at some of the biggest art institutions in the United States, and a few small ones too. From New York to Los Angeles, Minneapolis to Houston, Atlanta to Chicago, these are the art exhibitions we'll be talking about in the new year.
1. On Kawara at the Guggenheim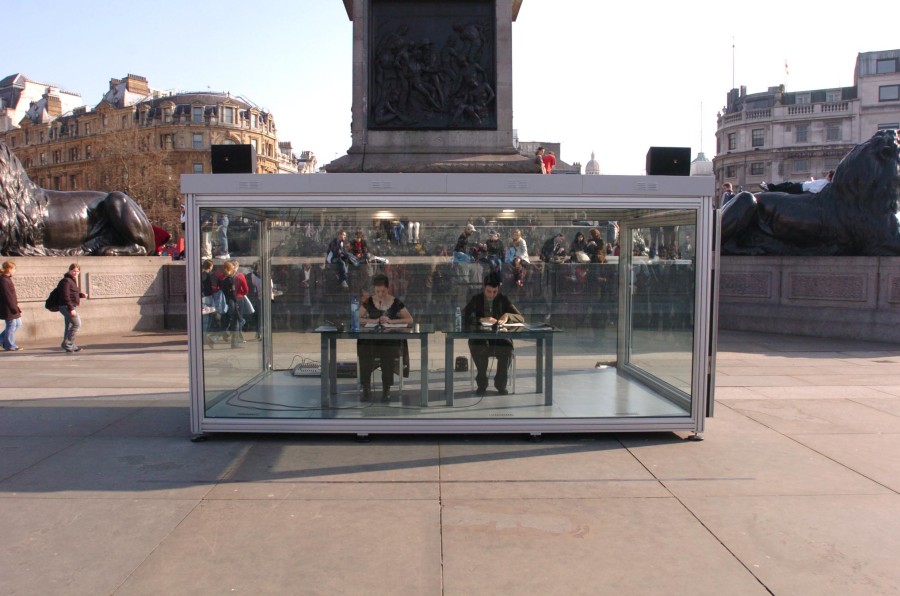 Sixteen performance artists working in pairs and shifts take part in a previous staging of "One Million Years." They are reading extracts from a book of 271,000 even and odd numbers. (Photo by J. Quinton/WireImage)
What: On Kawara: Silence
Where: The Guggenheim, New York, NY
When: February 6, 2015 to May 3, 2015
Why: On Kawara passed away last year, leaving behind a complex body of conceptual art. This will be the first full representation of his output, ranging over 50 years. We're especially excited for the continuous live reading of his "One Million Years" series, which will consist of a steady recitation of numbers by volunteers on the ground floor of the Guggenheim rotunda.
Also on view: Monir Shahroudy Farmanfarmaian: Infinite Possibility, Alberto Burri: The Trauma of Painting
2. Bjork at the Museum of Modern Art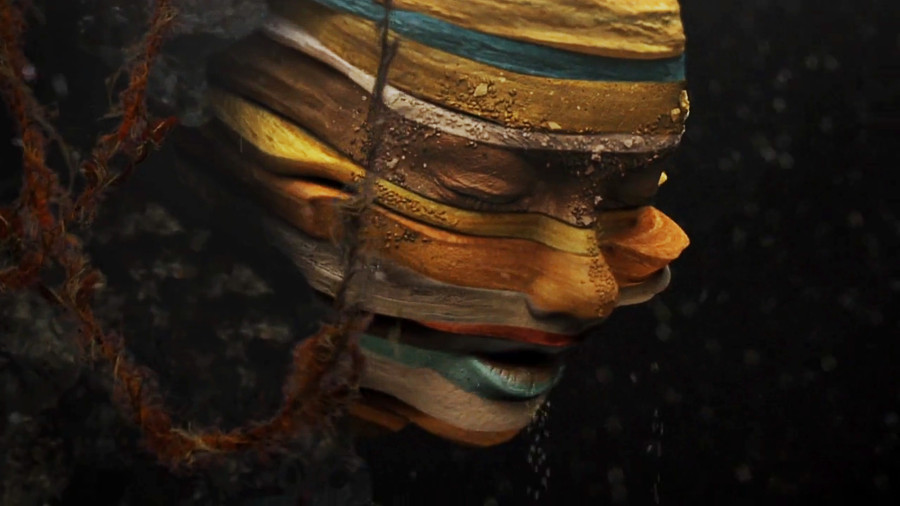 Björk, "Mutual Core" video still, 2012. Credit: Directed by Andrew Thomas Huang, Image courtesy of Wellhart Ltd & One Little Indian
What: Björk
Where: The Museum of Modern Art, New York, NY
When: March 8, 2015 to June 7, 2015
Why: This full-scale retrospective will span the entire career of Icelandic singer, songwriter and artist Björk, including sound, film, visuals, instruments, objects, costumes, and performance. The show will also present a newly commissioned "music and film experience." Essentially, this is a dream come true for Björk fans everywhere.
3. Frida Kahlo at the New York Botanical Gardens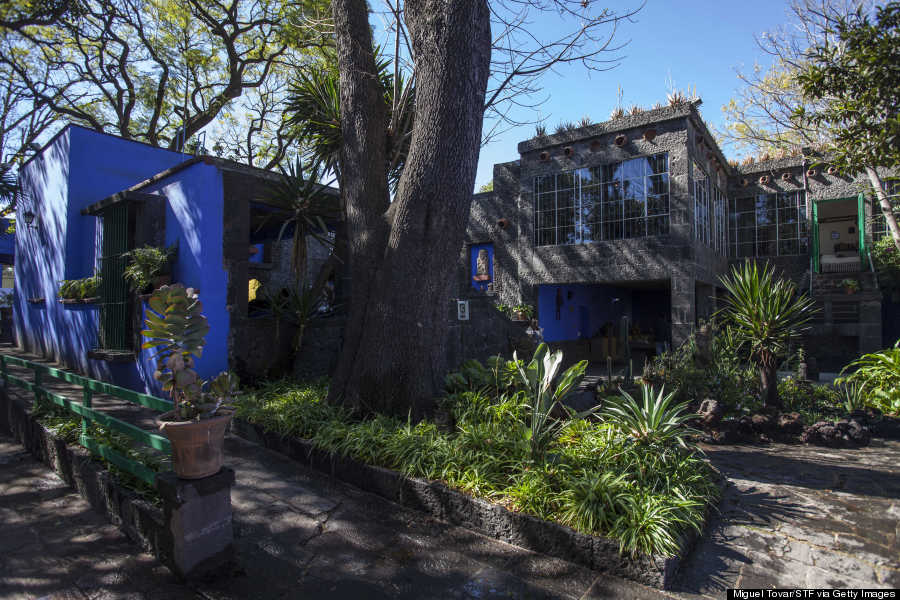 A view of the Frida Kahlo museum, housed in the former home of the Mexican artist Frida Kahlo. (Photo by Miguel Tovar/LatinContent/Getty Images)
What: Frida Kahlo: Art, Garden, Life
Where: New York Botanical Gardens, New York, NY
When: May 16, 2015 to November 1, 2015
Why: Not only will this exhibition of paintings and works on paper mine the artist's relationship with the natural world in Mexico, a flower show will reimagine Kahlo's studio and garden at the Casa Azul (Blue House) in Coyoacán, Mexico City.
Also on view: The Orchid Show, Wild Medicine in the Tropics
4. Islamic Art Now at LACMA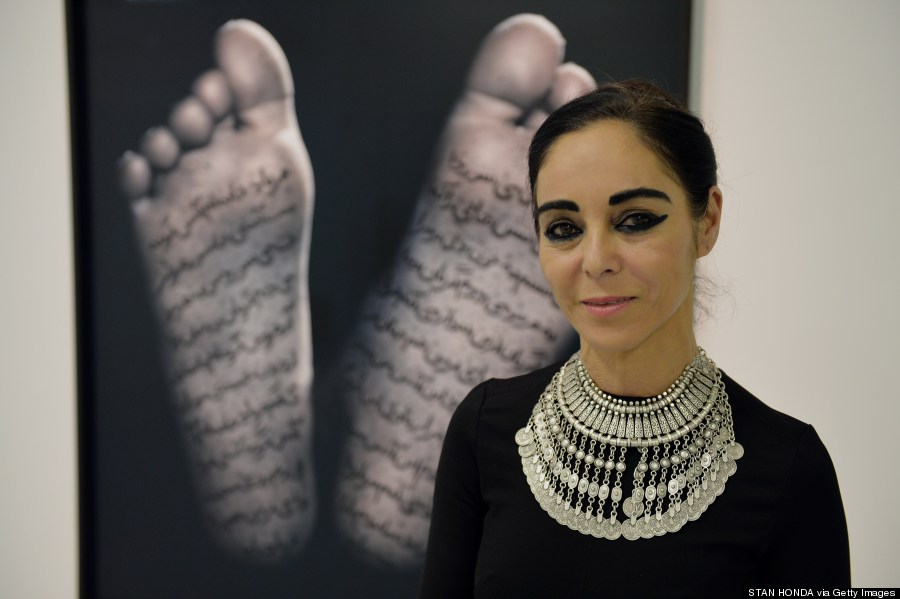 Iraninan-born artist and filmmaker Shirin Neshat poses in front of "Bahman (from Our House Is on Fire), 2013," a large scale photograph in the exhibition, "Our House Is on Fire" at the Robert Rauschenberg Foundation January 30, 2014 in New York. (STAN HONDA/AFP/Getty Images)
What: Islamic Art Now: Contemporary Art of the Middle East
Where: The Los Angeles County Museum of Art, Los Angeles, CA
When: January 31, 2015
Why: This show will feature 25 works by contemporary artists from Iran and the Arab world, including Shirin Neshat, Susan Hefuna, Lalla Essaydi, Mitra Tabrizian, Mona Hatoum, Hassan Hajjaj, Wafaa Bilal, Barbad Golshiri, and Youssef Nabil.
Also on view: Bari Kumar: Remembering the Future, Drawing in L.A.: The 1960s and 1970s, Noah Purifoy: Junk Dada
5. Super Indian at the Denver Art Museum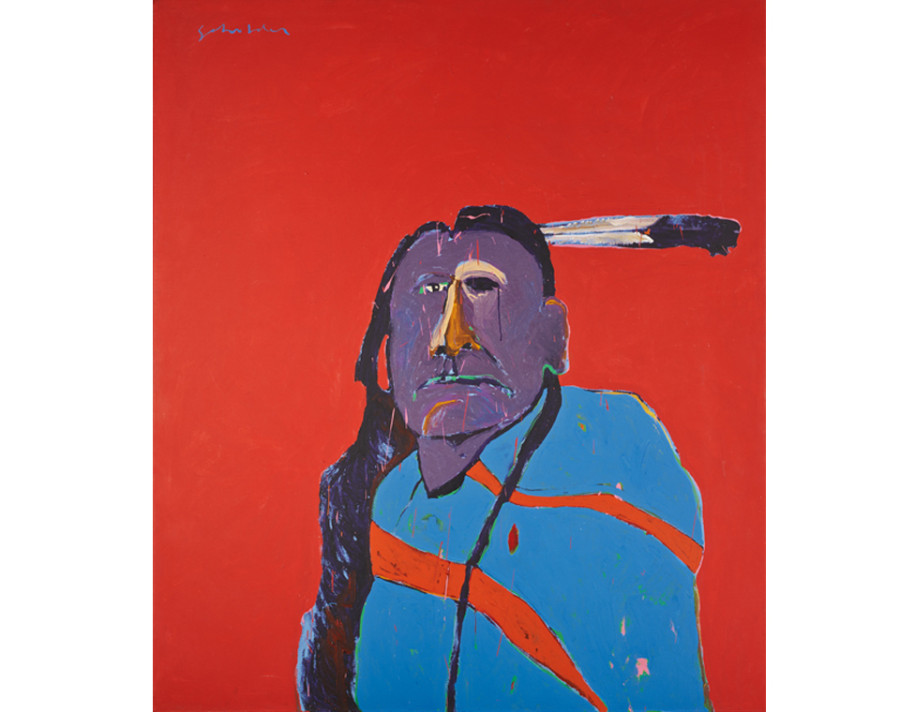 Scholder, Fritz. American Portrait with One Eye, 1975. Acrylic on canvas. Collection of Kent and Vicki Logan. ©Estate of Fritz Scholder
What: Super Indian: Fritz Scholder, 1967–1980
Where: The Denver Art Museum, Denver, CO
When: October 4, 2015 to January 17, 2016
Why: Scholder's paintings have been called many things -- controversial, revolutionary, haunting."Fritz Scholder once vowed never to paint Indians," reads the exhibition description. "He claimed he was not an American Indian artist, but he was. He claimed his art was not political, but it polarized the art world."
Also on view: Wyeth: Andrew and Jamie in the Studio, Joan Miró: Instinct & Imagination
6. Yoko Ono at the Museum of Modern Art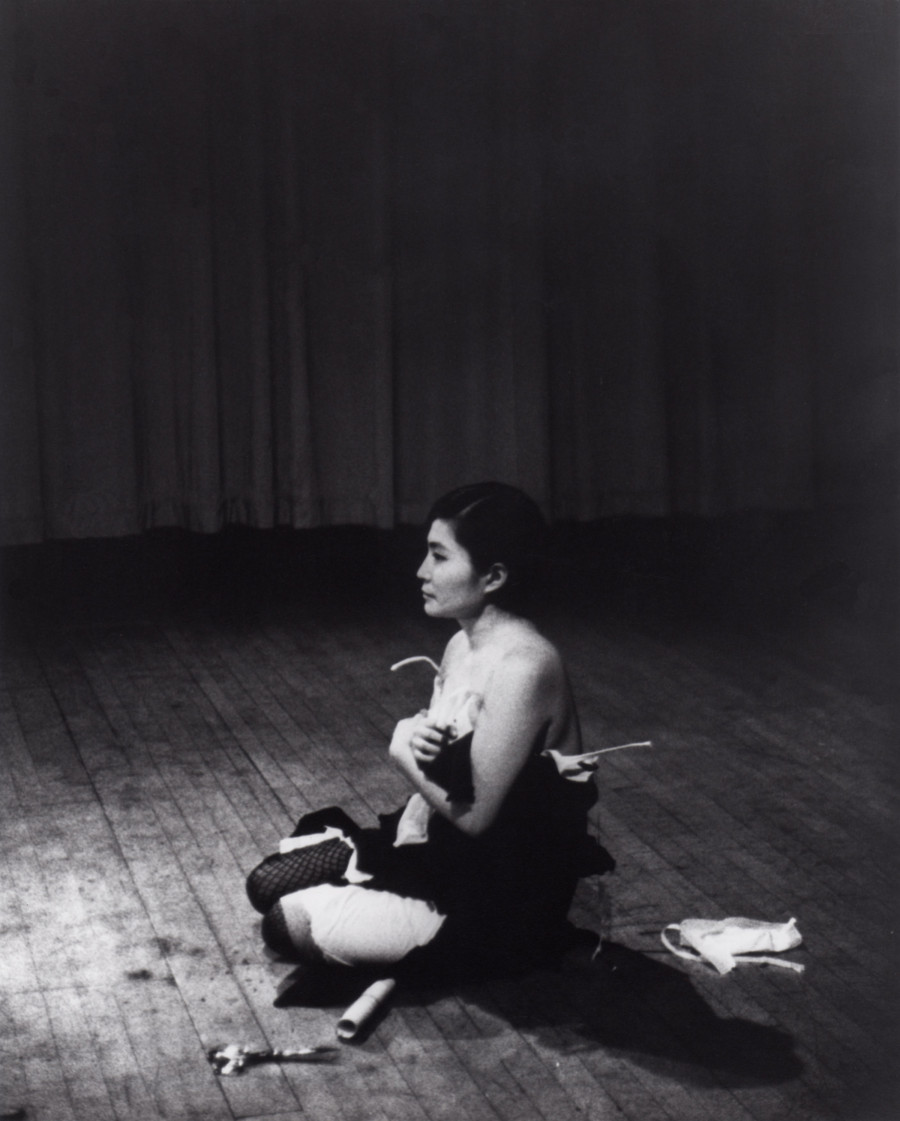 Cut Piece (1964) performed by Yoko Ono in New Works of Yoko Ono, Carnegie Recital Hall, New York, March 21, 1965. Photograph by Minoru Niizuma. © Minoru Niizuma. Courtesy Lenono Photo Archive, New York
What: Yoko Ono: One Woman Show, 1960–1971
Where: The Museum of Modern Art, New York, NY
When: May 17, 2015 to September 7, 2015
Why: This is MoMA's first exhibition dedicated exclusively to the work of Yoko Ono. Yes, she's been at the New York art haven before -- with flies in tow -- in 1971. But this show will presumably be a bit more extensive, bringing together 125 of her early objects, works on paper, installations, performances, audio recordings and films to celebrate the decade before her unofficial debut.
Also on view: Latin America in Construction: Architecture 1955-1980, This Is for Everyone: Design Experiments for the Common Good, Picasso's Sculpture, One-Way Ticket: Jacob Lawrence's Migration Series and Other Visions of the Great Movement North
7. The Whitney's Inaugural Exhibition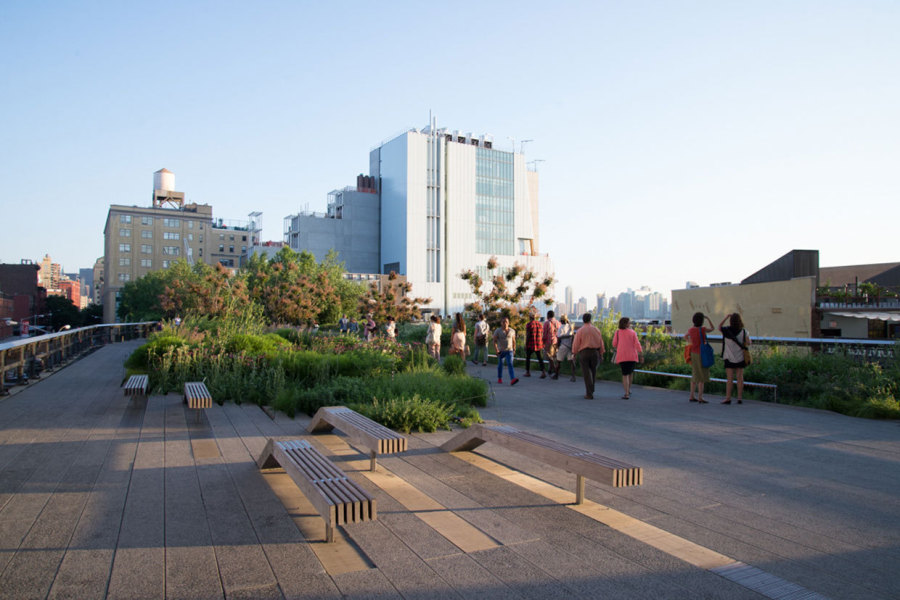 Whitney Museum of American Art, June 2014. Photograph by Timothy Schenck
What: The first exhibition since the Whitney's move in 2014.
Where: The new Whitney Museum of American Art, New York, NY
When: May 1, 2015
Why: If not for the art -- which is pegged as "the largest and most comprehensive display to date of the Whitney's unparalleled permanent collection of 20th and 21st century American art" -- come for the Renzo Piano-designed museum's debut.
Also on view: Archibald Motley: Jazz Age Modernist, Frank Stella
8. Basquiat's The Unknown Notebooks in Brooklyn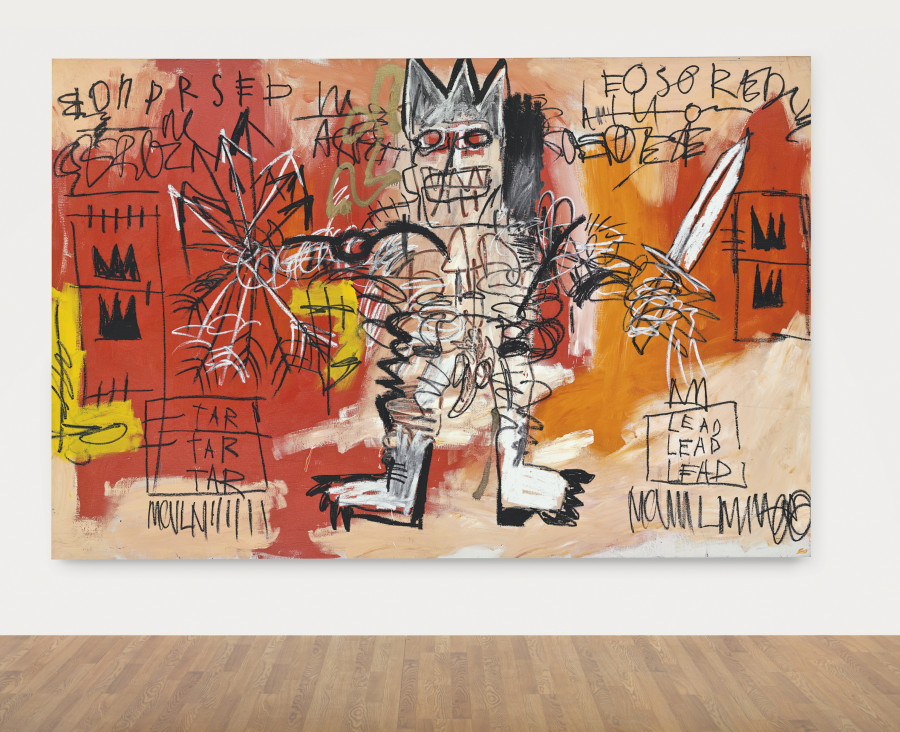 This undated photo provided by Christie's shows Jean-Michel Basquiat untitled 1981 painting of a regal warrior figure. (AP Photo/Christie's)
What: Basquiat: The Unknown Notebooks
Where: The Brooklyn Museum, New York, NY
When: April 3, 2015 to August 23, 2015
Why: We can't help but want to sneak a glimpse into the 160 pages of Basquiat's personal notebooks on view in this show, including poetry fragments, word play, sketches, and personal observations.
Also on view: Kehinde Wiley: A New Republic
9. Barnett Newman at the Menil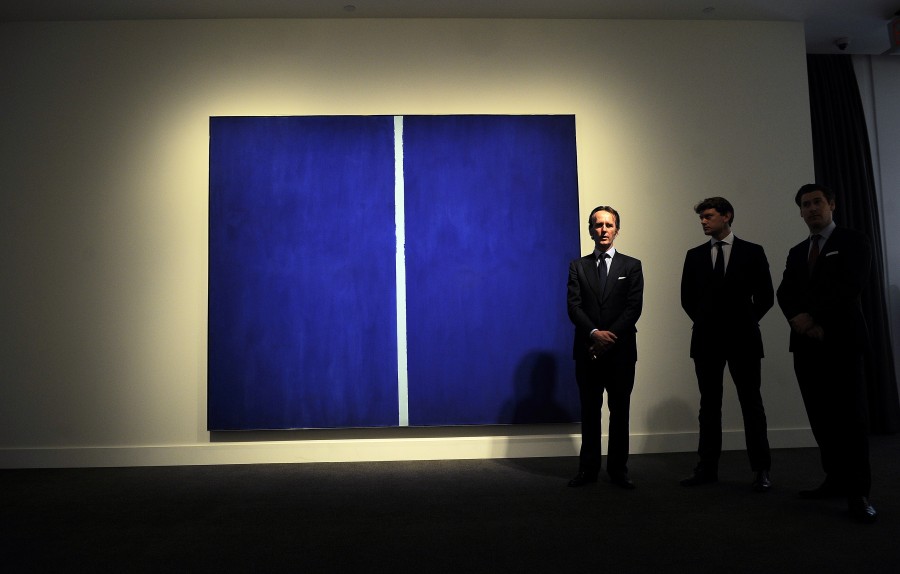 "Onement VI" by Barnett Newman is on display during a preview of Sotheby's Impressionist and Modern Art sales in New York on May 3, 2013. (EMMANUEL DUNAND/AFP/Getty Images)
What: Barnett Newman: The Late Work
Where: The Menil Collection, Houston, TX
When: March 27, 2015 to August 2, 2015
Why: Barnett Newman enjoyed success later in life, and the Menil will be putting his even later work on display. This will be the most meditative show on the list.
Also on view: Becoming Modern: Nineteenth-Century French Drawings from The Morgan Library & Museum and the Menil Collection
10. Marilyn Minter at the Contemporary Art Museum Houston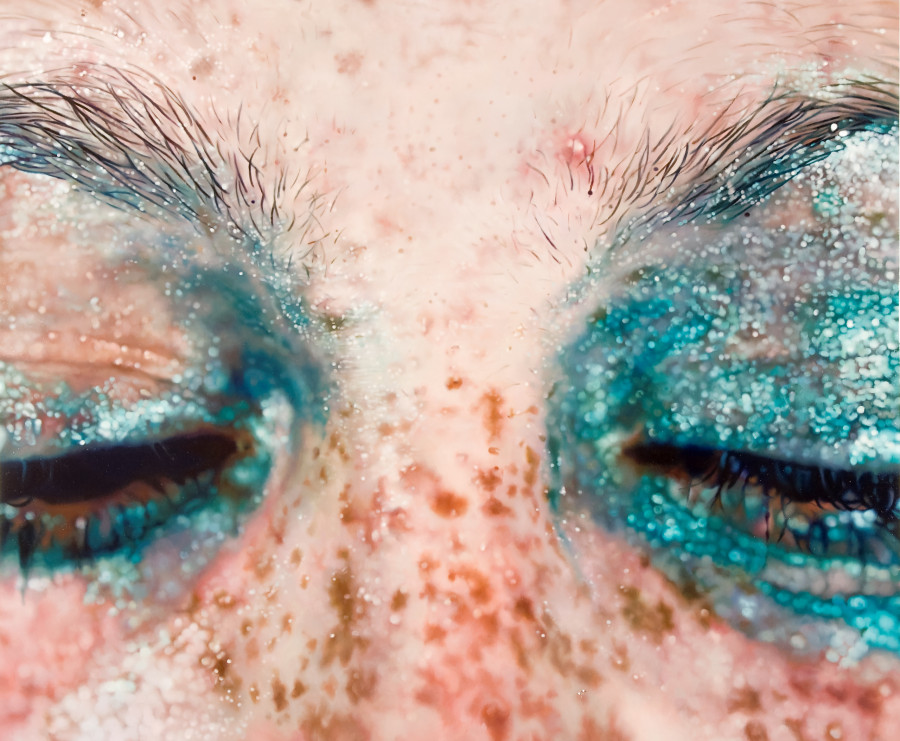 Marilyn Minter, "Blue Poles," 2007. Enamel on metal, 60 x 72 inches. Courtesy the Artist, Salon 94, New York and Regen Projects Los Angeles
What: Marilyn Minter -- Pretty Dirty
Where: Contemporary Art Museum Houston, TX
When: April 18, 2015 to August 2, 2015
Why: Co-organized by the Contemporary Arts Museum Houston and the Museum of Contemporary Art Denver, the show pays homage to Minter, a master of painting, photography and film whose contradictory presentation of the feminine body and beauty makes her a favorite of ours.
Also on view: Mel Chin: Rematch, Art on the Lawn: Joseph Havel
11. The 2015 Triennial at the New Museum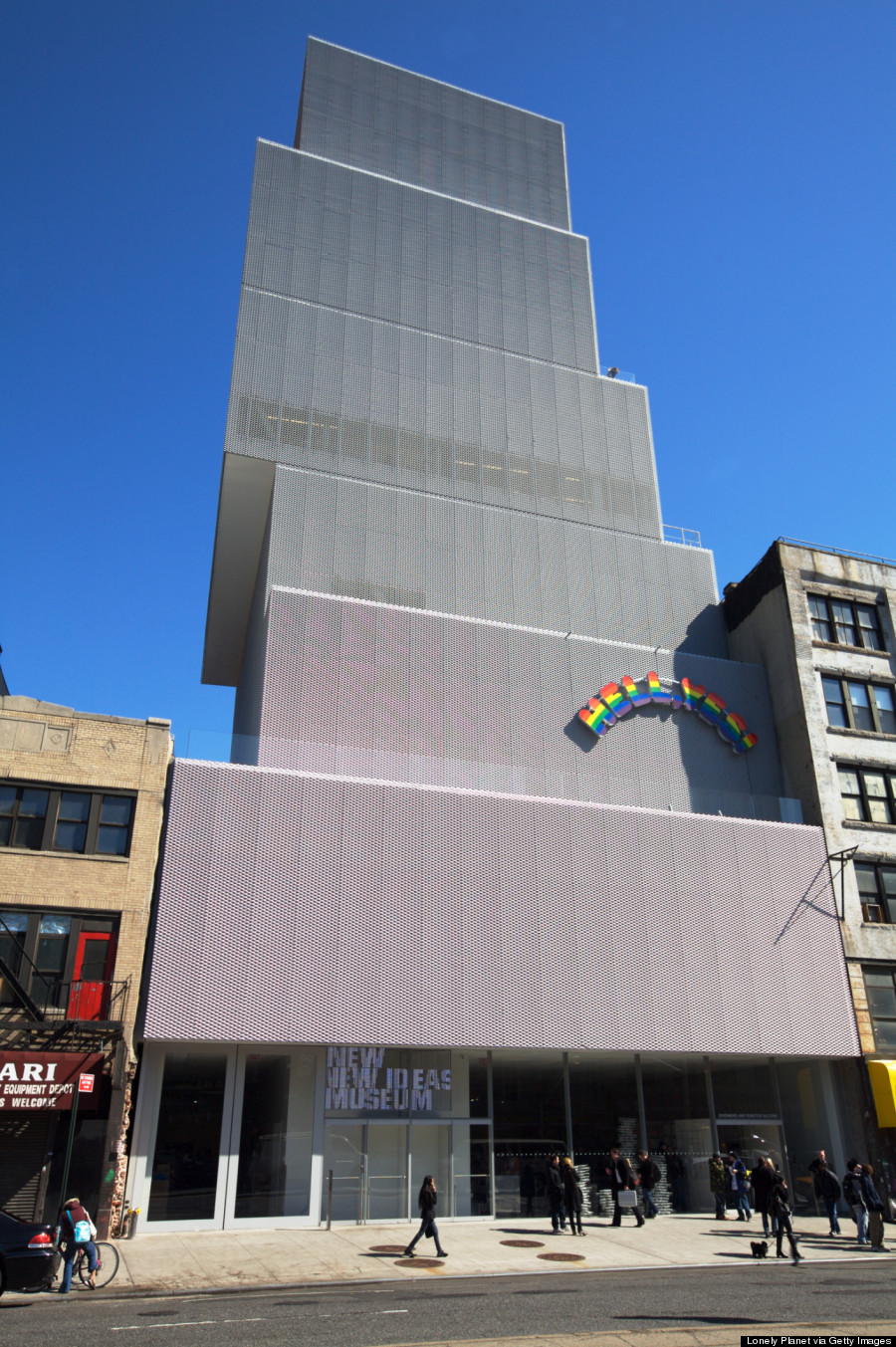 The New Museum of Contemporary Art
What: 2015 Triennial: Surround Audience
Where: The New Museum, New York, NY
When: February 25, 2015 to May 24, 2015
Why: The New Museum claims that the Triennial is the "only recurring international exhibition in New York City devoted to early-career artists from around the world." Like Crystal Bridges' American-only show in 2014, for many of the fifty-one artists and artist collectives from over twenty-five countries, this will be their first time showing in a major museum exhibition in the United States.
Also on view: Albert Oehlen: Home and Garden
12. Women to Watch 2015 at the National Museum of Women in the Arts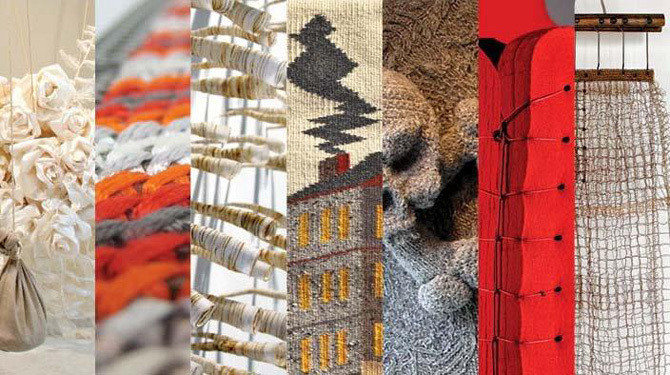 Details of works by (L–R) Ligia Bouton, Debra Folz, Beili Liu, Louise Halsey, Rachael Matthews, Laure Tixier, Tracy Krumm in last year's Women to Watch
What: Organic Matters -- Women to Watch 2015
Where: The National Museum of Women in the Arts, Washington, D.C.
When: June 5, 2015 to September 13, 2015
Why: Get ready for a new roster of emerging and underrepresented women artists who will be featured in the NMWA's annual program.
Also on view: Vanessa Bell's Hogarth Press Designs, Daisy Makeig-Jones
13. TR Ericsson at the Cleveland Museum of Art

Pink & Yellow (detail), c. 1980, Greenville, Tennessee (from the series Crackle & Drag), 2014. TR Ericsson (American, b. 1972). Archival pigment print; 48 x 60 in. Courtesy of the artist. © TR Ericsson
What: TR Ericsson: Crackle & Drag
Where: The Cleveland Museum of Art, Cleveland, OH
When: May 23, 2015 to August 22, 2015
Why: Artist TR Ericsson uses photography, sculpture and film to create a portrait of his mother, who committed suicide at the age of 57, and the three generations that make up his Ohio family.
Also on view: Themes and Variations: Musical Drawings and Prints, The Novel and the Bizarre: Salvator Rosa's Scenes of Witchcraft, Senufo: Art and Identity in West Africa
14. China: Through the Looking Glass at The Met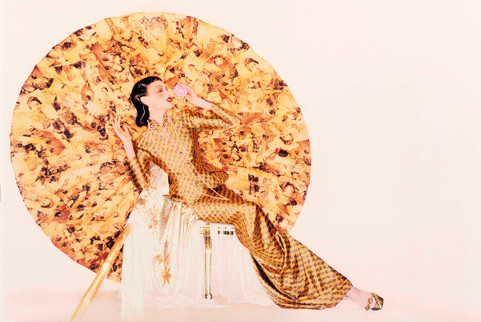 John Galliano (British, born Gibraltar, 1960) for House of Dior (French, founded 1947), fall/winter 1997–98. Photograph by Nick Knight, Nick Knight / Trunk Archive
What: China: Through the Looking Glass
Where: The Metropolitan Museum of Art, New York, NY
When: May 7, 2015 to August 16, 2015
Why: This show will outline China's place in the history of fashion, from ancient costumery to couture.
Also on view: Bazm and Razm: Feast and Fight in Persian Art
15. Mary Louise Reynolds at the Art Institute of Chicago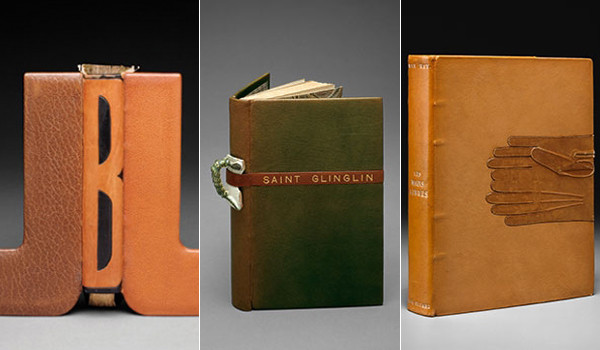 What: Decidedly Surreal: The Bindings of Mary Louise Reynolds
Where: The Art Institute of Chicago, IL
When: January 20, 2015 to March 23, 2015
Why: Mary Louise Reynolds was a Surrealist bookbinder of unusual talent. This is a truly unique show not to be missed.
Also on view: Chatter: Architecture Talks Back, David Adjaye
16. Alex Katz at the High Museum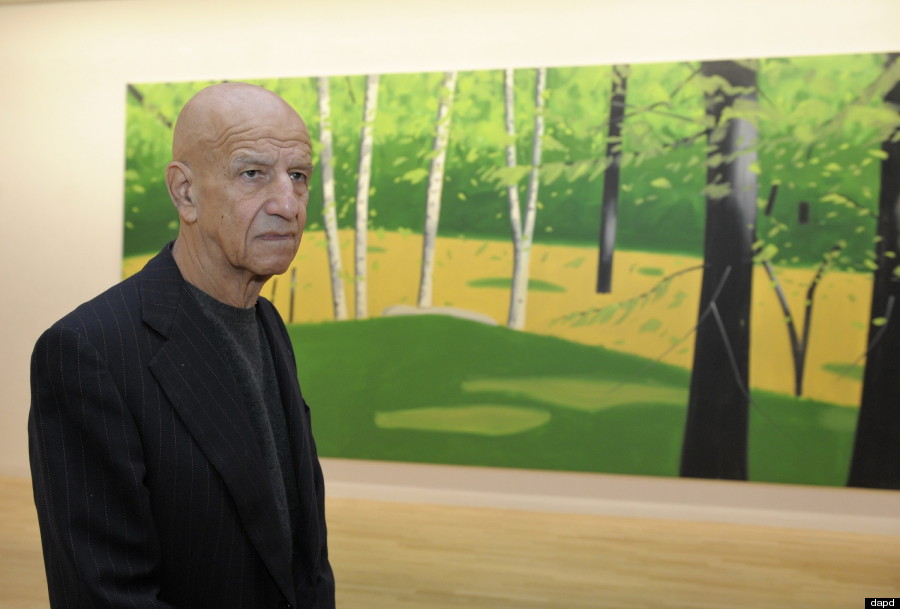 Alex Katz (Natalie Nollert/dapd)
What: Alex Katz, This Is Now
Where: The High Museum of Art, Atlanta, GA
When: June 21, 2015 to September 6, 2015
Why: This show will cover more than 40 of Alex Katz works created over the course of a half of a century. It will constitute one of the largest exhibitions of his landscapes in almost 20 years -- and over one third of the paintings on view were completed in the last decade, juxtaposing pieces from the 1950s with those done in the 21st century.
Also on view: A Painter's Profile: The High Celebrates Romare Bearden, Helen Levitt: In the Street
17. Hippie Modernism at the Walker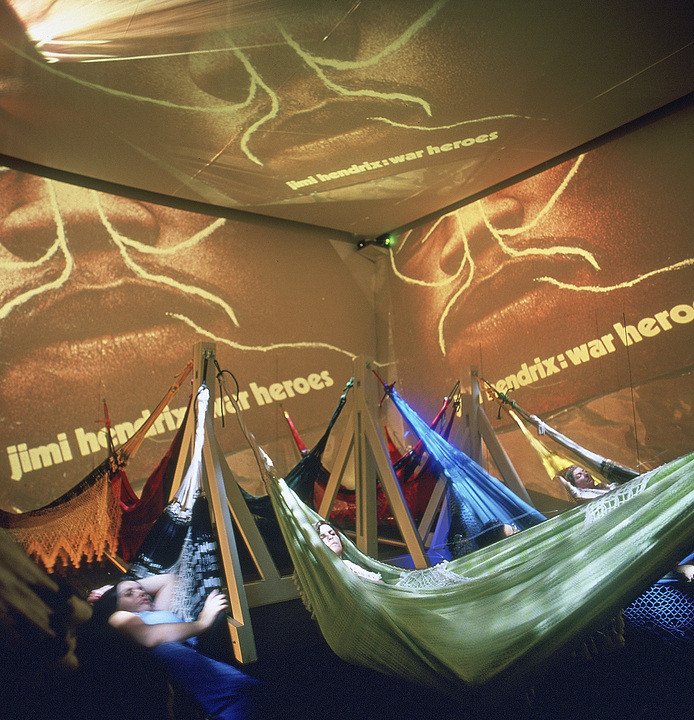 Helio Oiticica and Neville D'Almeida, CC5, Hendrixwar/Cosmococa Programa-in-progress, 1973
What: Hippie Modernism: The Struggle for Utopia
Where: The Walker Art Center, Minneapolis, MN
When: October 24, 2015 to February 28, 2016
Why: If the title isn't enough to intrigue you, the exhibition will chronicle the art, architecture, and design of the counterculture of the 1960s and early 1970s, including everything from experimental furniture, alternative living structures, retro magazines and books, and archival films.
Also on view: International Pop
18. Light, Paper, Process at the Getty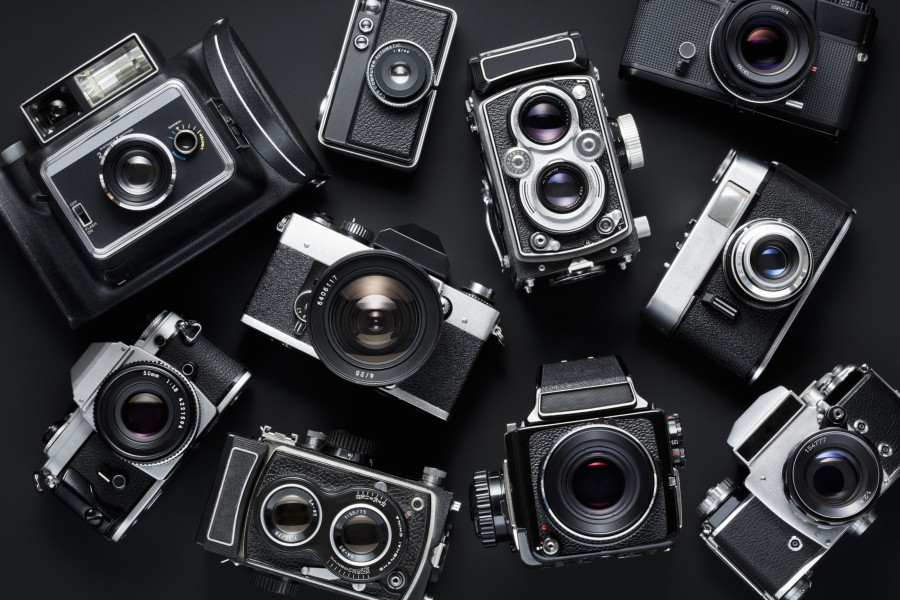 What: Light, Paper, Process: Reinventing Photography
Where: The Getty Center, Los Angeles, CA
When: April 14, 2015 to September 6, 2015
Why: While most of the contemporary, photo-savvy population of planet Earth is busy staring at a gridded square on their smart phones, this exhibition explores darkroom techniques, light-sensitive emulsions, archival negatives and custom-built cameras. In other words -- the "essence of photography."
Also on view: Zeitgeist: Art in the Germanic World, 1800–1900, J. M. W. Turner: Painting Set Free
19. Trenton Doyle Hancock at the Studio Museum

...And Then It All Came Back to Me, 2011, Mixed media on paper, 9 × 8 inches, Collection KAWS, New York, Courtesy the artist and James Cohan Gallery, New York/Goober's Intrusion, 2006, Mixed media on paper, 6 ¼ × 10 inches, Collection Jim and Paula Ohaus, Westfield, New Jersey, Courtesy the artist and James Cohan Gallery, New York
What: Trenton Doyle Hancock -- Skin and Bones, 20 Years of Drawing
Where: The Studio Museum Harlem, New York, NY
When: March 26, 2015 to June 28, 2015
Why: This is the first in-depth exhibition of Oklahoma-born Hancock's work, created over two decades primarily in Houston, TX.
Also on view: Titus Kaphar: The Jerome Project
20. American Soldier at the Nelson-Atkins Museum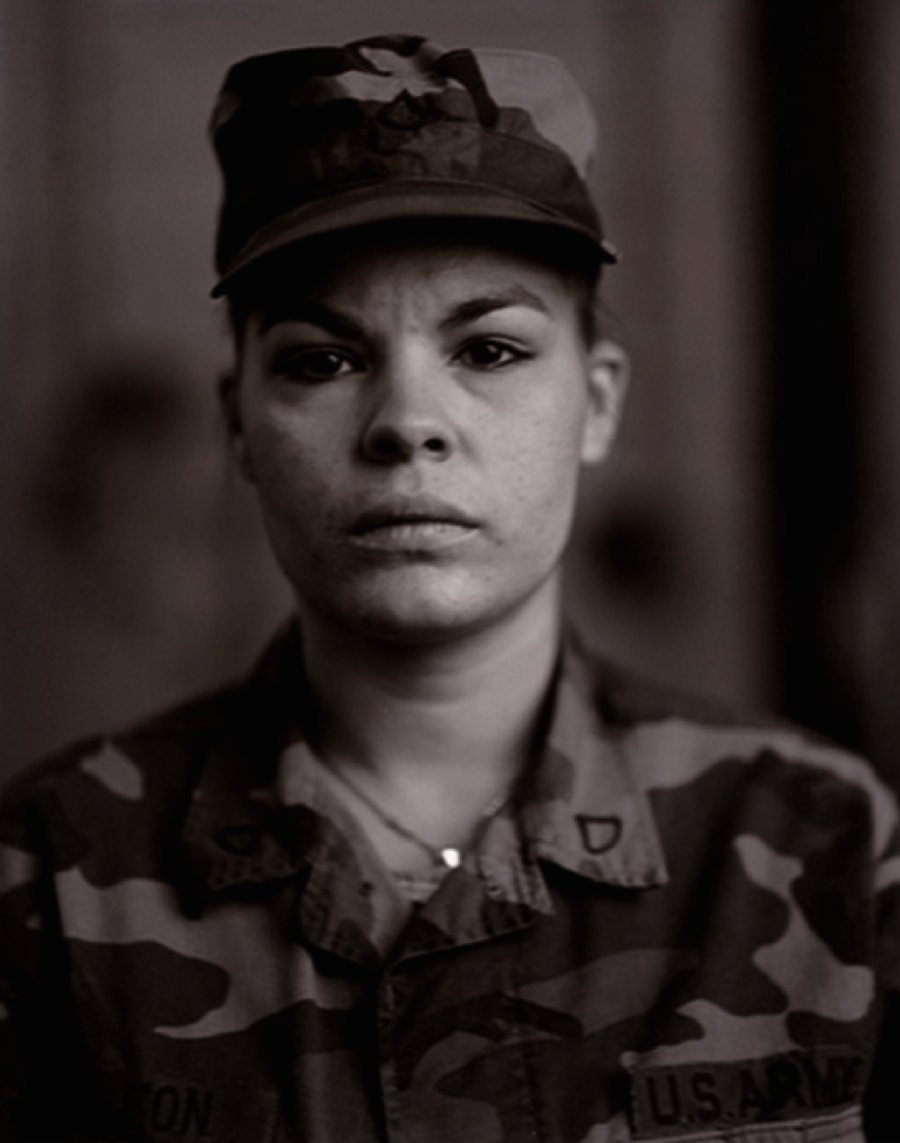 Judith Joy Ross, American (b. 1946), P.F.C. Maria I. Leon, U.S. Army Reserve, On Red Alert, Gulf War, 1990
What: American Solider
Where: The Nelson-Atkins Museum of Art, Kansas City, Missouri
When: January 23, 2015 to June 21, 2015
Why: Over 50 photographs of American servicemen and women, from the Civil War to contemporary conflicts in Iraq and Afghanistan, present the emotional and psychological impacts of war.
Also on view: A Shared Legacy: Folk Art in America
BONUS: The Jim Henson Exhibition and Gallery at the Museum of the Moving Image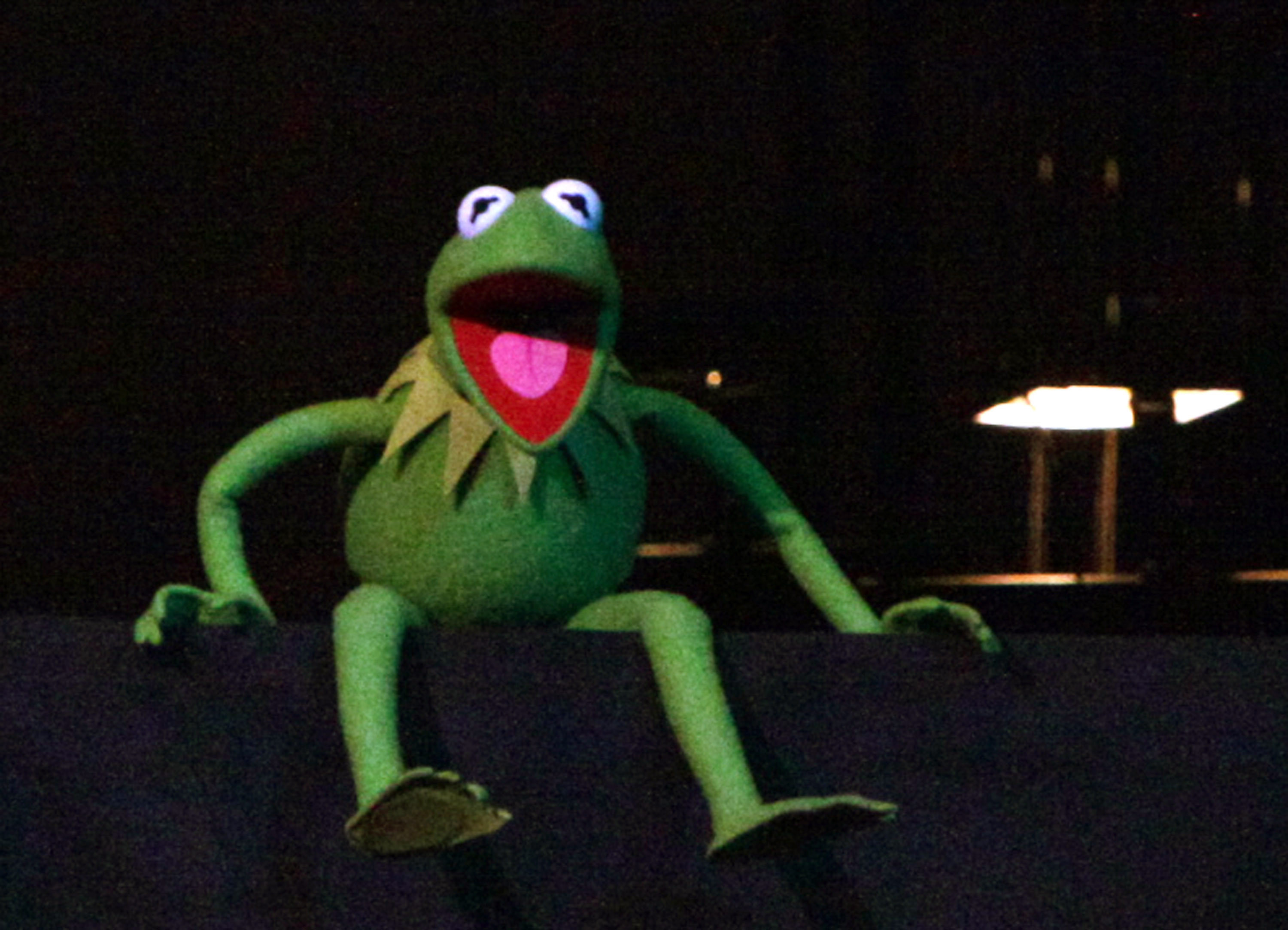 TBD (probably Summer 2015)... We'll update you when we hear more.
Honorable Mentions:
For more on what 2015 has to offer, check out our list of artists to watch in the new year here.
BEFORE YOU GO
PHOTO GALLERY
25 Documentaries You Need To Watch On Netflix Now