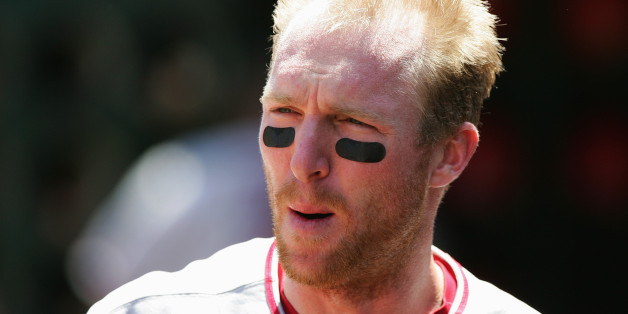 The controversy surrounding voting for the Baseball Hall of Fame tends to focus on the players omitted from ballots submitted by members of the Baseball Writers' Association of America. But the true measure of how unreliable BBWA voters may be when it comes to enshrining the greatest ever to play baseball might be some of the unlikely players who actually garnered votes.
Darin Erstad got one vote. Tom Gordon and Aaron Boone got two votes each. For the Hall of Fame.

— Jeff Passan (@JeffPassan) January 6, 2015
I just saw that Tom Gordon and Aaron Boone each got 2 votes. ... So there you go. That's more outrageous than Darin Erstad getting one vote.

— Ralph Vacchiano (@RVacchianoNYDN) January 6, 2015
Darin Erstad gets named on one ballot. Glad every voter takes his responsibility seriously.

— keithlaw (@keithlaw) January 6, 2015
Darin Erstad got a vote, which makes me wonder when Darin Erstad's mom started writing about baseball.

— Chris Smith (@ChrisSmith813) January 6, 2015
With voters facing a logjam of former players with Cooperstown-caliber resumes, including those associated with steroids by either test results or rumors, these stray votes drew attention when the 2015 results were revealed on Tuesday. Boone, Gordon and Erstad nearly had as many 2015 Hall of Fame votes (5) as career All-Star selections combined (6). While the votes for Boone and Gordon may have been inexplicable, it was the lone nod to Erstad that drew perhaps the greatest reaction of all -- from Erstad.
@FauxPelini I wonder what that one person was thinking?

— Darin Erstad (@Dstad17) January 6, 2015
Erstad, who was a two-sport athlete at the University of Nebraska before his MLB career, seemed to be having fun with the jokes about his vote.
"@KenTremendous: Darin Erstad got a Hall of Fame vote. To be fair, he was one of the greatest punters in MLB history." Punters r people too.

— Darin Erstad (@Dstad17) January 6, 2015
Currently the Nebraska baseball coach, Erstad showed a refreshing bit of perspective on Hall Of Fame Outrage Day.
1 vote/no votes on ballot or not so honored to be allowed to play this game and now coach and be able to affect kids' lives n a positive way

— Darin Erstad (@Dstad17) January 7, 2015