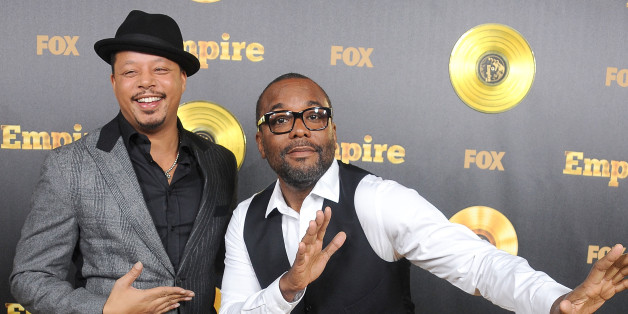 FOX's new series, "Empire," has drawn a great deal of attention leading up to its television premiere this week.
The show, which centers around the trials and tribulations of former drug dealer-turned-music mogul running his own record label, has not only sparked a social media debate with 50 Cent accusing the show of duplicating his very own series, "Power," it also marks the on screen reunion of Taraji P. Henson and Terrence Howard.
According to Howard, the pair's previous onscreen chemistry in 2005's Academy Award-winning film, "Hustle & Flow" had a great influence on director Lee Daniels' decision to hire him as the show's lead.
"Lee was auditioning Taraji and she said, 'If you're not using Terrence Howard then I'm not doing it. How's that one?' (and she hung up the phone)," Howard admitted during an interview with Deadline Hollywood. "Remember, Taraji is the same person who tried to audition for 'Precious' — I'm not lying! She's a cornucopia of crazy and that's really the reason why I am here."
The Academy Award-nominated actor went on to detail the impact of filming one of the show's most difficult scenes which involved Howard's character, Lucious, throwing his son in a trash can after discovering him wearing his mother's shoes and head scarf.
"Lee Daniels was that little boy and his father put him in the trash can," Howard revealed. "Watching Lee while we were shooting this — at one point, he had to look away because he was in tears, because he was facing it. His mother was also there on the set. It was cathartic for Lee."
"Lee would not allow me to show any compassion in the scene. He reminded me how much Lucious loved little Jamal, but my need for the boy to be a strong man was greater than my need to show my love to him. That was a difficult scene."
In the past Daniels also opened up on his traumatic encounter with his father during an 2013 interview on "Larry King Now."
"My dad was playing cards one Sunday with his cop friends and I put on my mother's red pumps and walked down the stairs…and then I got beat," he recalled to show host Larry King. "He beat me severely for it. But that didn't stop me, because the following Sunday I put on her blue high-heel shoes and walked down the stairs, this time with her purse."

FOX's "Empire" airs on Wednesdays at 9pm ET. Read more of Terrence Howard's interview here.

BEFORE YOU GO
PHOTO GALLERY
African-American Filmmakers