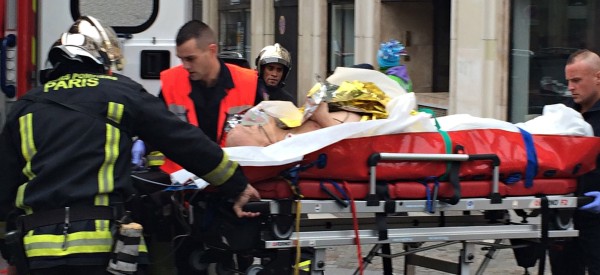 TOP STORIES
AT LEAST 11 KILLED IN SHOOTING AT PARIS SATIRE NEWSPAPER "Masked gunmen opened fire in the offices of a French satirical newspaper on Wednesday, the police said, with initial reports saying that as many as 11 people had been killed and 10 wounded. Xavier Castaing, the head of communications for the Paris police headquarters, confirmed the 11 deaths, The Associated Press reported … President François Hollande was headed to the scene of the shooting, in Paris's 11th arrondissement. He said the shooting was 'undoubtedly a terrorist attack' and ordered the nation's terrorist alert status raised to the highest level." [NYT]
JOHN BOEHNER SURVIVES SPEAKER CHALLENGE Yesterday saw the "most votes against a sitting speaker since 1923." Here are the 25 Republicans who voted against the Speaker and the consequences they'll face in the upcoming months. [HuffPost]
TAIL SECTION OF AIRASIA FLIGHT FOUND IN JAVA SEA Recovery teams hope to find the black boxes along with the tail section so they can piece together what caused flight QZ8501's crash. [USA Today]
FORMER VIRGINIA GOVERNOR SENTENCED TO TWO YEARS Bob McConnell, the former governor of Virginia, was sentenced to two years in prison for selling the influence of his office. The prison term was lighter than expected in comparison with other high-profile convicted public servants. [WaPo]
ABOUT SIX AMERICANS DIE A DAY FROM BINGE DRINKING "Though college binge drinking is often the public health focus, 76 percent of people who die from alcohol poisoning are men, with deaths most common in men aged 45-54. And 68 percent of people who die from alcohol poisoning are non-Hispanic whites, with Hispanic people a far second at 15 percent," according to the Centers for Disease Control and Prevention. [HuffPost]
WORLD HEALTH ORGANIZATION HEAD UNDER FIRE FOR HANDLING OF EBOLA CRISIS "Now, Ebola is battering three fragile countries in Africa and with it, the W.H.O.'s standing -- in large part, Dr. Chan's critics say, because she let governments around the world steer the agency to fit their own needs, instead of firmly taking the helm as the world's doctor in chief … Dr. Chan, they say, has been too willing to accommodate the wishes of governments, at times reluctant to call them to task and at other times too ready to bow to the demands of donors -- even when it puts the world's health at risk." [NYT]
UVA UNVEILS STRICTER FRATERNITY PARTY RULES Sober fraternity members will be required to monitor bedrooms during parties, "jungle juice" has been banned, and water must be readily available. [HuffPost]
WHAT'S BREWING
MEET THE 2015 MLB HALL OF FAME CLASS Pedro Martinez, Randy Johnson, Craig Biggio, and John Smoltz are headed to Cooperstown. [ESPN]
BENEDICT CUMBERBATCH IS HAVING A BABY! With fiancee Sophie Hunter. [Page Six]
'GAME OF THRONES' HEADED TO AN IMAX NEAR YOU "The move signals a continued blurring of the lines among media platforms, where digital videos, television series and films stream across a proliferation of screens, from tiny mobile phones to movie theaters. It also shows the extent to which media companies are trying to turn their blockbuster hits into mega events, as drawing mass audiences becomes increasingly rare." [NYT]
U.S. NEWS: BEST AND WORST DIETS OF 2015 The Paleo diet did not fare well. [HuffPost]
PAUL REVERE AND SAMUEL ADAMS TIME CAPSULE CONTENTS REVEALED "Early residents of Boston valued a robust press as much as their history and currency if the contents of a time capsule dating back to the years just after the Revolutionary War are any guide. When conservators at the Museum of Fine Arts, Boston gingerly removed items from the box Tuesday, they found five tightly folded newspapers, a medal depicting George Washington, a silver plaque, two dozen coins, including one dating to 1655, and the seal of the Commonwealth of Massachusetts." [HuffPost]
NICHOLAS SPARKS AND HIS WIFE BROKE UP So much for the veteran love storyteller's own happy ending. [People]
COACHELLA 2015 LINE-UP ANNOUNCED AC/DC, Jack White, and Drake will preside over the insanity. [Coachella]
BEHIND THE COLLAPSE OF AMAZON'S FIRE PHONE You know, the supposed rival to the iPhone that now sells for 99 cents. [Fast Company]
ON THE BLOG
FROM ONE NEW MOM TO ANOTHER "Caring for a baby is really hard, and it will test your sanity and endurance in countless ways. We try very hard to keep a good sense of humor about all of it. When our baby cries, he's obviously threatening to write a really terrible Yelp review about the service at our bed and breakfast. When he spits up on his fourth outfit of the day, we ask him about last night's bender. Yes, it's stupid. But it makes us laugh and usually takes the edge off, and that's worth a lot." [HuffPost]
BEFORE YOU GO
~ Here's Bill Gates drinking a glass of water that was once poop.
~ Congrats go to Barbara and George H. W. Bush, who have been married for 70 years!
~ Meet Sony's $1,100 digital Walkman.
~ "The Interview" has grossed $31 million so far.
~ When you reject a $975 million divorce check...
~ THAT "Gone Girl" scene involved "36 sheets, 450 gallons of blood, and 36 pairs of underpants."
~ We finally have a full "Ant-Man" trailer.
~ O. J. Simpson's Heisman trophy has been found, 20 years after an infamous USC burglary.
~ This map of gas prices makes everyone happy.
~ These U.S. white pandas don't understand snow.
~ This Maryland lawmaker wants the press to ask for his OK each time they use his name.
~ All the GIFs from Justin Bieber's Calvin Klein shoot.
~ Mariah Carey is headed to Vegas for a multimillion dollar residency.
~ You get an extra second in 2015 on June 30.
~ The New York Times is looking for a new basketball team for its Knicks beat writer to cover.
Send tips/quips/quotes/stories/photos/events/scoops to Lauren Weber at lauren.weber@huffingtonpost.com. Follow us on Twitter @LaurenWeberHP. And like what you're reading? Sign up here to get The Morning Email delivered to you.