Scott Brown has yet to declare for the California Senate race, but his campaign to recast "bqhatevwr" as surfer slang has already begun. The New York Times corrected an article that referenced Kyrzbekistan, which you might recall is locked in a fierce trade war with Uz-beki-beki-beki-stan. And John Boehner said he is the most "anti-establishment" speaker ever, and immediately proceeded to yell "Free Mumia!" and invited reporters to join him in a die-in. This is HUFFPOST HILL for Thursday, January 8th, 2015:
HOUSE PASSES BILL TO WEAKEN OBAMACARE - Happy 2015! Mike McAuliff: "In yet another attempt to roll back President Barack Obama's Affordable Care Act, House Republicans passed a bill, 252-172, Thursday that they said protects the 40-hour workweek, but that Congress' own budget analyst says damages it. The 'Save American Workers Act' targets the requirement under Obamacare that larger employers provide health insurance to employees who work at least 30 hours per week, or pay fines. The bill would raise the threshold to 40 hours. Republican backers of the change say that it would protect workers from having their hours cut to less than 30 per week by employers who don't want to provide health insurance. To make their case, they pointed to numerous anecdotes of firms doing just that." [HuffPost]
ARE BODY BLOWS TO OBAMACARE COVERED BY OBAMACARE? Why repeal Obamacare when you've got a Supreme Court, the John Cornyn asks. "What I expect is that the Supreme Court is going to render a body blow to Obamacare from which I don't think it will ever recover," Cornyn told Roll Call's Humberto Sanchez and Niels Lesniewski. [Roll Call]
RUBIO TO HANG OUT WITH MONEY GUYS - Sam Stein: "Sen. Marco Rubio (R-Fla.) will head to New York City next week for a fundraising event hosted by high-powered GOP insider Wayne Berman, according to an invitation of the event obtained by The Huffington Post. The affair will take place on Jan. 13 over lunch at Patroon, an upscale restaurant in midtown, and is tied to the release of the senator's book 'American Dreams: Restoring Economic Opportunity for Everyone.' It costs $10,200 to be named a co-host of the event, $5,200 to join the dinner committee and $2,600 to simply attend." [HuffPost]
AMERICA'S NEXT TOP CLIMATE CHANGE DENIER - Ben Terris: "At the end of last year, with most of his colleagues stuck in Washington for an important Senate session on a Saturday, Sen. James M. Inhofe was in Tulsa getting spurs fastened onto a pair of boots. 'They're ostrich,' said Inhofe (R-Okla.), the country's most prominent climate-change denier, referring to his footwear. 'Probably some endangered species, I have a reputation to maintain.'" WashPost
Haircuts: Mike McAuliff (h/t Sabrina Siddiqui), Eliot Nelson (h/t Eliot Nelson)
DAILY DELANEY DOWNER - Hollywood, Florida: "Adults and teenagers will no longer be permitted in Hollywood playgrounds unless accompanied by a child. Parents have expressed concerns about adults lurking around playgrounds where their children are playing." Seems it's not so much perverts lurking as teenagers vandalizing and homeless people… existing. [Hollywood Gazette]
Does somebody keep forwarding you this newsletter? Get your own copy. It's free! Sign up here. Send tips/stories/photos/events/fundraisers/job movement/juicy miscellanea to huffposthill@huffingtonpost.com. Follow us on Twitter - @HuffPostHill
BOXER TO RETIRE - To make things easier, those Californians not planning to run for Senator Boxer's seat should report to the secretary of state… who actually might be too busy running herself to receive your petition. The Hill: "Sen. Barbara Boxer (D-Calif.) will retire after finishing her current term in Congress, she announced on her website Thursday morning. 'I will not be running for the Senate in 2016," shesaid in a video with her grandson… Boxer is 74 years old, and speculation that she would retire has been brewing for years, fueled recently by her stagnant fundraising. But she insisted that her age doesn't play a role in her decision...The senator's decision to retire ends a three-decade congressional career and leaves the Senate without one of its strongest liberal voices on environmental issues. Her decision will also open up the top Democratic spot on the Environment and Public Works Committee, which she chaired last Congress." [The Hill]
Don't count on a Newsom/Harris showdown: "There's little reason for them to run against each other. They come from the same part of the state (San Francisco) and have very similar political bases — even the same consultant, Averill 'Ace' Smith. Competing against each other would only serve to divide those bases and Northern California votes and perhaps open the door to a candidate from the Los Angeles area to shoot the gap...California Democratic consultant Jim Ross agrees...'The most likely outcome is that one runs for Senate and the other runs for governor.'" [WaPo]
Possible candidates: "[Hedge fund manager/environmentalist Tom Steyer], San Jose Mayor Sam Liccardo, Rep. Loretta Sanchez, state Insurance Commissioner Dave Jones, state Treasurer John Chiang, former congresswoman Jane Harman and Rep. Karen Bass." [Ibid.]
JOHN BOEHNER NOT SQUISHY: JOHN BOEHNER - Someone needs to mix Boehner repeatedly saying "squish" over a killer grime beat. NBC News: "In his most forceful language yet against GOP detractors, House Speaker John Boehner said Thursday that he dislikes being described as "spineless or a squish" by conservative Republicans, but that the label that stings him the most is when he's called a part of the 'establishment.' 'I am the most anti-Establishment Speaker we have ever had" he told NBC News at his first solo press conference of the new Congress. 'Who was the guy who got rid of earmarks? Me. Who's the guy who believes in regular order? Me. Who believes in allowing more members to participate in the process, from both sides of the aisle? Me.' Boehner, who suffered 25 defections from his own party in his successful re-election bid for House Speaker earlier this week, said that he knows that conservatives who believe he's too solicitous to the White House are apt to label him as 'spineless' or a 'squish.'" [NBC News]
SENATE CLEARS WAY FOR KEYSTONE VOTE Kate Sheppard: "The Senate Energy and Natural Resources Committee advanced legislation to approve the construction of the Keystone XL pipeline without amendments on Thursday, putting off most debate on the controversial pipeline until a floor vote next week. The committee passed the bill as-written by a 13-9 vote, with bill co-author Joe Manchin (D-W.Va.) the only Democrat to join Republicans in voting 'yes.' The White House has already said that President Barack Obama will veto the bill. The bill's Senate sponsors expect to get 63 votes -- enough to pass the legislation, but not enough to override a presidential veto." [HuffPost]
SENATE IN SESSION, SENATORS BACK TO WORK - From Politico Influence: "BGR Group hosted a fundraiser benefiting Bluegrass Committee, the leadership PAC of freshly minted Senate Majority Leader Mitch McConnell, Wednesday evening. The event, held at BGR Group's downtown office to honor the new GOP majority, was attended by 18 Republican senators: Sens. Roy Blunt, John Boozman, Bill Cassidy, Susan Collins, Steve Daines, Cory Gardner, Orrin Hatch, Dean Heller, Jim Inhofe, James Lankford, John McCain, Rob Portman, Mike Rounds, Tim Scott, Dan Sullivan, Thom Tillis, Roger Wicker and McConnell. The event was emceed by BGR's founding partner Haley Barbour, who introduced the senators like a roll call vote in the Senate chamber." [Politico]
@davecantanese: Chapter 10 of Mike Huckabee's book is called...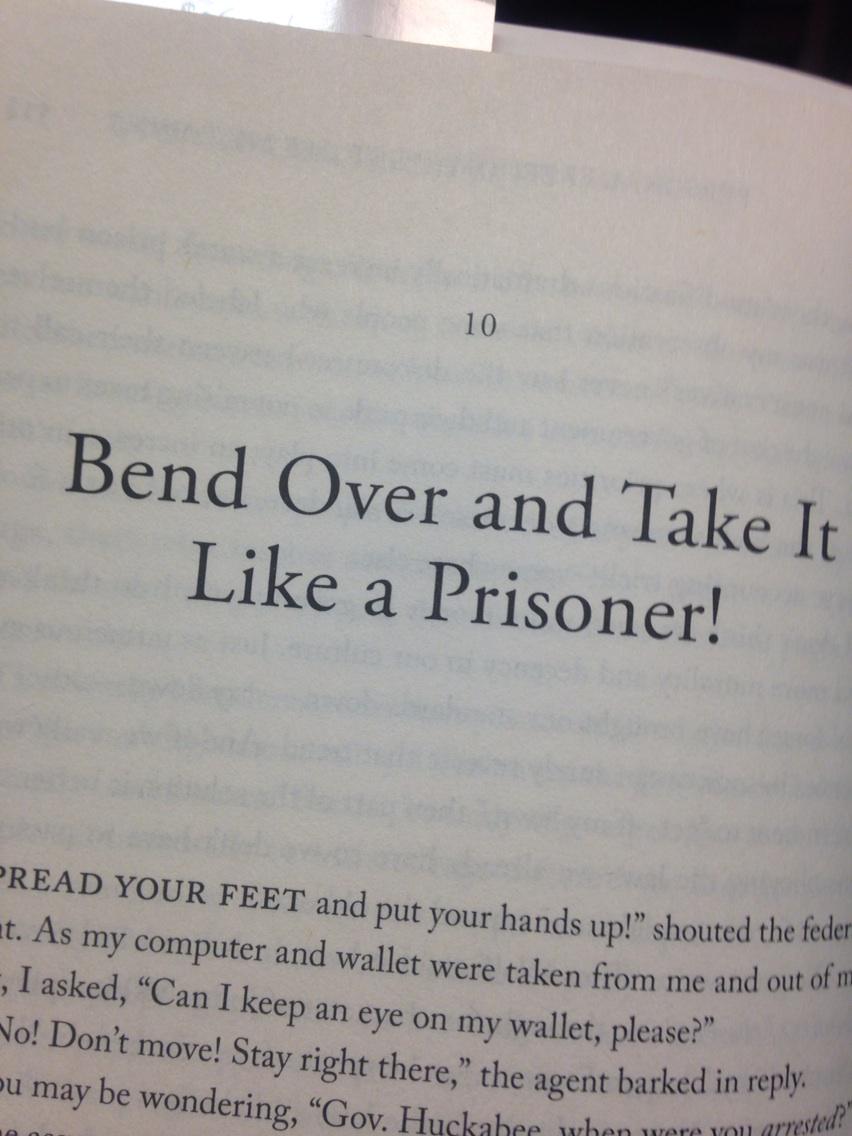 JEB BUSH: MODERATE? - Christina Wilkie: "Bush hasn't always been the cheery moderate that he's presented as today. In fact, during his first campaign for governor of Florida in 1994, he was quite conservative….'I would abolish the Department of Education as it now exists...,' Bush told the Orlando Sentinel in a November 1994 interview. Bush also laid out a plan to require that any proposed new taxes be approved directly by Florida voters, a strategy that would have made it nearly impossible to pass them. What state revenue there was, Bush said, should be used whenever possible to hire private corporations to replace state employees...Under [Bush's plan], Florida would refuse to accept federal funds to aid the state's poor families, and restrict benefits to just two years of assistance. To be eligible for benefits, poor women would be required to "identify the fathers of their children, submit to random drug tests and work if jobs were available," according to a Herald story from March 1, 1994." [HuffPost]
BECAUSE YOU'VE READ THIS FAR - Here's a four-year-old chatting with some dogs.
FABULOUS CORRECTION: "An earlier version of this article misidentified the country whose army chased Tommy Caldwell's kidnappers. It was Kyrgyzstan, not Kyrzbekistan, which does not exist." [NYT]
COMFORT FOOD
- A collection of cartoonists' Charlie Hebdo tributes.
- Interactive map shows how many nice days a given county has in a year.
- (Com)bust a move: breakdancer attaches fireworks to his shoes.
- This is what a Tetris Grand Master looks like.
- Scientists have recreated the face of the first people to populate the Americas.
TWITTERAMA
@dcbigjohn: 15 emails you have to mute before you die
@daveweigel: Scott Brown for CA-Sen #48statestogo
@ScottBrownCA: god I can't stand clementines
Got something to add? Send tips/quotes/stories/photos/events/fundraisers/job movement/juicy miscellanea to Eliot Nelson (eliot@huffingtonpost.com) or Arthur Delaney (arthur@huffingtonpost.com). Follow us on Twitter @HuffPostHill (twitter.com/HuffPostHill). Sign up here: http://huff.to/an2k2e