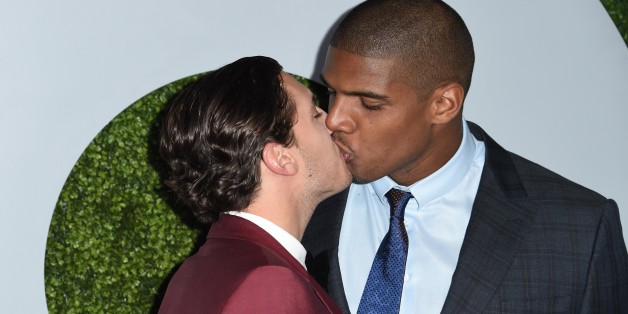 Peter LaBarbera of Americans for Truth About Homosexuality (AFTAH) just can't stop talking about Michael Sam.
This time, however, LaBarbera has gone a step further, penning a bizarre poem to Sam, who became the first openly gay man drafted into the NFL in spring 2014.
Referencing Sam's televised, headline-making kiss with boyfriend Vito Cammisano, the outspoken anti-gay activist apes the rhythm and meter of Dr. Seuss' "Green Eggs and Ham" in the poem, which he's titled "I Saw the Kiss by Michael Sam. It Made Me Mad. He Kissed a Man!"
He writes:
I saw the kiss by Michael Sam..
It made me mad–he kissed a man!

That's something I don't want to see
It's wrong, unnatural, and it's not just me.

Many now say, "Homosexuality is OK."
But God says there's a better way.
LaBarbera continues:
I do not mean to pick a fight
When I say most Blacks don't think homosexuality's a "civil right."

Far from a "right," Michael. In fact, it's wrong.
Must I put this in a song?

Michael shot back: "Not wrong at all, it's who I am!
"I'm gay. My name is Michael Sam."

"God made me black and blessed me with gayness."
Blessed you?! Then why are so many diseases linked to "sex" in the anus?
You can view LaBarbera's full poem here.
LaBarbera's sentiments echo those he made in an open letter to Sam, who is currently searching for a new NFL team after being released from the Dallas Cowboys' practice squad, in July. In that letter, LaBarbera suggested that Sam seek out reparative, or "ex-gay," therapy.
"Michael, do we have to tell you that, especially with your current publicity, you are a role model because of your athletic prowess, but since 'coming out' you are also modeling a lifestyle that the cost for those living it, has been unpublicized but appalling -- as it has for society," LaBarbera wrote in the letter, which also appeared on AFTAH's website.
"Believe it or not, no one is born 'gay,'" he continued. "Molestation, emotional deprivation, parental or peer rejection, or other traumatic factors can foster same-sex attraction -- but many men and women have managed it, diminished it, or eliminated it altogether."
For his part, Sam had a simple suggestion for naysayers who criticized his same-sex smooch, which he insisted wasn't staged.
"If you didn't like it, grab your remote control, turn the channel," he told Oprah Winfrey in an interview last month.
BEFORE YOU GO
PHOTO GALLERY
The Worst Anti-LGBT Villains Of 2014