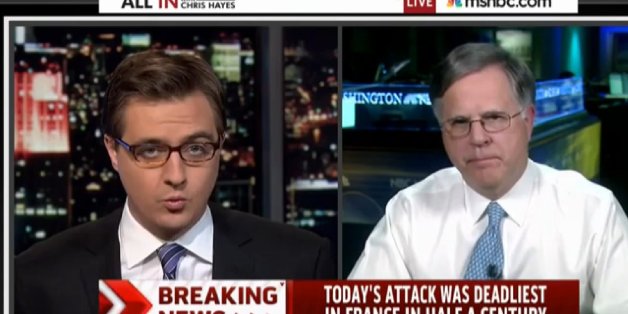 NBC News has updated a report on the deadly attack at the offices of the satirical French newspaper Charlie Hebdo after incorrectly reporting the situation of the suspects.
In the race to be first to break the news on any developments, the network tweeted out a report by justice correspondent Pete Williams that one suspect had been killed while two others were taken into custody:

However hours later on MSNBC's "All In with Chris Hayes," Williams took a few steps back, telling Hayes that there have been "conflicting reports" and admitting that they still "don't know exactly what the situation is in France." This just after MSNBC had featured a "Breaking News" banner, reading "One Suspect Dead Two In Custody After Attack."
"I think to be fair here, we just don't know exactly what the situation is in France tonight, well into the middle of the night," Williams said. "There've been conflicting reports all afternoon about whether arrests have been made, the deputy mayor of Paris said he thought someone was under arrest, then he said no, that wasn't true. We were told earlier this evening from two US counterterrorism officials that one person was dead and two have been arrested, but there are other U.S. officials that say, they haven't been told that. The French aren't saying much, there's a natural desire by U.S. officials not to get out ahead of the French, so I think in fairness Chris, we have to say we just don't know exactly what the situation is there tonight. This has been something of a moving picture all day long about precisely what the status of them is, so I think we can't say with 100 percent certainty what the deal is over there right now, there are conflicting reports is I think the honest answer."
As of Thursday morning, Paris officials said that one suspect had surrendered and two others remain at large.
NBC News issued a statement acknowledging the error:
"NBC News issued an earlier report based on intelligence from two consistently reliable U.S. counterterrorism officials in different government agencies. As soon as it became evident that our sources doubted their information, we immediately updated our reporting across all platforms and continue to do so as this fast-moving story unfolds."