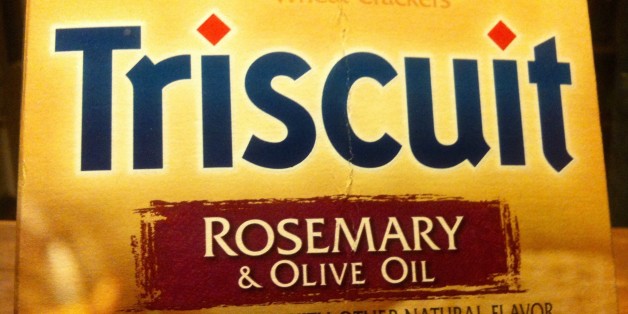 It's 2015, Twitter, so it's time to hear all your new food-related revelations, dieting mishaps and just general food commentary for the year ahead.
Never one to disappoint, Jason Gelles of @1CarParade took Triscuits down a notch, while newcomer @GoldieGoldberg told us a tale of two brothers -- one named Hummus and the other, Tahini. And just one week into the New Year, we feel confident knowing what food bullies of the future look like thanks to @JennyJohnsonHi5, and, courtesy of @DamienFahey, that piñatas actually spell doomsday for adults.
So snuggle up to your lovely laptop while that blizzard rages outside and -- as always -- Bon appeTWEET!
Triscuit is the perfect combination of cracker and doormat.

— Jason Gelles (@1CarParade) January 7, 2015
Give me your coconut water and organic gluten-free cookies, unless there's peanuts in them because I'm allergic." - 2015 school bully

— Jenny Johnson (@JennyJohnsonHi5) January 7, 2015
Piñatas make you realize that every child would slit your fucking throat for a bag of Skittles.

— Damien Fahey (@DamienFahey) January 6, 2015
2 brothers named Hummus and Tahini; Hummus is the more popular brother but the truth is Tahini the better man.

— Goldie Goldberg (@GoldieGoldberg) January 6, 2015
Just ate my Fitbit.

— andy lassner (@andylassner) January 6, 2015
New diet (and money-saving) technique for 2015: skipping lunch on days when it's too cold to leave the office.

— Curtis M. Wong (@c_wong79) January 7, 2015
similar to yawning, when you see one coworker make a coffee, you automatically feel compelled to make a coffee. it's science.

— Madeline Haller (@madeline_haller) January 8, 2015
If you go home with somebody and they have Chobani in their refrigerator, don't fuck 'em.

— samir mezrahi (@samir) January 7, 2015
I want to bathe in nacho cheese sauce.

— Taco Bell (@tacobell) January 7, 2015
The loudest drunks are groups of sober teenage girls.

— kelly oxford (@kellyoxford) January 8, 2015
Is it bad that I'm sick but also in the mood for scotch?

— Robert Khederian (@notenoughangers) January 9, 2015
Happy New Beer!!! (kidding--happy new year) #rhymes

— Adam Scott (@mradamscott) January 1, 2015
(•_•)
<) )╯End this day
/ \

( •_•)
\( (> Get me to Sonic
/ \

(•_•)
<) )╯Now
/ \

— Sonic Drive-In (@sonicdrivein) January 5, 2015
BEFORE YOU GO
PHOTO GALLERY
20 New Years Resolutions For The Foodie