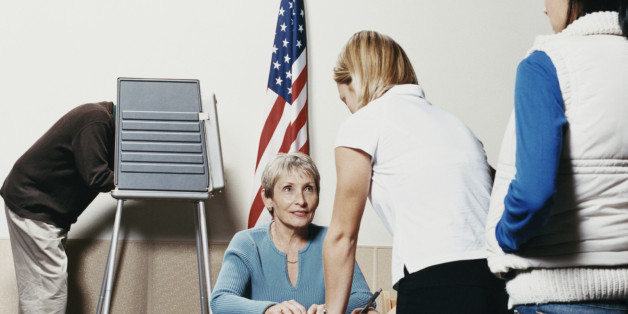 America's income divides translate into differences in voter participation. The Republican Party consolidates its strength in Congress. And California gets in on the 2016 speculation. This is HuffPollster for Friday, January 9, 2015.
LEAST FINANCIALLY SECURE HAVE LOWEST VOTER TURNOUT - HuffPollster: "America's most economically vulnerable are also the least likely to vote, according to a new Pew Research report. The analysis divides Americans into five groups based on their level of 'financial security,' a term used to measure both how much difficulty people have with paying bills and affording things like housing and medical care, and how much access they have to resources like checking or savings accounts, a credit card or retirement savings. Financial security turns out to be a pretty good indicator of how active someone is in politics. Just over half of the least financially secure Americans were registered to vote last year, compared with 94 percent of the most secure. Less than a third of the two least-secure groups -- who together make up 41 percent of the U.S. adult population -- were considered likely to vote….[T]he Americans who are struggling most are least likely to have their voices heard on issues like the need for a social safety net, where their views are dramatically different from the most well-off. The least financially secure Americans are 26 points more likely than the most secure to say government should do more for the needy, while the most secure are 25 points more likely to say that 'poor people today have it easy.'" [HuffPost, Pew Report]
THE GOP'S HOLD ON CONGRESS IS GROWING STRONGER - Ronald Brownstein and Janie Boschma: "The new Congress convenes as a House divided, with Democrats and Republicans representing districts marked by towering contrasts along lines of race, education, and age, a Next America analysis shows. Using census data, the analysis found that Republicans have consolidated a commanding advantage in districts where whites exceed their share of the national population—especially in those places where fewer whites than the national average hold at least a four-year college degree. House Democrats, meanwhile, remain competitive in districts with larger than average numbers of college-educated whites and still control most districts where minorities exceed their share of the national population....That trend toward concentration among their best groups suggests how difficult it will be for Democrats to recapture the House while relying solely on the younger, diverse, and socially liberal 'coalition of the ascendant' that has powered their victories in the presidential popular vote since 1992. While Obama has twice proven that Democrats can capture the White House while losing a clear majority of whites, the patterns of support across the four quadrants signal that House Democrats can't expect to consistently hold a majority any time soon without improving on that performance." [National Journal]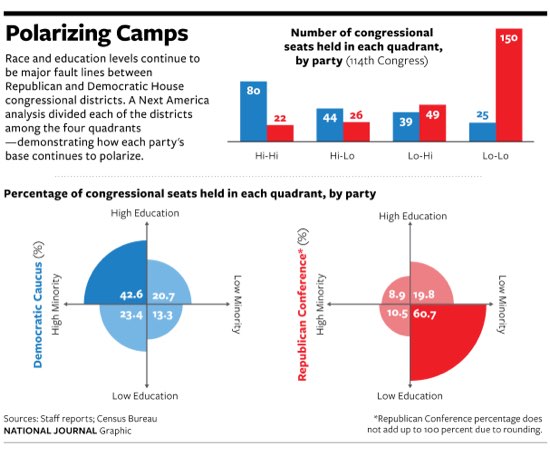 BARBARA BOXER'S RETIREMENT SETS OFF 'BIG SHAKEUP' - Carly Schwartz: "Sen. Barbara Boxer's (D-Calif.) announcement Thursday that she won't seek re-election when her term ends in 2016 will ignite a scramble among prominent California Democrats eager to fill the role, some analysts said. But the retirement of Boxer, 74, also marks the beginning of a massive overhaul of the Golden State's top elected positions, Larry Gerston, a political science professor emeritus at San Jose State University, told The Huffington Post. In 2018, 76-year-old Gov. Jerry Brown (D)'s term will end, and it's likely that 81-year-old Sen. Dianne Feinstein (D), who has held office since 1992, won't run for re-election that year, either. 'These people are all trying to position themselves,' Gerston said of potential Democratic successors to Boxer, Brown and Feinstein...California Lt. Gov. Gavin Newsom, 47, and state Attorney General Kamala Harris, 50, are the two biggest liberal names being floated to take over Boxer's seat. Gerston said he believes Newsom will more likely hold out for the governorship." [HuffPost]
A look at some possible candidates' ratings - A USC Dornsife/LA Times poll conducted before the 2014 election: "A strong majority of California voters say they are ready for change even as they continue to support U.S. Sens. Barbara Boxer and Dianne Feinstein, according to the latest USC Dornsife/Los Angeles Times poll….The poll also showed solid support for the state's emerging generation of Democratic leaders. Thirty-percent of voters have a favorable view of Lt. Gov. Gavin Newsom, with 19 percent who said they have an unfavorable view. Former Los Angeles Mayor Antonio Villaraigosa's favorability is 30-22; California Attorney General Kamala Harris is 26-12; and Los Angeles Mayor Eric Garcetti is 25-11….Each has a strong base of support, the poll showed...."All of these Democratic officeholders have a strong enough base with key coalition groups that could make the new top two primary interesting, whether it's for a senate race or a governor's race down the road," [Republican pollster David] Kanevsky said." [USC]
A reminder about California's primary system - Jonathan Bernstein: "Here's how it works: Everyone runs in one open 'primary' in June, and the top two candidates, regardless of party affiliation, advance to the 'general' election in November. The low-turnout vote in June will be the equivalent of the general election, with the runoff vote in November….It creates a special challenge for the majority party -- in California, that's the Democrats. The problem? If Democratic votes split among many candidates (and there's a logjam of politicians eager to move up to the Senate), while Republicans can manage to split their share of the vote equally between two candidates, then it's possible Democrats could be shut out of the November election entirely.This is further complicated for Democrats because the June electorate is typically more Republican than November voters." [Bloomberg]
GALLUP'S STANDARD OF LIVING INDEX HITS 7-YEAR HIGH - Justin McCarthy: "Gallup's Standard of Living Index reached a new high of +50 in December, the best score found in seven years of tracking the index. Americans' improved perspective on their personal standard of living comes as they spend more money and begin to view the national economy positively....Gallup's Standard of Living Index is a composite of Americans' responses to two questions: one asking whether they are satisfied with their current standard of living, and the other asking whether their standard of living is getting better or worse." [Gallup]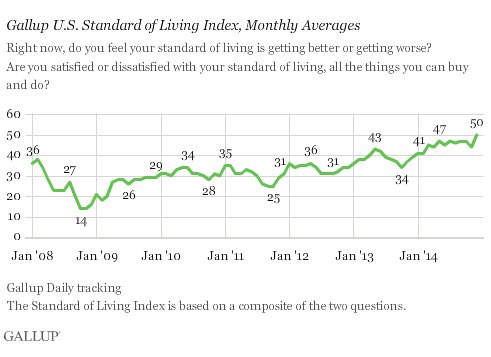 And optimism grows - Kathy Frankovic: "Americans ended 2014 with some small improvements in perceptions of the President and the country and better things to say about 2015 than they had said about the year before. This week'sEconomist/YouGov Poll suggests that small surge in optimism is continuing….The turnaround in optimism from last year is especially noticeable when it comes to where Americans think the economy is headed. This year more are optimistic than pessimistic, just the opposite of what Americans expected a year ago….Republicans and independents remains pessimistic about the economy, but nearly three in ten in each of those two political categories are optimistic. There have also been improvements – though not as dramatic – on assessments of the year ahead for the world and for the family." [YouGov]
HUFFPOLLSTER VIA EMAIL! - You can receive this daily update every weekday morning via email! Just click here, enter your email address, and click "sign up." That's all there is to it (and you can unsubscribe anytime).
FRIDAY'S 'OUTLIERS' - Links to the best of news at the intersection of polling, politics and political data:
-At 24 percent, the number of liberals in the U.S. hits its highest level since Gallup started tracking self-reported ideology in 1992. [Gallup]
-A third of Americans believe that global warming is a myth propagated by scientists, and 19 percent believe early childhood vaccinations cause autism. [FDU Public Mind]
-A lot of people have the flu this year. [Gallup]
-Statisticians and market researchers will debate on Jan. 22 whether it's appropriate to use a margin of error with online research panels. [Peanut Labs via @LoveStats]
-Mickey Kaus remembers Thom Riehle, aka "kf emailer Y." [Daily Caller]

BEFORE YOU GO
PHOTO GALLERY
Aging in Office