After a harrowing ordeal in a bushfire near Adelaide, Australia, this koala -- named Jeremy in honor of the firefighter who rescued him -- has finally found a safe haven.
Jeremy is in the care of the Australian Marine Wildlife Research & Rescue Organization, which took him in earlier this week and proceeded to give his paws a much-needed soothing soak.
(Story continues below.)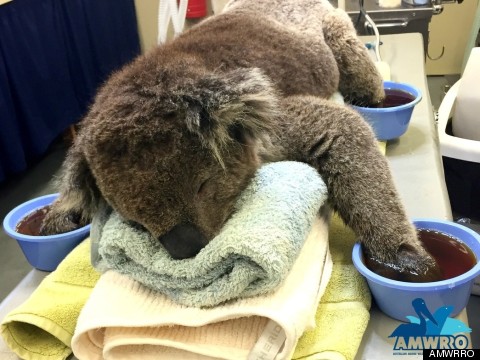 Firefighters found the 2 to 3-year-old koala at the base of a tree in southern Australia on Tuesday. The animal was suffering from second-degree burns to his paws after a fire swept through the area, ultimately burning more than 30,000 acres and damaging 38 homes, reports Australia's Fairfax Media.
Though he has a long road to recovery ahead of him, AMWRRO says Jeremy "is doing very well and is in great spirits."
The organization published a video on Wednesday of a much-improved Jeremy snacking on fresh eucalyptus leaves:
On Wednesday, the International Fund for Animal Welfare, which is also helping provide for burned koalas, put out a call for volunteers to knit mittens, which could be used as paw protectors for the injured animals. Within one day, reports Today, volunteers had pledged more than 500 mittens.
Here's one tired koala resting in some soothing new mittens:
Koala mitten appeal gets huge response after Australia bushfires burn their paws
http://t.co/JSaWmZ3l9B #KoalaMittens pic.twitter.com/YqTTZouPeG

— IBTimes UK (@IBTimesUK) January 9, 2015
More information on Jeremy's recovery can be found on the AMWRRO's Facebook page.
BEFORE YOU GO
PHOTO GALLERY
Jeremy The Koala Recovers From Fire