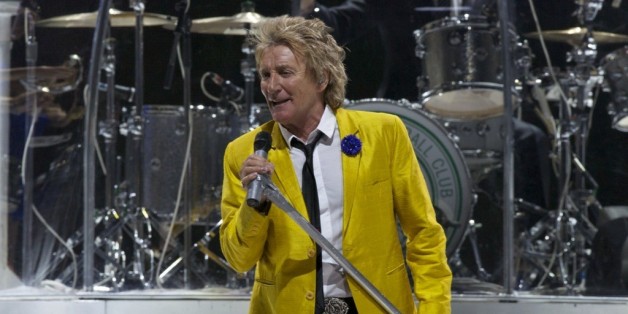 Rod Stewart turns 70 on Saturday (Jan. 10), and in addition to wishing the rocker a happy birthday, we'd like to pay him a little tribute. Here are five reasons why we love him -- a lot:
1. He is one of the last frontmen still standing.
Don't believe us. Even Robert Plant of Led Zeppelin fame noted in The Telegraph, "There are only three or four frontmen left, from our time, who actually just kick the mic stand up and do it, and that's me, Rod Stewart and Mick Jagger."
Last October marked the 50th anniversary of Stewart's release of his first single, his take on the blues classic "Good Morning Little Schoolgirl." That's staying power and Stewart is proof that if you love what you are doing, you can just keep doing it. He maintains an active touring schedule which this year includes New Zealand, Australia and Las Vegas, of course.
2. Half the world's post-50 population lost its virginity with "Maggie May" playing in the background.
OK, a slight exaggeration, but please raise your hand if you associate that classic with the smell of Brut or English Leather. Uh-huh, point proved.

3. He's on Facebook.
Sure, a lot of celebrities from the music world are on social media. But how many of them at his age rack up engagement numbers like Stewart's? He regularly amasses 1.2 million views of his videos posted on Facebook (including the multiple times we hit the play button at work.) And how can you not love a guy who posts photos from his Rome hotel room without his pants on?
Vocal warm ups before a gig in my humble day room in Rome. pic.twitter.com/uL5oAZ8JAY

— Rod Stewart (@rodstewart) December 8, 2014
4. He invented the long shag haircut for men.
OK, maybe he didn't invent it, but he sure brought it to the world stage. Stewart was way ahead of those long-shag cuts on Motley Crue's Nikki Sixx and Tommy Lee. Stewart's hair style was hair "possibly the flagship mane for this specific mens' haircut," according to the Men's Hair Forum on rock star hairstyles. There you have it.
5. He values education, even if it means paying more in taxes.
Rod Stewart left Britain for Los Angeles in 1975 to avoid paying 83 percent of his income in taxes. In fact, his 1975 album "Atlantic Crossing" is a reference to his repatriation in the U.S. But last summer, he announced that he would be returning to his birth land so that his youngest two children (he has eight in total) could be educated there.
So what do YOU love about Rod Stewart? Let us know in comments.
BEFORE YOU GO
PHOTO GALLERY
The 9 Sexiest British Actors Who Make Us Swoon