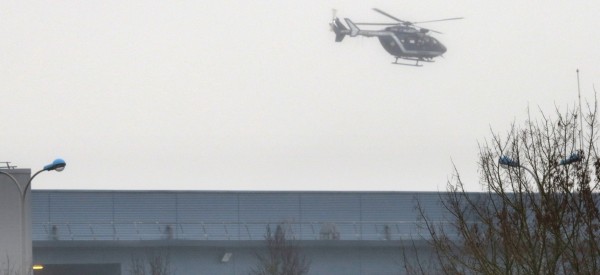 TOP STORIES
CHARLIE HEBDO SUSPECTS TAKE HOSTAGE "French anti-terrorist police surrounded a small northern town and helicopters hovered overhead after at least one person was taken hostage in a print works by two men believed to have carried out an attack on a Paris satirical journal … Police and anti-terrorist forces blocked all entries to the town of about 8,000, clearly seeking to limit the scale of any siege." Police have made contact via phone with the suspects, and here's a timeline of the ongoing manhunt. Reports emerged yesterday that one of the suspects had trained with al Qaeda's Yemen affiliate. [Reuters]

OBAMA TO PROPOSE TWO YEARS OF FREE COMMUNITY COLLEGE For anyone willing "to work for it." No details yet on where the funding will come from. [AP]
BARBARA BOXER'S RETIREMENT SETS UP WILD 2016 FOR CALIFORNIA Lt. Gov. Gavin Newsom and state Attorney General Kamala Harris are possible replacements for the Democratic stalwart. [HuffPost]
BOKO HARAM MAY HAVE JUST KILLED AS MANY PEOPLE IN ONE ATTACK AS THEY DID ALL OF LAST YEAR "It's not clear how many people were killed in Baga. Early reports on Thursday said hundreds. Others said it was many more. Musa Alhaji Bukar, a senior government official in Borno, said Boko Haram killed more than 2,000 people which, if true, would mean the group equaled its total kill count last year in one attack. More were said to have drowned in Lake Chad while attempting to swim to a nearby island." [WaPo]
SUPREME COURT TO CONSIDER HEARING GAY MARRIAGE CASES "The nine justices of the Supreme Court, who opted in October not to take up the issue of state bans on gay marriage, are set to meet behind closed doors on Friday to consider once again whether to hear any cases on the contentious issue. The court has five cases pending concerning same-sex marriage prohibitions in Ohio, Tennessee, Michigan, Kentucky and Louisiana." [NYT]
2015'S EXTRA SECOND COULD BREAK THE INTERNET The 2012 "leap second" caused Reddit, Gawker, Yelp, and others to crash for hours. [HuffPost]
WHAT'S BREWING
FBI: NFL DIDN'T KNOW ABOUT RAY RICE VIDEO "The long-awaited Mueller report was released Thursday with no unexpected findings: the NFL initially botched the Ray Rice case and had a weak domestic abuse policy, but investigators found no evidence league officials saw tape of Rice hitting his fiancee before it was released … The report from a former FBI director hired to investigate said the league's investigative system relied too much on information from law enforcement after the Ravens running back knocked out his fiancee in an elevator at the Revel Casino in Atlantic City." [AP]
BACHELORETTE ANDI DORFMAN AND JOSH MURRAY SPLIT The couple called off their engagement just three days after acting all lovey-dovey at the premiere of this season's "The Bachelor." [Entertainment Weekly]
BOSTON WINS 2024 U.S. OLYMPIC BID Boston snagged the U.S. Olympic bid over D.C., San Francisco and Los Angeles. [Boston Globe]
WHO WILL WIN AT THE GOLDEN GLOBES SUNDAY? As always, the winners will likely be the presumptive the Oscar frontrunners. [Variety]
WE HAVE A 'GAME OF THRONES' RETURN DATE Mark your calendars: April 12 is only 102 days away. [HuffPost]
A REFRESHER ON AMY POEHLER AND TINA FEY'S FRIENDSHIP "This Sunday's Golden Globes will be a celebration of TV, movies, globes, free hooch, and foreign journalists -- but more important, it will be a celebration of Tina Fey and Amy Poehler's 20 years of being 'Tina and Amy,' best friends who coincidentally became two of TV's most beloved comic actresses. And even though we've only really known them for about half that time, it feels like forever, as often happens with paldom." [Vulture]
YOU ARE OFFICIALLY ALLOWED TO EAT AN AVOCADO EVERY DAY You know, something about good cholesterol. [HuffPost]
LESSONS FROM RUTH BADER GINSBURG ABOUT BEING A STAY-AT-HOME DAD "This past summer, on the last day of my clerkship with Justice Ruth Bader Ginsburg, she rose from her cavernous desk and, following a hearty goodbye hug, asked me what was next. I told her that the next morning marked the start of my new job as a stay-at-home dad. She smiled warmly and wished me luck." [The Atlantic]
ON THE BLOG
WHAT DEATH TEACHES ABOUT LIFE "Now is the only guarantee we have. Now is what matters most in life … Although some things take time and cannot be created overnight, the now is where the miracles happen. Now is when we have the opportunity to experience the intricate details of life." [HuffPost]
BEFORE YOU GO
~ We finally have the Lea Michele "Let It Go" cover we've been waiting for.
~ Can Seattle Seahawks fans cause an earthquake?
~ Great ways to free up storage space on your iPhone.
~ Bill Cosby made a date rape joke at his latest Canada show.
~ Mittens for koalas.
~ Michael Sam and his boyfriend, Vito Cammisano, are engaged.
~ This is what people will be eating at the Golden Globes while you drink wine on your couch.
~ Jamie Dornan of "Fifty Shades of Grey" compared himself to John Lennon.
~ "Today" anchors are getting a puppy, because there is nothing like a cute dog to boost ratings.
~ Johnny Depp and Marilyn Manson have matching friendship tattoos.
~ Pippa Middleton picks her favorite mountains to ski, in the name of all that is the .001%.
~ And here's the next Charli XCX hit.
Send tips/quips/quotes/stories/photos/events/scoops to Lauren Weber at lauren.weber@huffingtonpost.com. Follow us on Twitter @LaurenWeberHP. And like what you're reading? Sign up here to get The Morning Email delivered to you.