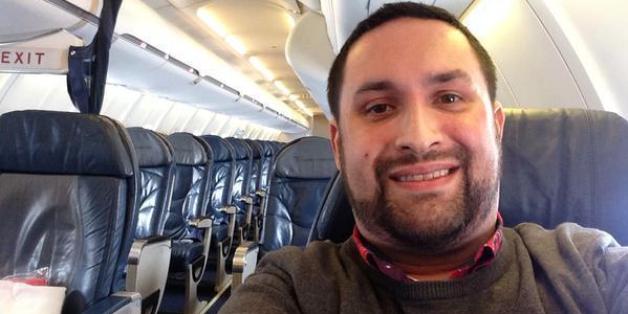 Most travelers would be thrilled just to have an empty seat next to them. But one flier got something even better: An empty plane.
On Monday, Chris O'Leary, media strategist and editor of the beer website Brew York, posted images via Twitter of himself as the only passenger on a Delta flight from Cleveland to New York.
No, I'm not joking. I'm the only one on this plane. pic.twitter.com/UcZ8BZLop1

— Chris O'Leary (@ohhleary) January 12, 2015
O'Leary went to the airport late after his plane had been delayed. Once there, he learned that everyone else had been rebooked and already departed. When the long-delayed flight was eventually called, he was the only one left.
"Part of this is my own stupidity but it ended up working out in my favor," he told ABC News.
O'Leary was given a personal flight safety demonstration. Then, as the plane seemed ready to depart with its passenger of one, company arrived:
The thrill is gone, you guys. Just as we were about to push back, they reconnected the jet bridge to let a second passenger on the flight. 😥

— Chris O'Leary (@ohhleary) January 12, 2015
Still, a flight for two? Most travelers would take it.
"There were no screaming babies, no one listening to loud lyrics or reclining their seats or taking their shoes," O'Leary told ABC.
O'Leary even did something considered wildly controversial; he reclined his seat all the way back.
The self-described beer geek is receiving plenty of attention for the unusual photos of the almost-private flight. However, he said on Twitter that "it doesn't seem like a big deal to me -- the plane would've flown back empty if we weren't on it and it wouldn't be news."
BEFORE YOU GO
PHOTO GALLERY
Flying Economy