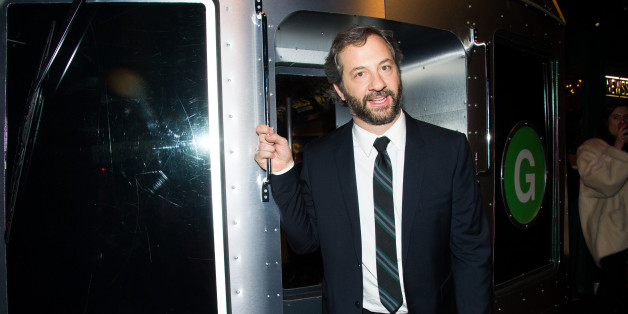 In a new interview with Marc Maron for the WTF podcast, director Judd Apatow explained why he's become one of Hollywood's most visible critics of Bill Cosby following renewed sexual assault claims against the 77-year-old comic.
"One thing that I do know is I'm not comfortable with him running around the country doing stand-up like nothing's happening," Apatow said. "I guess, on some level, I feel like I can't be a part of solving that many problems in the world -- I do my best to get involved where I can be effective -- but this is our neighborhood. [...] I absolutely would like to see him in jail. That's where people who commit sexual assaults go."
Multiple women have accused Cosby of sexual assault -- including three women who came forward last week -- but the comedian has never been charged with a crime. "Over and over again, we have refuted these new unsubstantiated stories with documentary evidence, only to have a new uncorroborated story crop up out of the woodwork," Cosby's lawyer, Martin Singer, said in a statement last November. "When will it end? It is long past time for this media vilification of Mr. Cosby to stop."
In the wake of the claims, NBC halted plans for a new series with Cosby, while Netflix postponed the release of a stand-up special, "Bill Cosby 77." Cosby has remained on tour, however, including three shows in Canada last week. He was criticized after a show in London, Ontario, after telling a woman that she should "be careful about drinking around me."
While Apatow cited Rosie O'Donnell as one of the few celebrities speaking out against Cosby -- the interview was recorded before Tina Fey and Amy Poehler mocked Cosby and the allegations on national television at Sunday's Golden Globes -- he noted how a majority of Hollywood's biggest names have remained silent. Apatow himself was even criticized by "Blackish" creator Kenya Barris for being "strangely obsessive" about Cosby on Twitter, but not other social issues.
"I spoke to him afterwards about that," Apatow said about Barris. "I can understand why someone would say, 'Why does Judd care about this?' I don't know, I have two daughters. I'm a comedian. I see him a little bit as our comedy dad. It's like finding out your comedy dad is a really evil guy. You want to say, 'Hey, does everybody care about this? That he's doing that?' And when the community is pretty silent, then I feel like, 'Well, if no one is going to talk, then I'm going to talk.' If everybody was talking about it, I probably wouldn't have much to say about it. But I don't want it to suddenly disappear and then he kind of just goes back out on the road and does his thing."
Following the release of the Maron interview, Apatow returned to Twitter to once again post about Cosby:
It's official. No one is defending @BillCosby anymore. Those tweets have dried up.

— Judd Apatow (@JuddApatow) January 12, 2015
Listen to Apatow discuss Cosby on WTF with Marc Maron by heading here.
BEFORE YOU GO
PHOTO GALLERY
Bill Cosby Over The Years